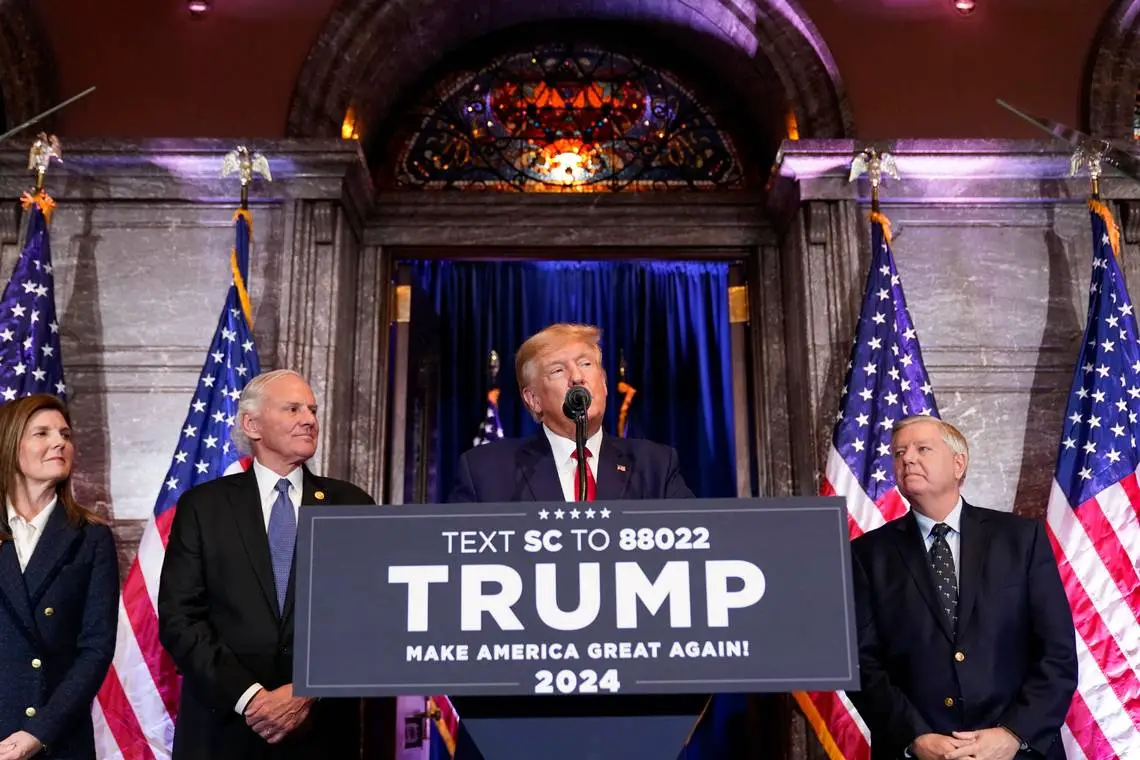 Former President Donald Trump made two public appearances on Saturday as part of his 2024 campaign kickoff. The first event will occur in New Hampshire where Trump will address the state Republican Party before heading to South Carolina for a campaign kickoff at the State House in Columbia. Here are the details and full videos of both events.
Full Video – Trump Speech – Salem, NH
Trump Keynote Address to the New Hampshire GOP
When: Saturday, January 28, 2023
Where: Salem High School in Salem, NH
Full Video: Watch below
Trump delivered the keynote address to the New Hampshire Republican Party annual meeting before heading south for his 2024 leadership unveiling. The full video of the New Hampshire event is embedded below.
Full Video – Trump Rally – Columbia, SC
Trump Rally in Columbia, South Carolina
When: Saturday, January 28, 2023
Where: The State House in Columbia, South Carolina
Full Video: Watch below
Trump is expected to unveil his 2024 campaign leadership team at the State House in Columbia, South Carolina. He will be joined on stage by several guests including Senator Lindsey Graham among others.
Both states, New Hampshire and South Carolina, are key to getting Trump's 2024 aspirations out of the gate. While the former president won both primaries in 2016, the picture this time around may not be as tilted in his favor:
For the first time since he became a 2024 presidential candidate, Donald Trump plans Saturday to visit two of the three early states, where he's expected to face frosty receptions from a few top Republicans.

Trump has added a stop in New Hampshire on Saturday morning before his rally that evening in South Carolina.

Trump will give the keynote address at the annual meeting of the New Hampshire GOP, whose chairman, Stephen Stepanek, praised Trump's support for the state's first-in-the-nation primary status.

From New Hampshire, Trump heads to South Carolina, where Gov. Henry McMaster will give him a warmer welcome and appear onstage with him at a rally that evening with Sen. Lindsey Graham and other top Republicans from the state's congressional delegation.

Sen. Tim Scott, however, isn't expected to attend. He is weighing his own presidential bid along with former Gov. Nikki Haley, a Trump-appointed ambassador who fell out of favor with him after she criticized him for inciting the mob that sacked the U.S. Capitol on Jan. 6, 2021.
As we reported, Nikki Haley is seriously considering a presidential run and Sen. Tim Scott is also rumored to be weighing his options. Both Haley and Scott call South Carolina their home and would give Trump a challenge in the state, though neither one is winning any meaningful polling support.
Follow the Trump rally schedule for all the details on upcoming Trump events into 2023 and beyond.