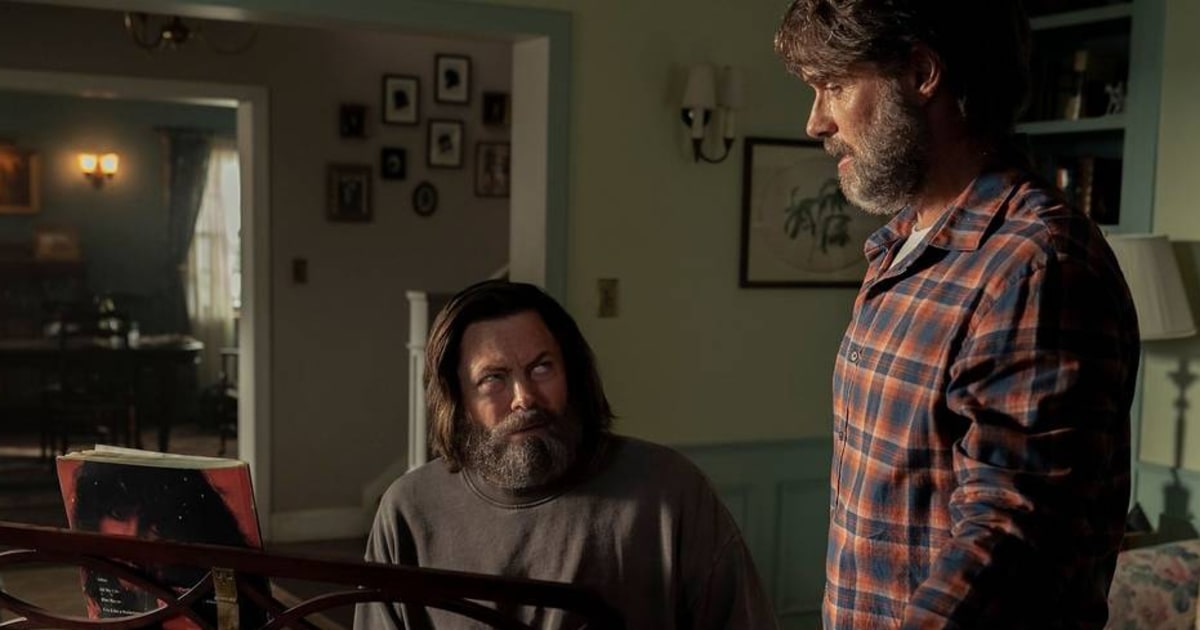 Warning: Spoilers ahead for HBO's "The Last of Us," and the video games "The Last of Us Part I" and "The Last of Us Part II."
For some LGBTQ gamers, their first exposure to a queer character in a video game was the curmudgeonly Bill in the 2013 blockbuster hit "The Last of Us." On Sunday, a decade later, those gamers watched in awe as Bill's story — a romance with his partner, Frank — became the focal point in episode three of HBO's wildly popular adaptation of the game. 
"It was gorgeous, and I was so not expecting it," said Darion Lowenstein, 41, a video game consultant, who is gay. "Obviously, I've played the games religiously and I know there's gay characters in there, but I was not expecting an 80-minute … tearworthy piece of art."
Queer gamers who tuned in said it felt like a watershed moment for LGBTQ representation in video games.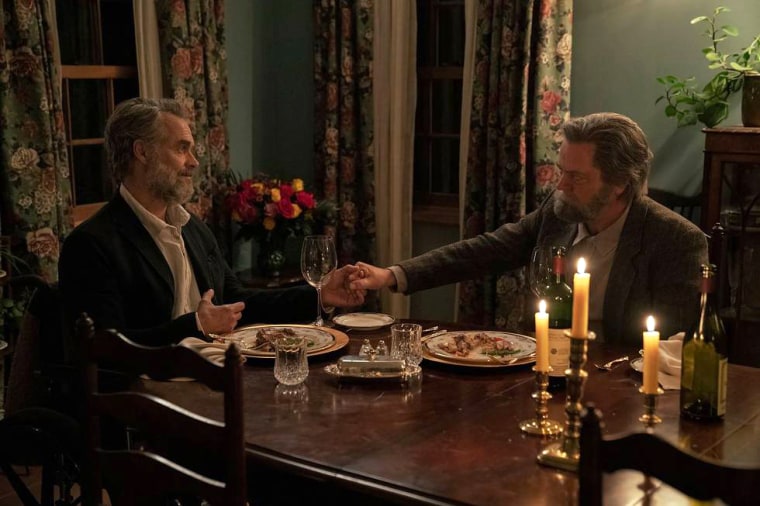 From left, Murray Bartlett as Frank and Nick Offerman as Bill in HBO's "The Last of Us."Courtesy WarnerMedia
Bill's story, while a first for some, is just one queer storyline in an industry in which LGBTQ narratives are becoming more prominent. Examples of queer characters include transgender man Tyler Ronan in 2020's "Tell Me Why" and Dorian Pavus in 2014's "Dragon Age: Inquisition." Queer-themed games date as far back as 1992's "Gay Blade," according to the LGBTQ media advocacy group GLAAD. Still, it has taken decades for them to attain the level of mainstream visibility they now enjoy.
After watching the third episode of "The Last of Us," LGBTQ gamers who spoke to NBC News said they felt this was an important moment for the propagation of queer stories in a medium sometimes stereotyped as being for straight men. 
Part of that feeling is thanks to the mainstream success of "The Last of Us." The pilot saw 4.7 million people tune in, and episode two saw the biggest-ever increase in viewership for a series, with 5.7 million viewers tuning in, Variety reported.
Blair Durkee, the associate director of gaming for GLAAD, said, "The Last of Us" — both the game and the show — can have a far more powerful effect on players and viewers than most people realize. 
"For so many LGBTQ people, to see characters like yourself represented in the games you play can be critical," she said. "It can change the course of your life."
Watching Bill and Frank's love story unfold
"The Last of Us" brings viewers into a dystopian modern-day America where a fungal infection known as "cordyceps" has spawned a global pandemic, turning its victims into aggressive, zombie-like monsters. The fungus sprouts from its host's head, like a grotesque mushroom, blinding them over time and forcing them to use echolocation to attack. This has earned the late-stage infected the nickname "clickers." 
The HBO adaptation (helmed by "Chernobyl" executive producer Craig Mazin and the game's creative lead, Neil Druckmann) has earned praise on social media from fans of the game, who have applauded the series for capturing its aesthetic.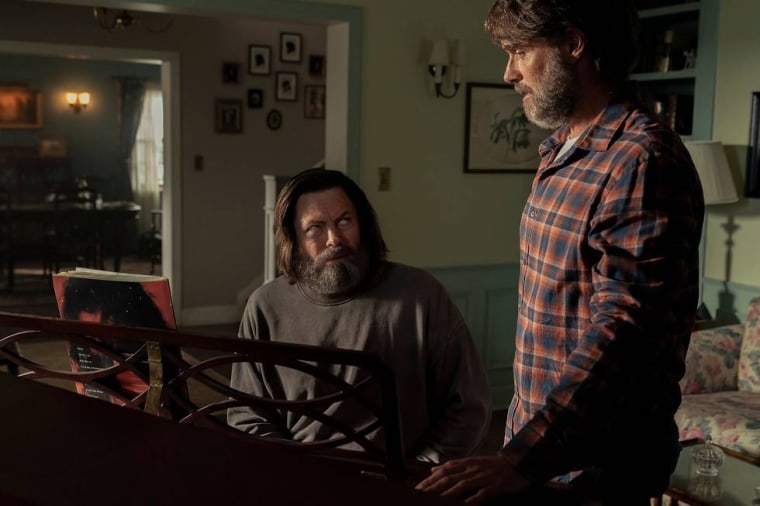 From left, Nick Offerman as Bill with Murray Bartlett as Frank in, "The Last of Us."Courtesy WarnerMedia
Set in 2023, the show follows Joel Miller (Pedro Pascal) and Ellie Williams (Bella Ramsey) 20 years after the cordyceps outbreak began. Over the course of nine episodes, Joel must get Ellie — who unwittingly becomes the last bastion of hope for a possible cure when it is discovered she's immune to the zombie-inducing fungal infection — to a guerrilla group of rebels known as the Fireflies, who hope to develop a cure for cordyceps. 
A consistent element in both the game and the show is the centering of LGBTQ characters. Ellie is a lesbian, which was first revealed in a 2014 video game expansion pack titled "The Last of Us: Left Behind." That storyline will be explored later in season one of the TV series. In "The Last of Us Part II," Lev, a transgender man, is introduced. 
Media shouldn't ignore the very real hardships that LGBTQ people face in the world today, but it's equally important to convey hate, discrimination — these things are not intrinsic to the human condition.
-Blair Durkee, associate director of gaming for GLAAD
While Bill (played by Nick Offerman) gets a sizable chunk of time in the HBO series, he's only a minor — albeit significant — character in the original video game. In "The Last of Us Part I," the foul-mouthed loner helps Joel and Ellieget a car in order to maketheir way to find the Fireflies.During this mission, Bill mentions that he once had a partner and that the two decided to go their separate ways. Later, it's discovered that Bill's partner was a man, Frank (played by Murray Bartlett in the series).  
In the HBO show, Bill's story starts at the beginning of the cordyceps pandemic. After everyone else has evacuated, Bill emerges from a doomsday-style bunker loaded with guns, weapons and electronics. It soon becomes clear Bill has been expecting a disaster of this magnitude for some time, and he quickly fortifies his home with an electric fence and various traps to prevent clickers and raiders from wandering in. He uses a generator for power, cooks himself gourmet meals and keeps an eye on the perimeter with a massive surveillance system. 
He's satisfied in his solitude — until he finds Frank, who wanders into one of Bill's traps. Frank, a traveler who is the sole survivor of a group heading to a "QZ" (quarantine zone) in Boston from one in Baltimore, eventually convinces Bill to feed him. From there, the show's most prominent romance blooms.
Offerman and Bartlett, who declined to comment for this article,have both praised the script, saying the characters were fully fleshed out already on the page. 
"I am just very grateful to be on the receiving end of that piece of scripture. Hopefully, I didn't screw it up," Offerman told Complex.
Stories like that of Bill and Frank, that focus on the couple's romance without the societal ills of discrimination and bigotry, can be important forms of representation, Durkee said
"Media shouldn't ignore the very real hardships that LGBTQ people face in the world today, but it's equally important to convey hate, discrimination — these things are not intrinsic to the human condition," she said. "These things don't have to exist."
'I felt really represented'
On Sunday night, gamer Chris Bonatsakis said he felt like he did in 2013 when he first played "The Last of Us Part I" and discovered Bill's story. Though Bill's role in the game is small, and his mention of being gay brief, it did not go unnoticed by LGBTQ gamers like Bonatsakis.
Back then, he was in his early 20s and still in the closet about his sexuality. Bill's story was the first time he felt seen in a video game, he said. A decade later, after watching the episode 3 of the series, Bonatsakis, 31, said many emotions were resurfaced.
"I was also overwhelmed with thinking everyone is watching this," he said. "I felt represented again just like the game. It was just really cool to see on screen."
On social media, fans also appeared floored by the episode — although many expressed that they hadn't anticipated Bill and Frank's romance to be its crux.
"the last of us writers were like 'hey joel needs a car. what if we write the most touching and heartbreaking hour of television in the world,'" one person tweeted.
Another wrote: "a post-apocalyptic zombie show based off a video game somehow making one of the most beautiful queer stories I've seen in a long time — not what I expected."
The LGBTQ gamers who spoke for this article about the episode Sunday echoed Bonatsakis, saying for them the episode felt like a leap forward for an industry that hasn't always felt accepting toward queer stories.
Drag queen and horror game Twitch streamer Elix said if the show hadn't been based on a video game, she might not have considered it such a leap forward.
"Because it's an adaptation of a game, and I still see it as the storyline of a game, absolutely," Elix said of the episode progressing queer stories in the gaming industry. "I don't think I've ever seen a game portray a relationship in the LGBTQ umbrella like this. This was excellence."
Adaptation gives gamers hope for more representation
Some queer viewers expressed excitement that Sunday's episode would expose even more people to gay video game characters. That prospect, they said, made them more optimistic about the industry's future.
"It gives me hope that other game studios, gamers, viewers, players will all be more open and wanting more content that is like this with a broader mix of characters than we currently have," Lowenstein said.
Roughly 10% of gamers are LGBTQ, according to a 2020 survey by Nielsen. And for many of these queer gamers, Durkee said, video games are a lifeline.
While the industry is sometimes perceived as a straight male hobby, she said, queer voices have been a part of the gaming industry since its inception. 
"But yet the culture of gaming tends to be very hostile towards people like us," Durkee added, "and so we tend to carve out our own little spaces separate from the mainstream, and that's part of what fuels that misconception."
She pointed to corners of the industry like Twitch, where drag queens like Elix have built followings, and the speed running community (a collective of gamers who complete games as fast as they possibly can), which has a number of members who are transgender. 
Unlike most other forms of media, namely film and television, Durkee said, video games offer queer people an important avenue for self-expression due to their interactive nature. She said character customization in games such as "The Sims" and "World of Warcraft" can empower queer gamers to express their identity in ways that traditional media cannot.
While representation in the gaming industry is growing, prominent stories, like those told in "The Last of Us," still make up a small part of the canon.
"There are so many different LGBTQ stories waiting to be told," Durkee said.