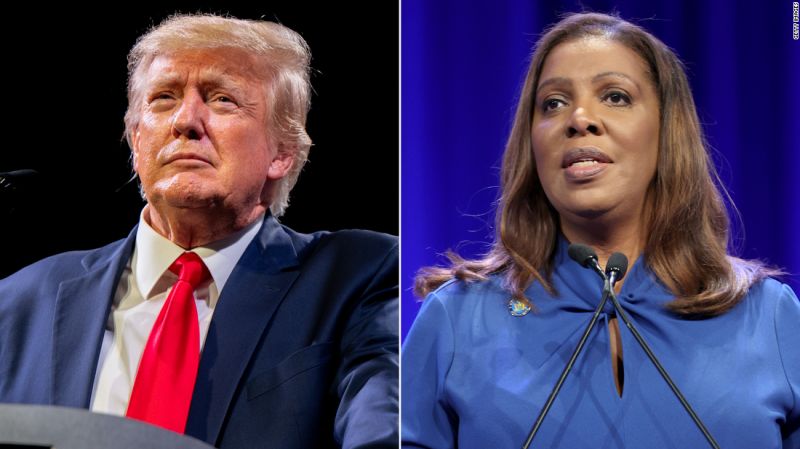 New York CNN  — 
The New York attorney general's office is asking a judge to sanction former President Donald Trump, his adult children and their attorneys after taking issue with their legal responses to the $250 million fraud lawsuit filed last year. Last week, attorneys for Trump and the other defendants filed "verified answers" to the New York lawsuit. The "answer" is a largely legal brief where a defendant is required to respond to each paragraph alleged in a lawsuit. In the responses the Trumps repeatedly said that they lack "sufficient knowledge" to answer multiple of the allegations.
The attorney general asked Judge Arthur Engoron, who previously considered sanctioning the Trump attorneys for repeating legal arguments he already rejected, to hold a hearing, accept as admissions some of the responses they say are "improper", reject some of their defenses and sanction the defendants and their attorneys.
"A cursory review of the Verified Answers reveals that a number of the denials are demonstrably false and actually contradict sworn statements by the Defendants in other proceedings," lawyers for New York Attorney General Letitia James wrote.
They cite several examples, including Trump's rejection of their description of the Trump Organization; Eric Trump's denial that the Trump Organization bought Seven Springs, the family property in Westchester, New York, in 1995 for $7.5 million even as he admitted to that previously; and Ivanka Trump's inability to recall if she met with bankers while working for the Trump Organization.
"Ivanka Trump denies 'knowledge or information sufficient to form a belief' as to whether she personally met with bankers, or whether she can confirm the contents of her own emails," the attorneys wrote.
"The Court has already admonished Defendants and their counsel for their continued invocation of meritless legal claims but exercised its discretion in not imposing such sanctions, 'having made its point.' It does not appear that this point was taken, however, and OAG would ask the Court to renew the issue," the New York attorneys wrote.
James sued Trump and his eldest children for $250 million last year alleging they engaged in a decade long fraud that mislead lenders, insurers and others. The Trumps have denied any wrongdoing and said the lawsuit is politically motivated.