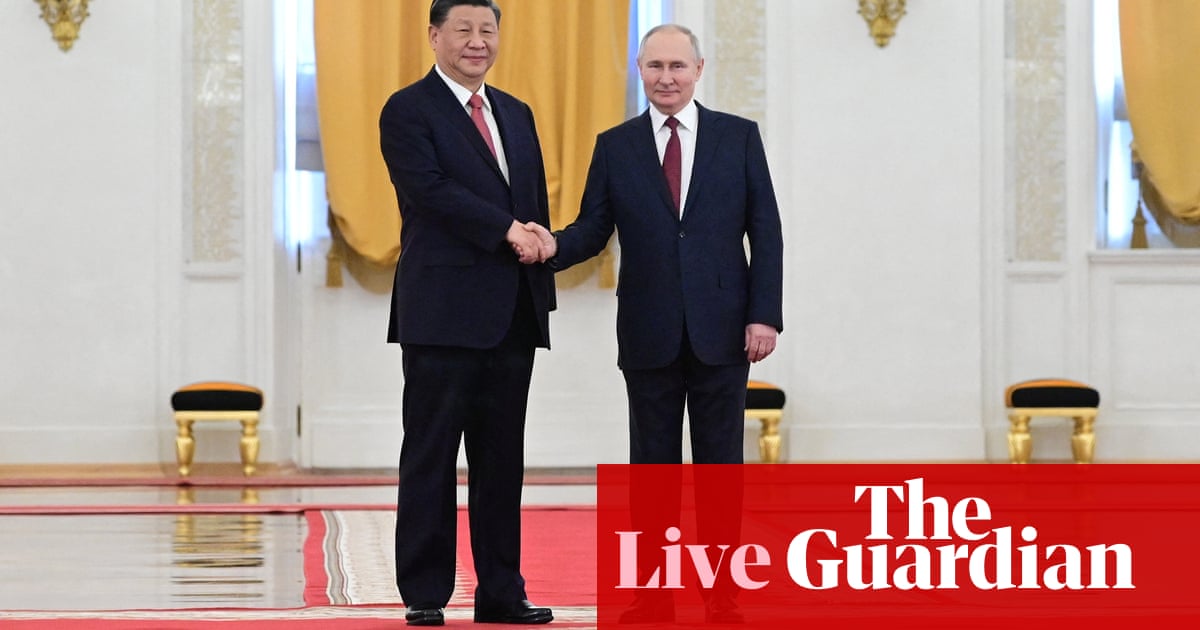 UK plan to send ammunition with depleted uranium to Ukraine would trigger Russian response, says Putin
Putin also condemned the UK for a plan to send ammunition that contains depleted uranium for use in Ukraine.
If the UK supplies ammunition with depleted uranium to Ukraine, Russia will be forced to react, the Russian leader said. It comes after Lady Goldie, the minister of state at the UK Ministry of Defence, said Britain will be providing ammunition to Ukraine including armour piercing rounds which contain depleted uranium.
Updated at 11.58 EDT
Key events
Show key events only
Please turn on JavaScript to use this feature
Closing summary
It's 9pm in Kyiv. Here's where we stand: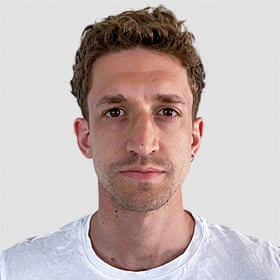 Pjotr Sauer
Standing alongside Xi Jinping in the 15th-century Chamber of Facets, one of the most historic ceremonial venues at the Kremlin, Vladimir Putin raised his glass of white wine.
He proceeded to make a toast to the "health of our great friend Xi and the deepening of the Russian-Chinese partnership", before ending his speech with the phrase ganbei, Chinese for "empty glass".
Putin's speech was a culmination of the Kremlin's two-day charm offensive with China, aimed at cementing ties between the two countries amid Russia's growing isolation from the west.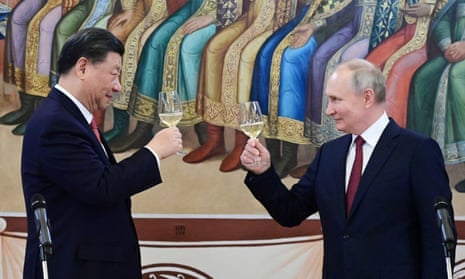 Xi Jinping and Vladimir Putin raise their glasses at a reception in the Kremlin. Photograph: SPUTNIK/Reuters
From the moment Xi stepped off his Boeing 747 at Vnukovo airport in Moscow on Monday, it was clear that Xi's visit was of huge importance to the Kremlin. On his way to the five-star Chinese-owned Soluxe Hotel, Xi drove past a series of large billboards dedicated to his visit.
The Soluxe is set next to a nearly 13-acre park with trees and plants from all over China, while its rooms are designed based on "feng shui principles", Russian state media proudly boasted.
A few hours later, facing the Chinese leader across a small table after they first shook hands, Putin hailed what he described as China's "colossal leap forward" under his "dear friend" Xi.
Here are some images we have received of Japan's prime minister, Fumio Kishida, meeting Ukraine's president, Volodymyr Zelenskiy, in Kyiv today.
Fumio Kishida and Volodymyr Zelenskiy greet each other during their meeting in Kyiv. Photograph: AP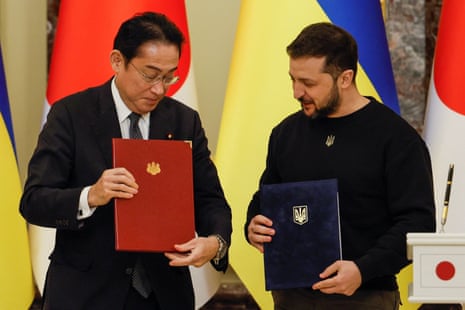 Zelenskiy and Kishida hold documents as they attend a joint news conference. Photograph: Reuters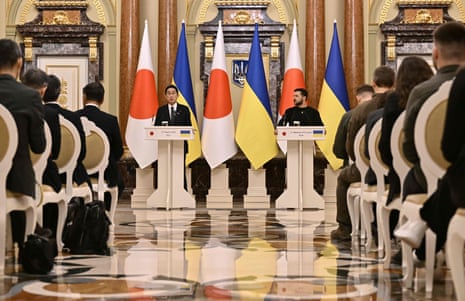 Zelenskiy and Kishida during a joint press conference after their meeting in Kyiv. Photograph: Genya Savilov/AFP/Getty Images
Updated at 14.36 EDT
Ukraine's president, Volodymyr Zelenskiy, said Kyiv had suggested to China that it join a Ukrainian peace formula to end Russia's war in his country.
Zelenskiy, speaking during a joint press conference in Kyiv with Japan's prime minister, Fumio Kishida, said Ukraine was still waiting for an answer from Beijing.
Zelenskiy said:
We offered China to become a partner in the implementation of the peace formula. We passed over our formula across all channels. We invite you to dialogue. We are waiting for your answer.
He added:
We are receiving some signals, but there are no specifics yet.
He also said he would join an upcoming G7 summit in Japan via video link.
Updated at 14.37 EDT
Russian authorities have raided the homes and offices of multiple former employees of the Nobel Prize-winning human rights group Memorial, the group said.
The group said the raids – and interrogations that took place after – are connected to a criminal case launched by Russia's investigative committee against the activists earlier this month.
Investigators have accused Memorial of rehabilitating Nazism, punishable by up to five years in prison. The group runs a database of victims of political repressions, which includes three people who were convicted in Soviet times over collaboration with Nazi Germany.
The group posted to Telegram:
At present searches of some of the employees are continuing – lawyers are not allowed to see them.
Memorial, one of the oldest and the most renowned Russian rights organisations, was awarded the 2022 Nobel Peace Prize along with imprisoned Belarusian activist Ales Bialiatski and Ukrainian organisation the Centre for Civil Liberties.
Memorial chairman Yan Rachinsky, who collected the Nobel Prize on behalf of the group, was also subject to a raid on his home, the group said.
Updated at 14.19 EDT
Reuters has translated part of the joint statement by Russia and China that relates to the war in Ukraine.
The statement reads:
The Russian side positively assesses the objective and unbiased position of the Chinese side on the Ukrainian question. The parties are opposed to any states and their blocs damaging the legitimate security interests of other states in order to obtain military, political and other advantages. The Chinese side positively assesses the willingness of the Russian side to make efforts to restart peace talks as soon as possible.

Russia welcomes China's readiness to play a positive role in a political-diplomatic settlement of the Ukrainian crisis and the constructive ideas set forth in the document drawn up by the Chinese side "On China's Position on the Political Settlement of the Ukrainian Crisis".

The parties note that in order to resolve the Ukrainian crisis, it is necessary to respect the legitimate concerns of all countries in the field of security and prevent the formation of bloc confrontation, and halt actions that further fuel the conflict.

The parties stress that responsible dialogue is the best way for a sustainable resolution of the Ukrainian crisis, and the international community should support constructive efforts in this regard.

The parties call for an end to all steps that contribute to the escalation of tension and prolongation of hostilities, to avoid further degradation of the crisis to the point where it could cross over into an uncontrollable phase. The parties oppose all unilateral sanctions imposed in circumvention of the UN security council.
Updated at 13.48 EDT
Here's a look at the joint statement signed by President Xi and President Putin today, as shared by Edward Wong of the New York Times.
From Beijing, here's the joint statement signed by Xi & Putin. Russia has violated the UN Charter through its invasion of Ukraine and other wars over the years. But both China and Russia say here the UN Charter "must be observed." https://t.co/JfMhjIYbaq pic.twitter.com/q9y4iIhNmJ

— Edward Wong (@ewong) March 21, 2023
Updated at 13.34 EDT
Meanwhile in Kyiv, the Japanese prime minister, Fumio Kishida, has visited the Wall of Remembrance for the fallen and laid flowers in tribute for those who have died fighting in the war.
Japanese Prime Minister Fumio Kishida honors fallen defenders of Ukraine by laying flowers at the Memory Wall of the Fallen near the Mykhailo Golden-Domed Monastery in Kyiv during his visit to Ukraine on March 21.
More news here https://t.co/S95ZiWHXi6 pic.twitter.com/3jsTZg3Ytr

— The New Voice of Ukraine (@NewVoiceUkraine) March 21, 2023
Updated at 13.29 EDT
Russia's defence minister, Sergei Shoigu, has said there were fewer and fewer steps left before a potential "nuclear collision" between Russia and the west, Interfax news agency reported.
Shoigu, responding to reports that the UK will supply Ukraine with ammunition containing depleted uranium, said Moscow would respond, Interfax reported.
"Every war ends in peace", Shoigu was also quoted by Russian state-run Ria news agency as saying.
Summary of the day so far
It's nearly 7pm in Kyiv. Here's where we stand:
Xi Jinping invites Vladimir Putin to China at Kremlin meeting – video
Ukraine says Russian missiles destroyed in Crimea blast – video
Good afternoon from London, it's Léonie Chao-Fong here with all the latest developments from the Russia-Ukraine war. Feel free to drop me a message if you have anything to flag, you can reach me on Twitter or via email.
Updated at 13.04 EDT
Vladimir Putin could visit China this year, according to Kremlin foreign policy adviser, Yury Ushakov.
President Xi on Monday invited the Russian leader to visit China this year, extending the invitation during a meeting today with the Russian prime minister, Mikhail Mishustin.
Updated at 12.28 EDT