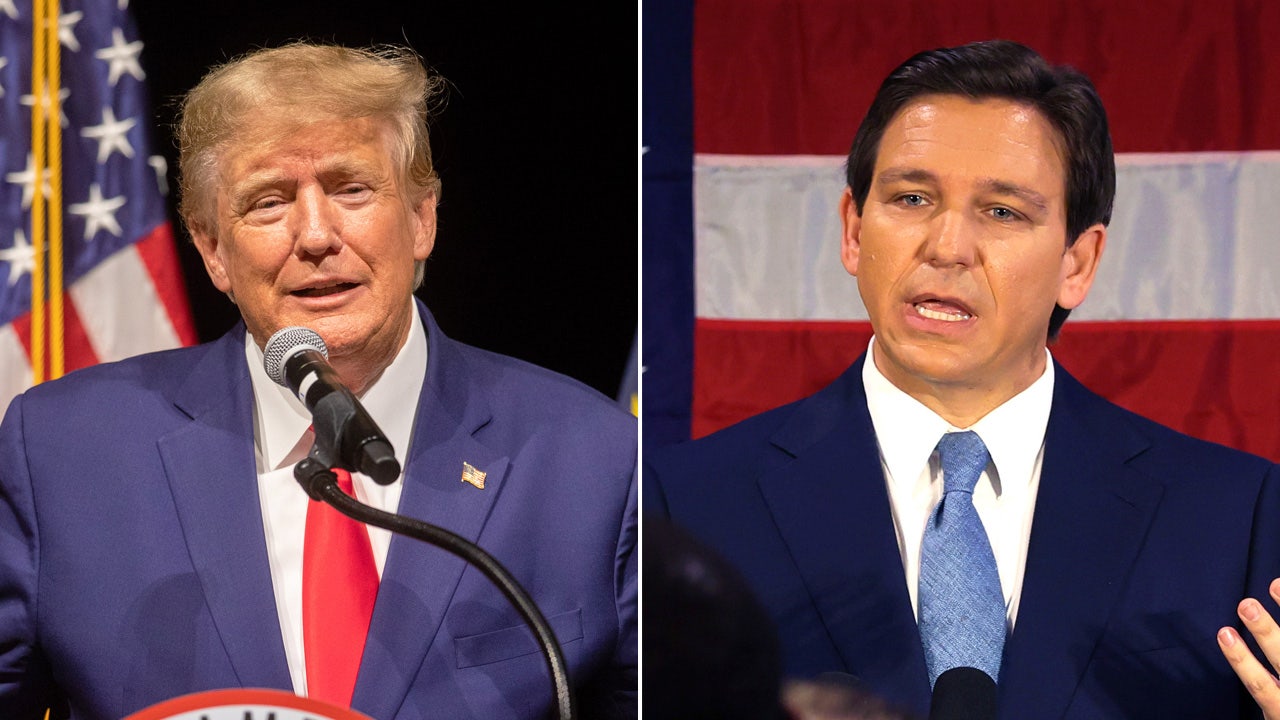 Former President Trump lashed out again on Wednesday at his top potential rival in the 2024 presidential election, Florida Gov. Ron DeSantis, who took swipes at the former president's character and leadership style during an interview with Piers Morgan earlier in the week. 
"Now that Ron DeSanctimonious is finally admitting he's in the Race by beginning to fight back, and now that his Polls have crashed so he has no other choice, let me explain the facts," Trump said in a statement on Wednesday. "He is, for a Republican, an average Governor, he got 1.2 million less Votes in Florida than me," Trump continued. "Florida has been successful for many years, long before I put Ron there—It's amazing what Ocean and Sunshine will do!"
Trump also took aim at DeSantis' record as governor, claiming that he was a proponent of lockdowns during the COVID-19 pandemic and that Florida is "among the worst in the country" on education and crime statistics.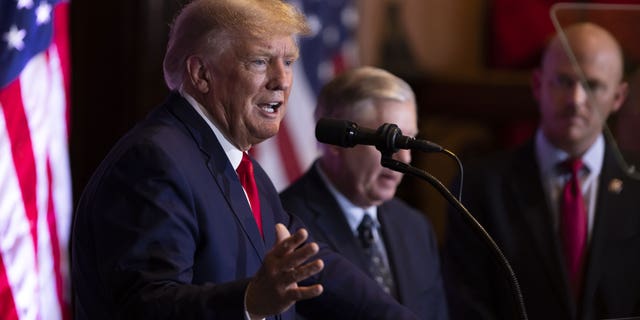 Former US President Donald Trump speaks during a campaign event at the South Carolina State House in Columbia, South Carolina, US, on Saturday, Jan. 28, 2023. (Sam Wolfe/Bloomberg via Getty Images)
Tensions have been brewing for months between the two Republicans, but reached a fever pitch on Monday when DeSantis addressed a potential indictment of Trump related to hush-money payments that the former president allegedly made to adult film star Stormy Daniels before the 2016 election. 
"I don't know what goes into paying hush money to a porn star to secure silence over some type of alleged affair — I just, I can't speak to that," DeSantis said at a press conference while condemning Manhattan District Attorney Alvin Bragg as a "Soros-funded prosecutor" who is "pursuing a political agenda." 
DESANTIS HIGHLIGHTS DIFFERENCES WITH TRUMP: 'I WOULD HAVE FIRED' FAUCI
DeSantis doubled down on those comments in an interview with Piers Morgan later in the day that is scheduled to air on Fox Nation on Thursday. 
"Well, there's a lot of speculation about what the underlying conduct is. That is purported to be it, and the reality is that's just outside my wheelhouse," DeSantis told Morgan. "I mean that's just not something that I can speak to."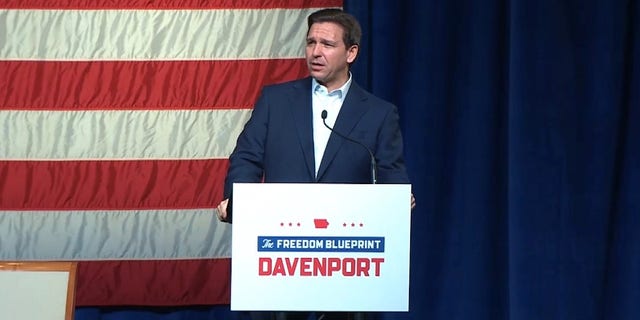 Republican Gov. Ron DeSantis of Florida makes his first ever trip to Iowa, the state that holds the first contest in the GOP presidential nominating calendar. ('And to the Republic')
The Florida governor also laid out differences between himself and the former president, noting that he doesn't tolerate "daily drama" in his office and would have gotten rid of Dr. Anthony Fauci.
"Well, I think there's a few things. The approach to COVID was different. I would have fired somebody like Fauci. I think he got way too big for his britches, and I think he did a lot of damage," DeSantis told Morgan. 
"In terms of my approach to leadership, I get personnel in the Government who have the agenda of the people and share our agenda. You bring your own agenda in you're gone. We're just not gonna have that." 
DeSantis' office did not immediately respond to a request for comment about Trump's latest criticism on Wednesday evening.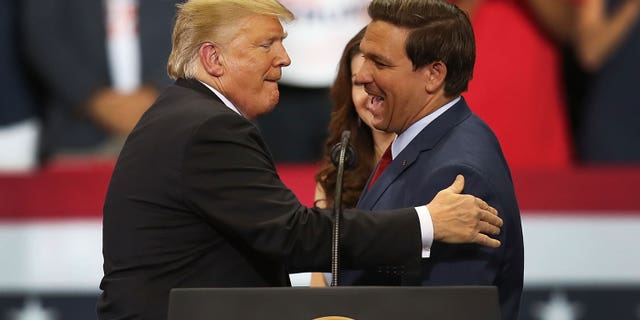 Florida Gov. Ron DeSantis with former President Donald Trump at a rally.  (Getty Images)
CLICK HERE TO GET THE FOX NEWS APP
While DeSantis hasn't yet announced his candidacy for the 2024 presidential election, recent trips to the early voting states of Iowa and Nevada, as well as a planned trip next month to New Hampshire, have sparked endless speculation. 
A Monmouth University poll released on Tuesday found that Trump has widened his lead over DeSantis in recent months, with 41% of Republican voters favoring the former president and 27% favoring the Florida governor. DeSantis had a 13% lead on Trump in December, and the two were tied in February. 
Paul Best is a breaking news reporter for Fox News Digital and Fox Business. Story tips and ideas can be sent to Paul.Best@fox.com and on Twitter: @KincaidBest.