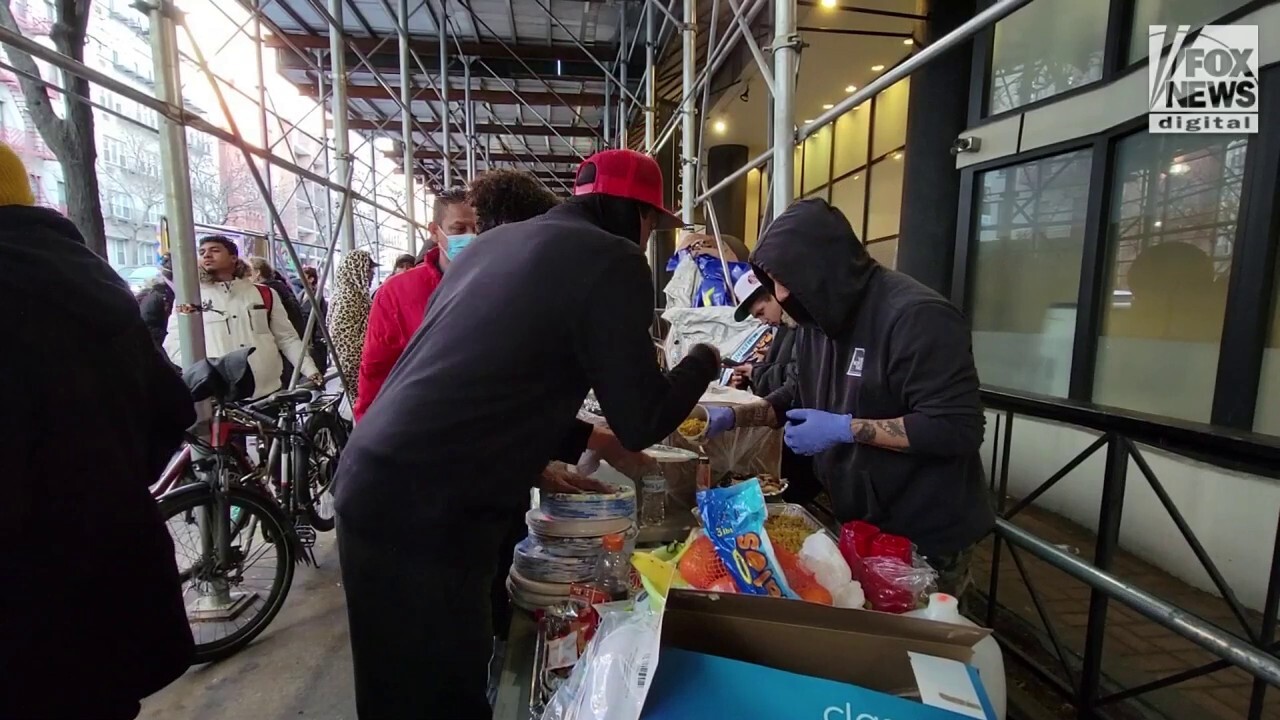 Migrants are seen outside the hotel, many of whom spent last night sleeping on the street rather than be relocated to the Brooklyn Cruise Terminal over the weekend. (Jennifer Mitchell for Fox News Digital)
NEWYou can now listen to Fox News articles! New York City Mayor Eric Adams has had it with the migrants, and who can blame him? He and Gotham as a whole have bent over backwards to accommodate the flood of humanity unleashed by President Joe Biden's bumbling border policies.
But some of those migrants are now laughing in our faces.
Maybe, just maybe, it's time for him to call for some of these malcontents to be deported.
This week we saw full out protests, and the erection of yet another Bidenville tent city outside Midtown's Watson Hotel when ungrateful migrants were set to be moved to a facility at the Brooklyn Cruise Terminal.
ILLEGAL MIGRANTS REFUSE TO LEAVE NYC HOTEL FOR BROOKLYN MIGRANT RELIEF CENTER, SLEEP IN THE STREET
Mind you these are some of the people who have been causing mayhem in these hotels, as widely reported throughout the media.
Adams is now begging the federal government to help him out as the border crisis crashes into the five boroughs, he means money of course, but why not ask for real help? Why not ask that the federal government deport those single adult males who refuse to play by our rather generous rules?
One has to ask, are these genuine asylum seekers who would do anything to escape the punishing and unlawful conditions of their homeland, or tourists set to give Mayor Adams a poor Yelp review? What exactly is going on here?
Since the Biden administration has decided that just about anybody can claim asylum for just about any reason Hizzoner is stuck providing room service and X-Boxes to grown, single men. Sadly that may constitute assimilation in today's broken American society, but why won't Adams demand these people be shown the door?
MIGRANTS' REFUSAL TO LEAVE NEW YORK HOTEL MET WITH OUTRAGE: 'ABSOLUTELY INSANE'
Deportation is the one solution to this problem that Democrats like Adams cannot abide. Oh, they'll evict migrants from Martha's Vineyard to an army base faster than you can say Cesar Chavez, but send them out of the country? That's supposedly inhumane.
So where do Adams and his Democrat allies think the migrants should go? Some farm community in Idaho? The Appalachian Mountains of West Virginia? Those locales didn't sign up to be sanctuary cities, New York did. Was that all just talk?
As comedian Jerry Seinfeld once pointed out to a rental car clerk, anybody can just take reservations, the important part is holding the reservation. Well, now tens of thousands of people in the country on very questionable grounds are calling in their reservations, and Adams has no answers.
There is an answer, and it is obvious, it's the answer any of us would say to an unruly guest in our own home, "take what we are offering or leave."
GREG ABBOTT BLASTS BIDEN'S NEW BORDER POLICY THAT WILL ALLEGEDLY ATTRACT 'EVEN MORE' ILLEGAL MIGRANTS
Most Americans have a story or two about their ancestors who arrived as immigrants. Whether those ancestors signed the Mayflower Compact or blew clarinet in a Jewish Lower East Side tenement, none of them were as coddled and cuddled as the not-so-huddled masses we see today. They got jobs on the docks, not hotel rooms.
If Mayor Adams is serious about this problem, if he's worried about the actual consequences and not just his political ambitions, then he should be calling for swift and decisive action.
The most obvious answer, and frankly the one most likely demanded by our laws, is to deport those who refuse to accept our system and instead insist we handle their situation on their terms, not ours.
CLICK HERE TO GET THE OPINION NEWSLETTER
The American people, even mostly liberal New Yorkers are not going to stand for this much longer. We don't get free hotel rooms, we don't get to dictate what our government provides for us, half the time we doubt we have any say at all.
If Adams wants to lead he has a chance. If he wants to be a new voice in the Democrat Party then he can be. He can do it by demanding that Biden deport those migrants who refuse to play by the rules.
CLICK HERE TO GET THE FOX NEW APP
This shouldn't be particularly controversial. If these young single men are truly escaping oppression then what New York is offering is a Godsend. If not, then it's time to leave.
New York needs a leader who can say this and make it happen.
CLICK HERE TO READ MORE FROM DAVID MARCUS