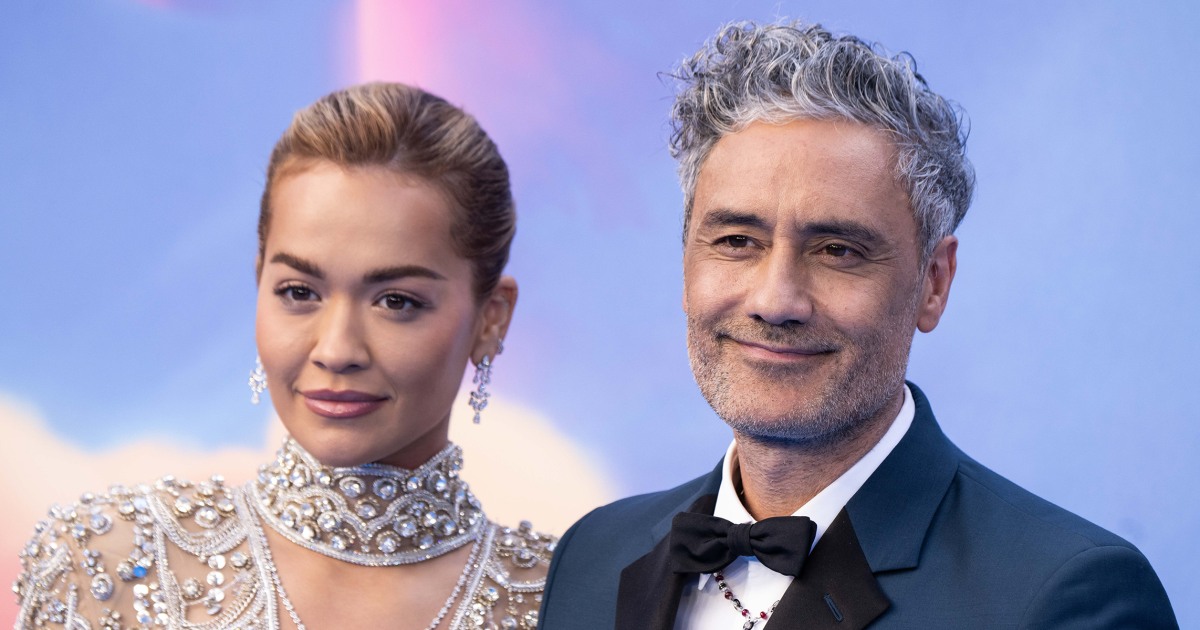 Rita Ora and Taika Waititi have tied the knot after nearly two years together.
Ora confirmed her nuptials during an appearance on the morning show "Heart Breakfast with Jamie Theakston and Amanda Holden" on Friday, Jan. 27 after Theakston asked if she had gotten married. The singer replied, "Yes. Here we are. Everything happens for a reason, people. I am officially off the market." "It was just nice and perfect," Ora said of her wedding. "Completely how I wanted it, just to myself sometimes. It was really sweet. … Sorry, it's not that interesting! One day, we'll throw a big party. I'll figure out a time to do a big, big party."
Though Ora kept further details of her nuptials private, she did weigh in on whether she would be taking her husband's last name. 
"I've definitely thought about it, but I've worked very hard for this Ora name, I have to say," she said. "But I do believe in sharing the journey. I don't know, I haven't really decided yet."
TODAY.com has reached out to Ora's representative for additional details.
Ora, 32, and Waititi, 47, sparked dating rumors in April 2021 when the singer shared a photo on Instagram of Waititi hugging her as they wore matching rainbow sweaters.
In the months that followed, the couple made several public appearances together, seemingly confirming their relationship. In August 2021, they walked the red carpet at the Los Angeles premiere of "The Suicide Squad." They also attended the Met Gala in September 2021 and the Los Angeles premiere of "Eternals" the following month.
Ora and Waititi have kept details of their relationship private, with the singer declining to comment on their romance during a September 2021 interview with Vogue Australia. At the time, the singer said, "I'm in a great place in my life, that's all I'm going to say about that. I just think, respectfully, privacy is important."
The "Let You Love Me" singer gave a rare glimpse into their romance during a September 2022 appearance on the "Greatest Night Ever" podcast. During the episode, Ora told host Jaime Winstone in a singsong voice, "I'm in love, I'm in love, I'm in love. Amen!"
"I've always wanted the fairytale, that's what I grew up loving," she said. "For me, it was always about that love, finding a partner, so I'm really happy I did…I love Taika. Shoutout to Taika!"
Also on Jan. 27, Ora also released the music video for her song "You Only Love Me," the first single from her upcoming studio album.
"Putting out a new single and it really being inspired by where I'm at in my life, I knew the questions were going to come," Ora said. "I just thought I might as well put it in my music, so this is the first time I've done something where all the music does the talking really, so it explains it all and sort of my love story which is on my album."
The video stars Lindsay Lohan, Kristen Stewart, Chelsea Handler, and Jodie Turner-Smith as they send their well wishes on her wedding day. However, Ora's plans for her perfect wedding are thwarted when she and her bridesmaids stop in the middle of the street and scream in horror as they notice her wedding venue, a castle in the distance, is actively on fire.
She said on "Heart Breakfast" that she decided to put a "twist" on rumors about her relationship status and use that as inspiration for her music video.
"When all the sort of rumors came out, like is she, is she not? I wanted to play on it," Ora said. "This is my version of a wedding that didn't really go to plan…But that's not to say that's what actually happened, but I did wanna play on the fact that I've chosen to keep it more private, this sort of experience that I had, and just to myself a bit more. But I did wanna play on what could have been."