Good morning, and welcome to the Essential California newsletter. It's Wednesday, March 22.
Workers who feed, transport, teach, heal and clean up after Los Angeles students kicked off a historic three-day strike Tuesday, shutting down the state's largest school system as they rally for higher wages and better working conditions. The work stoppage was called by Local 99 of Service Employees International Union, which represents about 30,000 cafeteria workers, bus drivers, custodians, special education assistants and others. Roughly 35,000 members of United Teachers Los Angeles joined their fellow district workers in an act of solidarity.
"Historically, strikes are relatively rare in L.A. Unified and this one would be especially unusual because of the coordination between the two unions," my colleagues Howard Blume and Andrew J. Campa noted in their reporting ahead of the strike.
As the rain fell Tuesday, thousands of workers formed picket lines at campuses across the city, then united for a massive downtown rally outside LAUSD headquarters.
The nonteaching workers earn an average salary of $25,000, Local 99 Executive Director Max Arias told The Times last week, and the union is seeking to raise that to $36,000.
"I love my work and the students," Alejandra Sanchez, a special education assistant, told The Times from a picket line Tuesday. "And it's sad that I have to get up today in the rain to fight for respect because the district doesn't understand what I and so many others do."
While union leaders have been bargaining for nearly a year, this week's strike was in protest of alleged unfair labor practices by LAUSD. Local 99 has accused the district of "impeding the rights of workers to engage in legally protected union-related activities," Blume reported Monday. LAUSD has denied wrongdoing, though Supt. Alberto Carvalho pledged to investigate the union's complaint.
It may only be planned for three days, but the strike was "decades in the making," according to Mindy Chen, director of the Dolores Huerta Labor Institute and professor of labor studies at Los Angeles Trade-Tech College.
Chen previously worked as an organizer for SEIU and noted the significance of this week's action, which marks the first time the two unions have joined together in a strike, with UTLA willing to "voluntarily withhold pay and withhold work to actually stand in solidarity" with their schools' nonteaching workers.
"Unions haven't always been good about coordinating actions," she told me.
It's especially remarkable, Chen explained, given L.A.'s troubled, violent history around organized labor (in which the L.A. Times played a major role).
Flash back to the late 19th century: As more workers unionized across the country, Los Angeles remained a "horrible, anti-union town for the longest time," Chen said.
But over the next century, while unions through the Rust Belt saw dwindling influence, L.A.'s union members "actually figured out how to organize immigrant workers [and] organize whole communities," she explained.
She traced that shift to the late '80s and early '90s. Back then, L.A. was viewed as "a hub of low-wage work" by unions that didn't think organized labor could grow, Chen explained, especially given the high number of low-wage immigrant workers. But then organizers began to develop a "model of labor community coalition work," which really got going with the 1990 janitors strike. Chen explained the strategy:
"The way for us to unionize [is] to think about uplifting standards … not to talk about just union work by itself, but really talking about a combination of social justice, economic justice, and really looking at labor organizing as one for regional economic power."
That focus on community building laid the path for this week's action, Chen said, as many LAUSD families whose lives are disrupted by the strike are standing in solidarity with striking school workers.
"My read is that UTLA has a pretty good reach with the parents," she said. "There's a lot of understanding and sympathy from the community that they have to do what they have to do."
In pouring rain, LAUSD workers rally on Day 1 of a three-day strike in front of Robert F. Kennedy Community School on Tuesday.
(Irfan Khan/Los Angeles Times)
For Chen, the LAUSD strike also comes at an opportune moment as a nationwide "reckoning" on the dignity of work continues to swell.
That's "elevating the conversation beyond just pay," she said, and pushing people to think about "living wage jobs and better jobs [so] people who teach in a district can actually afford to live in that district."
"There's a lot of heightened labor consciousness all around the region," she said, noting the recent University of California workers strike. "[It's] good timing to flex solidarity and to flex a lot of leverage."
Here's our newsroom's full coverage of the strike and its impacts on LAUSD.
And now, here's what's happening across California:
Note: Some of the sites we link to may limit the number of stories you can access without subscribing.
L.A. STORIES
Downtown L.A.'s Grand Park is set to be renamed after longtime L.A. County Supervisor Gloria Molina. County leaders approved the dedication a week after the 74-year-old Molina announced she had terminal cancer. Los Angeles Times
Long Beach's Prisk Native Garden isn't quite a secret garden, but it's typically only open to students and teachers at the school where it grows. But this spring, the gates will open to the public with a pair of free tours. Los Angeles Times
Check out "The Times" podcast for essential news and more
These days, waking up to current events can be, well, daunting. If you're seeking a more balanced news diet, "The Times" podcast is for you. Gustavo Arellano, along with a diverse set of reporters from the award-winning L.A. Times newsroom, delivers the most interesting stories from the Los Angeles Times every Monday, Wednesday and Friday. Listen and subscribe wherever you get your podcasts.
POLITICS AND GOVERNMENT
A federal database lists 539 levee systems across the Greater Bay Area's 11 counties. But fewer than 10% of those levees have received a federal flood risk rating. Many are on private land and aren't held to the same inspection and maintenance standards as state and federal systems. KQED
Mobile home parks have become a haven for Californians weathering the housing crisis. But a lack of regular inspections has left many parks in squalor and disrepair. That's created a Catch-22 as state housing officials weigh shutting them down — displacing residents on the verge of homelessness —or ignoring hazardous housing conditions. CalMatters
California is expected to receive "waivers" from President Biden's EPA to enforce new state rules regulating diesel trucks — which are stricter than current federal rules. That's according to three sources who spoke to the Washington Post. The Golden State aims to curb tailpipe pollution from the heavy-polluting vehicles and ultimately phase out sales in a transition to electric trucks. The Washington Post
UC San Diego has the green light to move forward on a student center 2,400-bed housing complex as part of an effort to address the ongoing student housing crisis. Construction on the $1.1 billion project is expected to start this summer. The San Diego Union-Tribune
CRIME, COURTS AND POLICING
Parts of a California law regulating new handguns were blocked by a federal judge this week, who ruled they violate the 2nd Amendment. The reversal does not go into effect for two weeks, giving the state Department of Justice time to appeal the ruling. Associated Press
HEALTH AND THE ENVIRONMENT
Communities in Northern and Central California were slammed by a "bomb cyclone" that toppled trees and knocked out power for tens of thousands. The storm caused at least one death when a tree reportedly fell on a vehicle in Portola Valley. Los Angeles Times
After a rough start earlier this stormy winter, the Ballona Creek Trash Interceptor 007 is working as intended, keeping thousands of pounds of garbage from spilling into the Pacific. The solar-powered system — the first of its kind anywhere in the U.S. — has caught 35,000 pounds of trash since the atmospheric river parade started in January. Los Angeles Times
The Ballona Creek Trash Interceptor 007, shown in January, serves as a last line of defense against garbage that would otherwise be swept into the Pacific Ocean.
(Christina House/Los Angeles Times)
The CDC is warning of a potentially deadly fungus that officials say is spreading rapidly across California. Nearly 360 clinical cases of Candida auris or C. auris have been seen in California over the past 12 months — the second highest number of cases in the nation. The fungus spreads mostly inside healthcare facilities with lax infection control. Los Angeles Times
San Joaquin Valley communities have been dealing with flooding for months as a dozen storm systems doused the region. But there's a long-term challenge officials expect to be fighting "clear into June": record snowpack in the Sierras will melt and swell the San Joaquin and Kings rivers, likely stressing the storage capacity of dams. The Fresno Bee
Free online games
Get our free daily crossword puzzle, sudoku, word search and arcade games in our new game center at latimes.com/games.
AND FINALLY
Today's California landmark comes from Shankar Murali Menon, sharing from India: Point Vicente Lighthouse.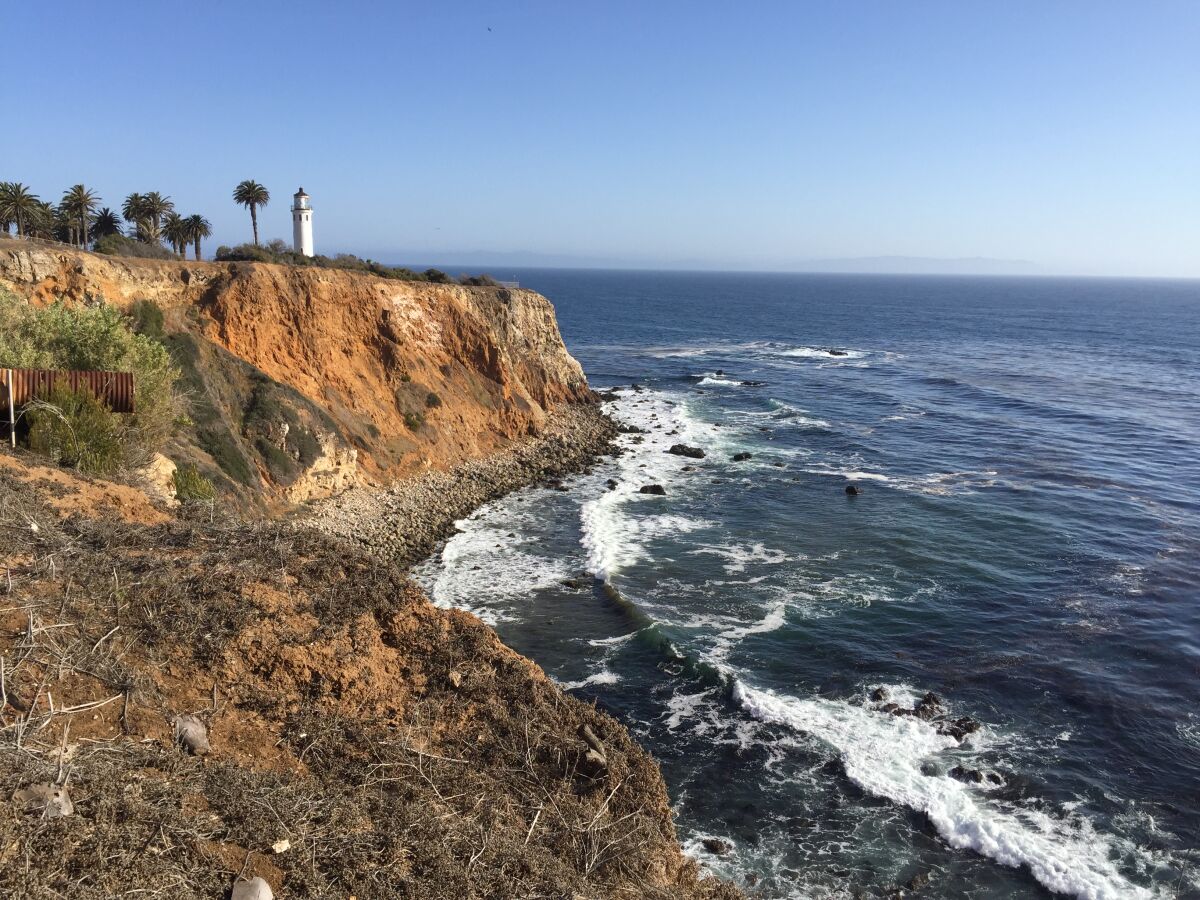 Point Vicente lighthouse, photographed by Shankar Murali Menon while on holiday in 2018.
(Courtesy Shankar Murali Menon)
Shankar Murali writes:
The lighthouse is one of the jewels of the Palos Verdes peninsula, located at its southwestern tip near the intersection of Palos Verdes Drive and Hawthorne Boulevard. [It] came about as a result of a petition from sailors and navigators who sailed these dangerous waters in the early 1900s. [Completed] in 1926, it was one of the brightest landmarks on this coastline at that time.
What are California's essential landmarks? Fill out this form to send us your photos of a special spot in California — natural or human-made. Tell us why it's interesting and what makes it a symbol of life in the Golden State. Please be sure to include only photos taken directly by you. Your submission could be featured in a future edition of the newsletter.
Please let us know what we can do to make this newsletter more useful to you. Send comments to essentialcalifornia@latimes.com.