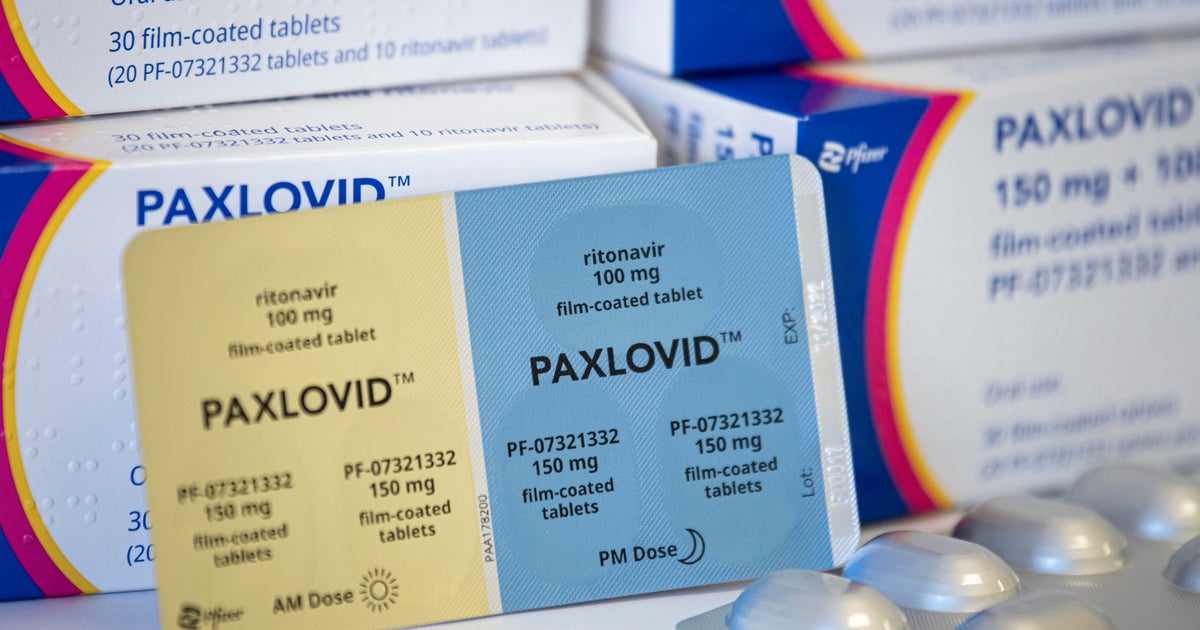 The Biden administration will continue to manage the distribution of free courses of Pfizer's Paxlovid treatment for COVID-19 for at least another few months, the drugmaker said, even after the Food and Drug Administration granted Pfizer full approval Thursday to market the pills.
"At this time, the U.S. government will continue to oversee the distribution of PAXLOVID, and U.S. residents eligible for PAXLOVID will continue to receive the medicine at no charge," Pfizer said in a release. Federal officials have previously said that the widely-expected approval of the drug, as well as the unwinding of the public health emergency earlier this month, would have no immediate impact on distribution of government-bought supplies of the pills. 
"We bought a little bit more anticipating a winter surge that never really materialized. And we don't want the American people to pay twice," Dawn O'Connell, head of the Administration for Strategic Preparedness and Response, said at an event hosted by the Health Affairs journal last week.
O'Connell's agency, ASPR, has distributed nearly 14 million courses of Pfizer's pills to date. Around 9.3 million of those have been reported administered to patients across the country. 
The Biden administration still has around 9.6 million courses of the pills in its stockpile that have yet to be distributed.
"If we've purchased it for them with their taxpayer dollars, we want to make what we've purchased available to them for free, as we've been promising," said O'Connell. 
Planning to end free Paxlovid
O'Connell said officials have been actively planning for the end of their supply of free Paxlovid, which would mean Pfizer's drug would switch to the commercial market. 
That means Americans' access to the drug would now become the same as other medications that require navigating insurance and pharmacies to fill their prescriptions. 
"We weren't designed, nor has there been an expectation that we would continue to do that ad infinitum for future generations of vaccines and therapies. And we know that we've not been funded to do that," said O'Connell. 
Pfizer has not disclosed a list price for its Paxlovid pills for once they launch commercially in the U.S. later this year. 
The company had been selling it in China for reportedly around $292, state media reported in January. The Biden administration had paid around $530 per course for its supply, which is close to the range outside experts said would be cost-effective for the drug.
Pfizer has said it plans to "help ensure the appropriate patient support programs are in place" for underinsured Americans who cannot afford the drugs. The U.S. also plans to cover administration costs of the drug as part of its "bridge access program" through pharmacies.
Both the drugmaker and O'Connell said that switch will likely come by the end of this year, dictated in part by when government stocks run low. Health authorities are also preparing to end distribution of current government-bought vaccines, ahead of expected updates this fall.
"There's a lot of complexity here. So simply thinking about this: vaccine, probably in the fall, treatment, probably sometime in the late summer or fall, we'll start seeing that switch over," then-White House COVID-19 Response Coordinator Dr. Ashish Jha said earlier this month, in a webinar published by the Annals of Internal Medicine journal.
No off-label Paxlovid yet
The FDA's approved label for Paxlovid is limited to treating infected "adults who are at high risk for progression to severe COVID-19." 
Doctors typically have the freedom to prescribe fully approved drugs "off-label" for other reasons to their patients, beyond the FDA's approval.
But because Paxlovid has only been allowed under emergency use authorization, doctors could not prescribe the drug for any unapproved reason outside of clinical trials, like for treating long COVID symptoms or to try and prevent infections. 
Since all current U.S. supplies of the drug were labeled under emergency use authorization, this restriction will effectively remain for now.
The agency will continue its emergency authorization to allow Paxlovid for eligible children ages 12 and older, as well as to permit pharmacists to prescribe it. 
"PAXLOVID that is labeled for use under the Emergency Use Authorization (EUA) remains subject to the terms and conditions of the EUA," James McKinney, an FDA spokesperson, said in a statement.
Coronavirus Pandemic
CBS News reporter covering public health and the pandemic.