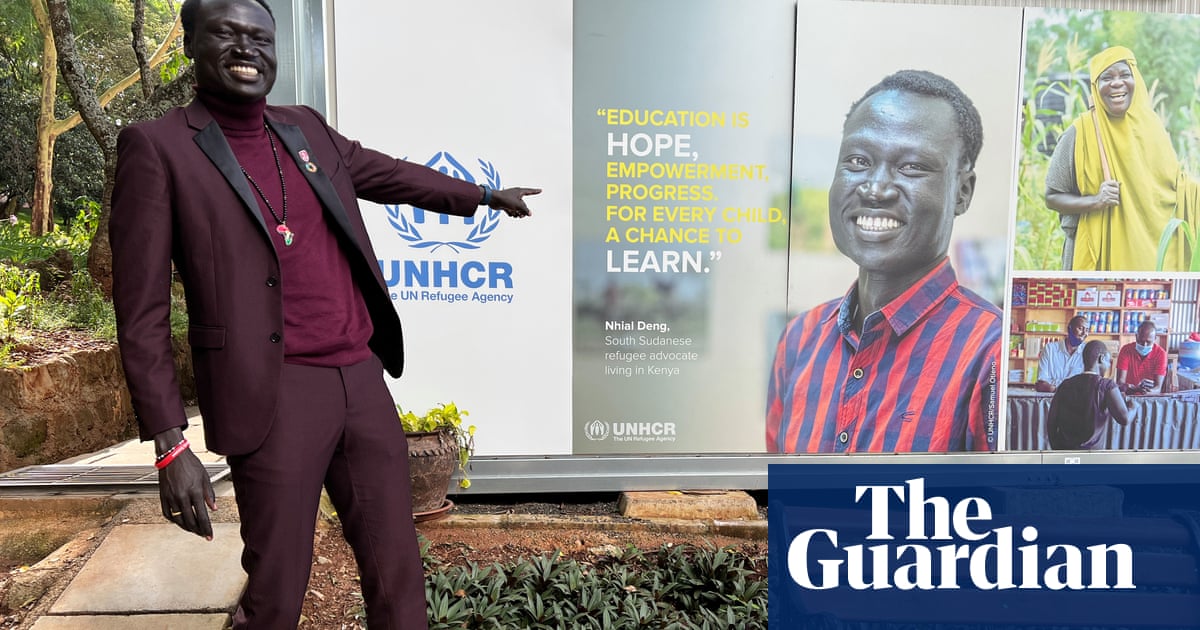 The militiamen came early in the morning when the children were sleeping. The serenity of Itang, an Ethiopian village on the Baro River skirting a national park close to the South Sudanese border, was about to be broken.
Eleven-year-old Nhial Deng heard gunshots and screaming as his father woke him up, whispering to him that there was only time to pack a shirt, a pen and a bottle of water. "He brought me outside the house and pointed to a group of mostly women and children and a few men who were gathering under a small tree and told me that I had to go with them to a refugee camp," says Deng, now 24, recalling the events of April 2010.
"I couldn't move. I saw houses burning, I saw someone on the ground bleeding, people were running in all directions," he says. "Someone came and pulled me to the group – I never even had a chance to say goodbye to my dad."
That day was the start of an incredible journey for Deng, which culminated in him receiving a prestigious prize during the United Nations general assembly last month that recognised his work over the past 14 years in helping other refugees.
Deng was born in Ethiopia, where his father settled having fled South Sudan years before, but "it never came to my mind that one day [the conflict] would be something that would affect me directly", Deng remembers.
It took the group two days to get to another village south of their own, where people divided into two groups. Deng's group headed to the Kakuma refugee camp in Kenya. After a two-week journey on foot and on the back of trucks, he eventually made it to the camp in north-west Kenya, which today is home to more than 200,000 refugees.
Deng says he was scared and shivering throughout the journey but had hope because "my dad told me while he was holding me that I would be able to go to school – from a very young age my dad told me that education was a tool that I could use to transform my life."
A pastor took Deng in as part of a fostered family programme and within a few months, he was registered at school.
"I felt at home when I started going to school," he says. "The school was more than a place of learning for me, it was a place where I was able to find solace, where I was able to find hope, where I was able to find healing."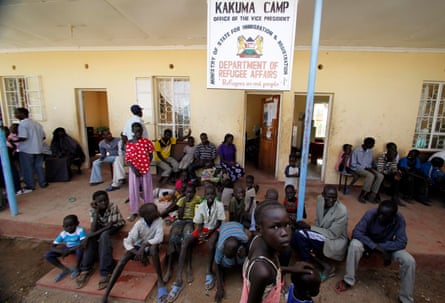 Refugees from South Sudan register at Kakuma camp in Kenya. Photograph: Thomas Mukoya/Reuters
Kakuma refugee camp was set up in the early 1990s when thousands of Sudanese children, known as the "lost boys of Sudan", flocked to safety after a civil war.
The sense of community that I experienced in the refugee camp is something that I have not seen anywhere else
"Life in the camp was just incredible," Deng says. "The sense of community that I experienced in the refugee camp is something I have not seen anywhere else. You'll see people who have their own challenges who would struggle day in, day out, but would hold on to each other."
The Red Cross family-tracking programme managed to locate Deng's family after four years – a two-minute phone call reunited him with his parents in 2014. Initial attempts to find his father failed because he had relocated to South Sudan, but the Red Cross found the family after they returned to Ethiopia.
It was only last year that Deng was able to meet with his mother and six siblings, who now live in Kenya. He has yet to see his father, who is still in Ethiopia, in person.
In 2017, Deng set up the Refugee Youth Peace Ambassadors, a group that started as a Wednesday club at his school and then expanded to other schools providing mentorship and creating workshops.
In 2018, Deng – who identifies as a South Sudanese refugee – graduated from the school, and later took a one-year online course with Regis University in the US, before being admitted on a full scholarship to Huron University in Ontario, Canada, where he moved in 2021 to study global studies and communications.
Deng went back to Kakuma refugee camp in 2021 to set up a new initiative called SheLeads Kakuma, aimed at empowering women and girls through a six-month leadership, advocacy and mentorship programme.
skip past newsletter promotion
Sign up to Global Dispatch
Get a different world view with a roundup of the best news, features and pictures, curated by our global development team
Privacy Notice: Newsletters may contain info about charities, online ads, and content funded by outside parties. For more information see our Privacy Policy. We use Google reCaptcha to protect our website and the Google Privacy Policy and Terms of Service apply.
after newsletter promotion
Nhial Deng speaks at the UN's Transforming Education summit. Photograph: Jaclyn Licht/UN Photo
The UN has recognised Deng's work helping other refugees. He was invited to speak on the sidelines of the UN general assembly in New York last month, where he was named the winner of a global student prize worth $100,000 (£82,500). The judges of the Chegg.org Global Student Prize chose him from almost 4,000 students in 122 countries.
"Nhial has overcome unimaginable adversity to keep fighting for a better future, not just for himself, but for thousands like him. In times of crisis, we need innovation and resilience, and Nhial's commitment to tackling the global refugee crisis is truly inspirational," said Heather Hatlo Porter, the chief communications officer of Chegg.
Deng has promised to donate half of his prize money to build a library at Kakuma refugee camp.
The UN refugee agency said in June that an estimated 108 million people were forcibly displaced worldwide by the end of last year – the number of refugees rose by a record 35% to reach 34.6 million. Politicians and media, Deng says, "need to talk more with refugees than about refugees".
"I think no one can tell your story better than yourself. There are no better experts about the refugee issue than refugees and that's why we need to listen to refugees."
Deng is critical of how some developed countries disregard "the underlying principle of responsibility sharing" in the UN refugee convention.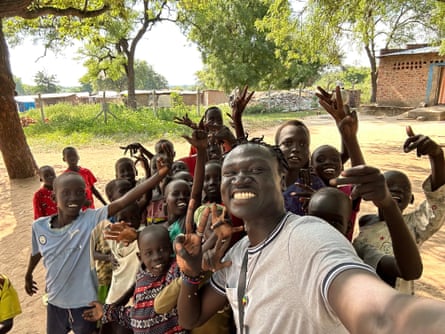 Deng now helps young people in refugee camps to improve their lives through education and sport. He is particularly passionate about gender equality and misinformation. Photograph: Courtesy of Chegg.org
"More refugees are staying in countries neighbouring them. Over 70% of refugees actually stay in the developing world, in the global south," he says, adding that Kenya hosts more than 600,000 refugees and Uganda more than a million.
"They [developed countries] don't see the bigger picture, but also politicians turn refugees into a political football. They use that for their own gain. Numbers are often manufactured or they are exaggerated in some way. The reality is that a big number of refugees live in the developing world and [host] countries are not getting the credit at all.
"It's incredible that from the first time in 1991 when the first group of refugees arrived in Kenya, Kenya has not closed its borders to refugees. It's been open throughout."
Asked about the potential of refugees, he says: "I think everyone has something to do. Everyone can contribute in some small way."