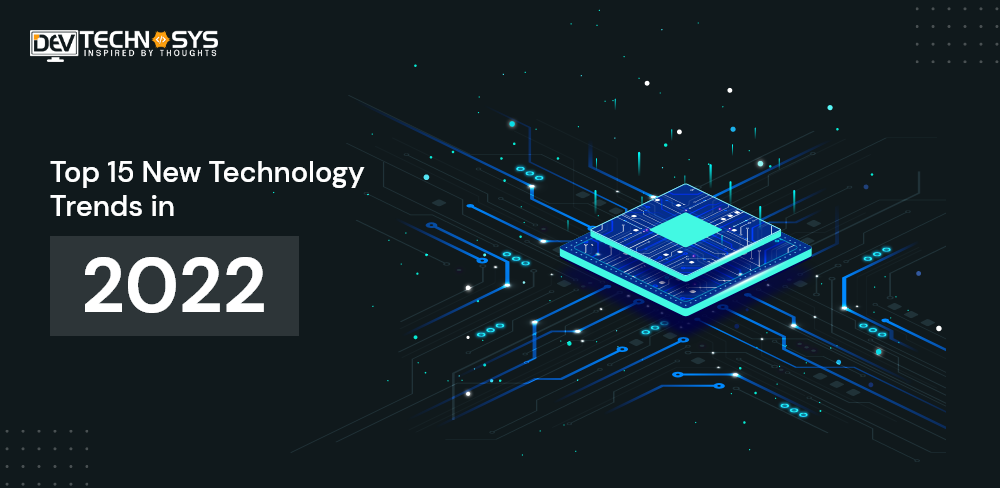 Currently, technology is evolving rapidly, enabling change and business progress that causes acceleration. As per research, the global digital population has grown five billion stronger, which is around 60% of the world population. Hence, new technology and trends are emerging and hold more importance than ever in the world. In fact, advances in hardware and software development, security considerations, medical emergencies, connectivity, and more have inspired the new era of technology trends. Today, a myriad of new technology in 2022 are there that businesses should know to achieve business success in the coming era. Also, the unexpected switch to remote working has fuelled progress in the IT industry. But, all this wouldn't have been possible without the invention of new lightning technology. If you are also a business owner looking forward to increased growth, you shouldn't miss reading this blog. It sheds light on the top 15 new technology trends ruling 2022 and beyond. So, let's discover the technologies one by one.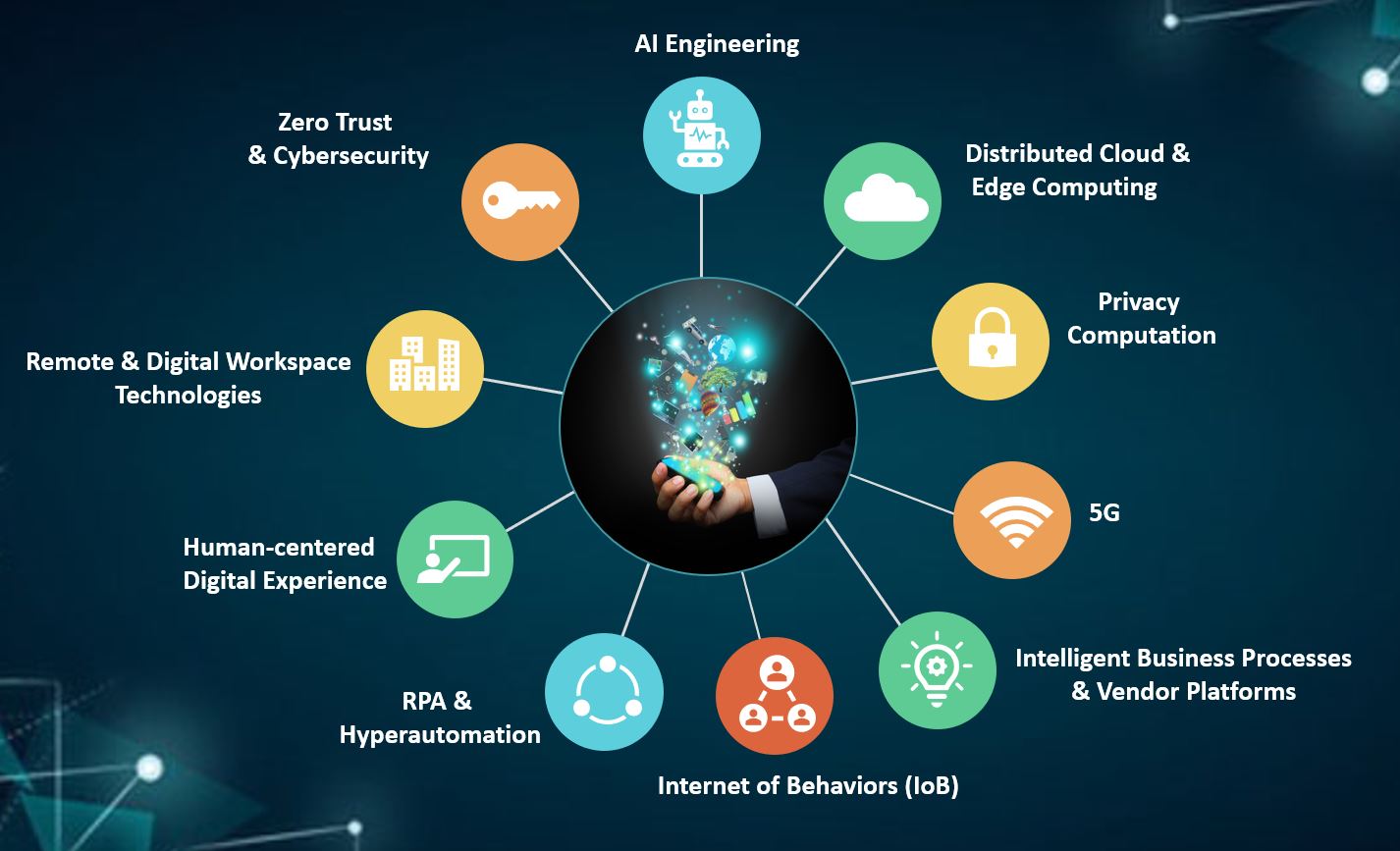 List of Trending New Technologies In 2022
AI-Powered Cybersecurity
The tremendous increase in cyberattacks, ransomware, and email phishing is forcing cybersecurity organizations to find modern and advanced tech solutions to address the vulnerabilities. Today, criminals are hacking individuals' accounts, organizations' infrastructure, and all-scale businesses, causing millions of losses.
As a result, businesses are adopting new Cybersecurity technologies, such as Artificial Intelligence development (AI), to safeguard and monitor their organization's network against hackers. Moreover, cloud-storage firms are implementing end-to-end encryptions for data transfer and online storage.
Edge Computing 
Cloud computing, once a cutting-edge innovation to keep an eye on, has now entered the mainstream, with market leaders like Amazon Web Services, Microsoft Azure, and Google Cloud. As more organizations are switching to cloud solutions, the adoption of cloud computing solutions is continually expanding. This new technology is designed to solve business problems and bypass the latency caused by cloud computing.
Experts predict that by 2022, the global edge computing market will reach $6.72 billion. The figure is clearly indicating the ever-growing demand for edge computing in the coming time.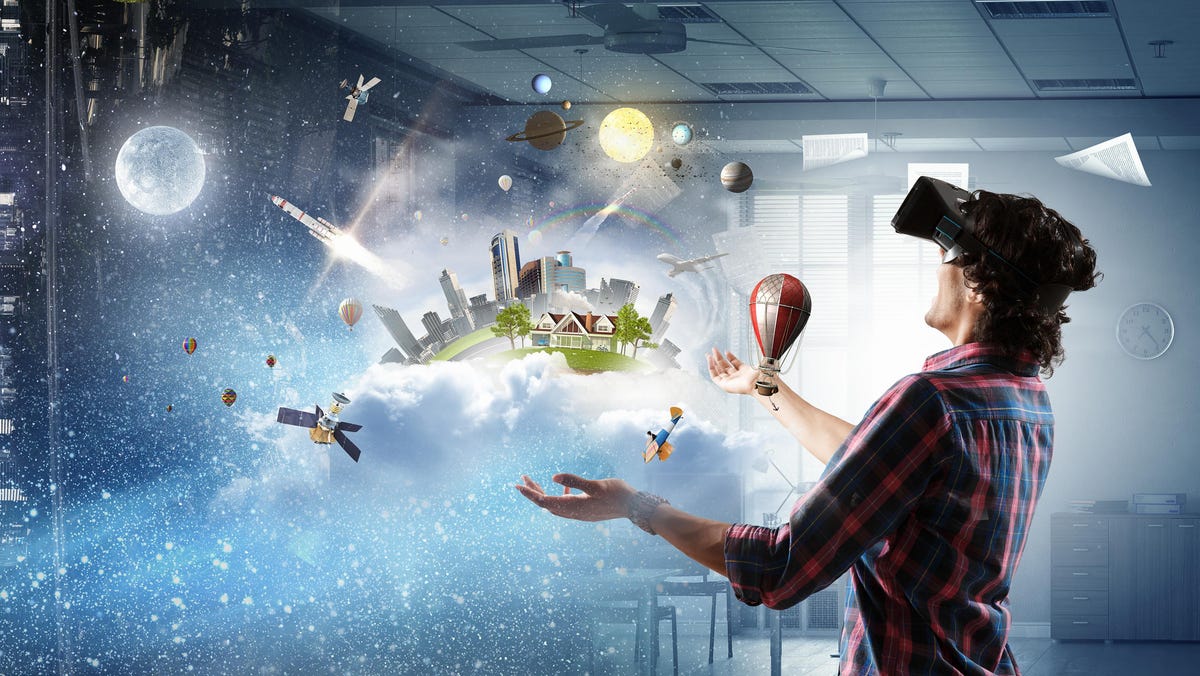 Virtual Reality & Augmented Reality
Coming to the amazing new technology 2022, i.e., VR & AR. These two technologies are also dominating the current market. Virtual Reality immerses the user in an environment while Augmented Reality improves their environment. Although these technologies are majorly used in the gaming industry, they have also been utilized for training software developed for US Navy and more.
Professionals state that AR and VR have tremendous potential in education, marketing, training, and entertainment. Around 14 million AR and VR devices were sold in 2019, which is expected to rise to $209.2 billion by 2022. These trending solutions create more opportunities and welcome all-scale businesses to prepare for this game-changing field.
Blockchain
Although most businesses consider blockchain technology only useful for Cryptocurrency, blockchain offers security more than that. Blockchain is consensus-driven, and no other entity can take control of the data. The best part about this new era of technology is businesses don't need any third party to oversee or validate transactions.
Today, ample industries are implementing blockchain technology to take their business to the heights of success. It has also raised the demand to hire a blockchain developer. Whether you are a developer or a business planning to make a great career, stepping into this new technology trend would be advantageous.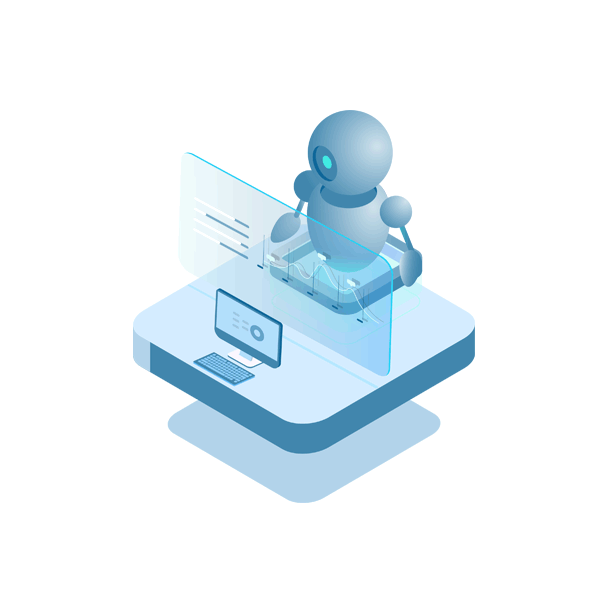 Robotic Process Automation (RPA)
Unlike AI and ML, Robotic Process Automation (RPA) helps enable job automation. It is software that automates manual business processes, including application interpretation, data handling, and transaction processing. Incorporating RPA solutions into business process automates repetitive tasks and reduce manual efforts. All this further results in business productivity and efficiency.
Besides benefitting today's businesses, introducing RPA has also created new job opportunities for beginners or job seekers while altering existing jobs. This new battery technology is undoubtedly replacing humans but helping businesses achieve perfection and productivity.
5G Technology
Another new technology following the Internet of Things is 5G technology. Where the introduction of 3G and 4G technologies have enabled us to browse the internet and increased the bandwidths for streaming on Spotify, 5G services are revolutionizing our lives. The technology has enabled services relying on modern-age technologies like AR & VR with cloud-based gaming services like Google Stadia.
Now, the 5G technology is expected to utilize in factories in the form of HD cameras that helps to improve safety and traffic management. This cool new technology is replacing traditional methods with advanced ones and helping businesses improve their work.
Internet of Things (IoT)
IoT, or the Internet of Things, is another promising new technology, especially for fitness app development. Currently, almost every device is built with WiFi connectivity which means the devices can be connected to the internet and with each other. Therefore, IoT applications and solutions are the future. This new era of technology has already enabled devices, home appliances, cars, etc., to connect and exchange data over the internet.
The world is already experiencing the significant benefits of IoT. For instance, now the doors can easily be locked and unlocked via smartphones, and all the activities can be tracked on devices. Credit goes to IoT app development. The forecast suggests that by 2030, around 50 million IoT devices will be there worldwide, and the global IoT app spend is forecasted to reach $1.1 trillion by the end of 2022. What else could be a better proof reflecting the bright future for organizations implementing IoT in their systems?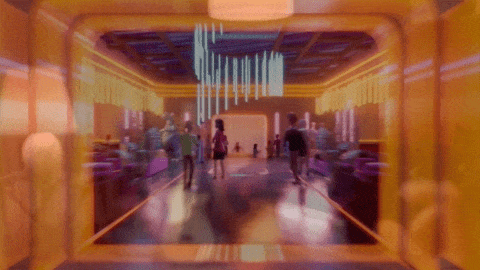 Metaverse
Facebook, now recognized as Meta, put a spotlight on the Metaverse and is described as the bright new technology 2022. Metaverse is a 3D space that people can log into as avatars to work, socialize, collaborate, or play games together. Currently, organizations are spending on hi-tech technologies to bring Metaverse to life, such as AR and VR.
According to experts, Metaverse real estate sales reached $501 million in 2021 and are expected to increase tremendously in the coming time. For instance, VR headphones enable people to explore things, get immersed in the digital world, and share their experiences. Thanks to this cool new technology, people can now own virtual assets and experience the amazing benefits of Metaverse in 2022 and beyond.
Edtech
The era of COVID-19 has taught the importance of online services and learning. The education sector has also grown from that time, and as a result, many educational technologies were introduced. Now, educational technology or edtech organizations have emerged to offer high-end solutions via digital platforms for remote learning. Therefore, investment in this sector is increasing, and even startups and institutes have started using online education software and in video conferencing application development.
Also, businesses keep searching 'How much does it cost to develop a video conferencing app?' or education software. Overall, edtech professionals can take advantage of this new technology and build a better career by developing the best education applications.
Telehealth
Another new era of technology ruling 2022 is the telehealth industry transforming medical app development. Today, there are ample technologies available in the healthcare sector, such as new knee replacement technology, new hip replacement technology, new hearing aid technology, etc. Now, patients with any type of medical concern can avail of online healthcare services from the comfort of their homes. With the help of telecare health monitoring devices, businesses can track lifestyle changes and internal body states.
Businesses can also incorporate AI in telehealth to scan data to select patients enrolling in telehealth programs and send alerts if a patient's health metrics exceed the defined criteria in the healthcare app.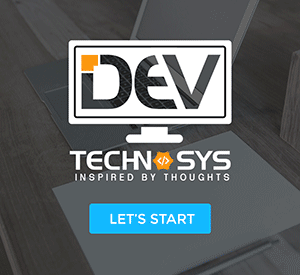 Cyber Security
Cyber security might not seem like new technology, and it has been for quite a while, but this technology is also evolving with time. Sometimes, hackers try to access the data illegally and continue to find ways to get through even the toughest security measures. That's why implementing cybersecurity solutions has become mandatory in today's time.
Gartner predicts that by 2025 60% of organizations will use cybersecurity risk as a major determinant in promoting business engagements and third-party transactions. So, if you also have business risk, it is advisable to incorporate the best cybersecurity solutions into your organization's infrastructure and save it from malicious attackers.
Quantum Computing
Coming to another great new technology, i.e., quantum computing, takes advantage of quantum phenomena like entanglement and superposition. Such new technology gadgets were also helpful at the time of COVID. It helped prevent the spread of coronavirus and create vaccines as the technology can monitor, analyze, and act on data, regardless of the source.
Today, big brands like Microsoft, Google, Honeywell, and more are now involved in making tremendous innovations in quantum computing. Even quantum computers are 10x times faster than traditional computers. Also, its revenue is expected to surpass $2.5 billion by 2025.

Collaborative Technologies
Organizations basically used collaborative technologies at the time of COVID to recreate the office environment at home. To accommodate the new and unforeseen demand for shared online workplaces, organizations creating collaborative tools went back to the drawing board and upgraded their offerings.
Google Workspace and Microsoft Teams are the most popular collaborative tool providers. The main advantages of collaborative technologies are real-time employee communication and document synchronization, which ensure that work can be done effectively. So, you can also use collaborative tools to offer an office-like environment to your employees virtually and achieve more business productivity.
Cleantech
With the advancements in modern-age tools and technologies, people are getting desired for sustainable living, and this is where cleantech or clean technologies come into the picture. This new solar technology reduces the environmental impact of products while optimizing the usage of natural resources.
The most popular cleantech trends are electric vehicles, solar panels, rechargeable batteries, and biofuel-powered turbo generators. Businesses planning to set up their business in current times can think of investing in clean technologies and remain assured of success and growth in the coming time.
Internet of Behaviors (IoB)
Service providers use IoT devices to capture a lot of user data. Businesses are evaluating the value of the data using analytics and big data approaches, known as the Internet of Behaviors (IoB). This new technology 2022 helps businesses customize their services, sell their products, and enhance a client's relationship by examining consumer information.
While customized solutions are crucial, businesses must battle to persuade customers to contribute their personal data to create them. The technology works on the same concept as IoT.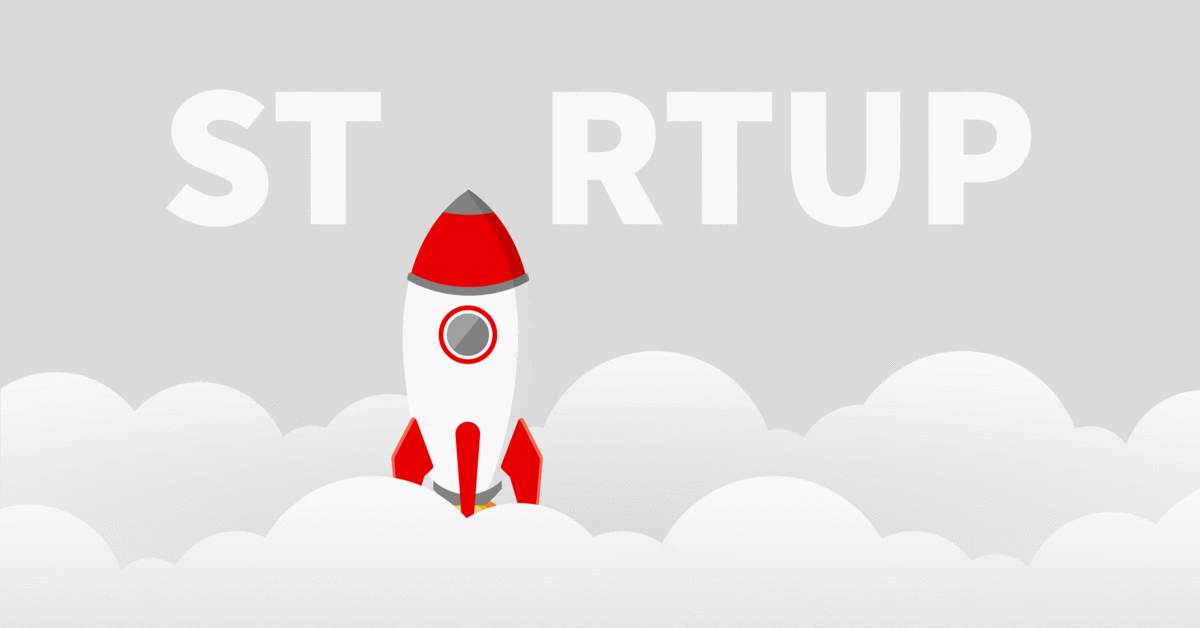 Top 3 Startups In the Tech Industry 2022
The era of tech trends has been going on for a while. As a result, many entrepreneurs have already stepped into the advancement and achieved success. Here is a glimpse of the top 3 startups achieving growth in the tech industry in 2022.
Confluera
Founded in: 2018
Tech Industry: Cybersecurity
The increasing cyberattacks are enforcing organizations to opt for Cybersecurity trends. Years back, a tech startup Confluera set up in 2018 to help businesses from cyberattacks. Startups such as Confluera come under technologies changing Human life. The secret sauce of Confluera might be its integration of threat analytics, threat detection, and cloud security solutions, which are frequently siloed off as separate fixes.
QuEra
Founded in: 2019
Tech Industry: Quantum Computing
Trending technologies like Quantum computing boomed at the time of COVID-19. The ever-rising demand for computing has given rise to an amazing tech startup named QuEra Computing. The firm works on a unique quantum architecture and laser techniques to arrange the tiny qubits, or quantum bits, in its 256-qubit system.
MoonPay
Founded in: 2018
Tech Industry: Cryptocurrency
The rising demand for blockchain and Crypto has gained millions of new entrepreneurs' attention, so they started investing in the crypto industry. One of the well-known tech startups, MoonPay, operates a crypto trading platform and allows people to buy different cryptocurrencies in one place. You can also build other cryptocurrency or mobile wallet app development with Dev Technosys

Summing Up!
With the rapid advancements in new technology trends in the last couple of years, businesses can expect a faster and foreseeable future. Innovating new technologies has also raised the bar, and the competition has increased tremendously. So, businesses planning to surpass their competitors in the coming time need to stay updated about the popular new era technologies. Overall, IT professionals have become the sole necessity to keep an eye on emerging technological trends on time.
We hope that the trends mentioned in this blog will be helpful per your organization's domain and will help your business climb the ladder of success in no time. So, if you are planning for mobile app development, web development, or other professional assistance, Dev Technosys would love to serve you. With a team of dedicated developers, we help all-scale businesses by providing hi-tech business solutions. Drop your business requirements now.