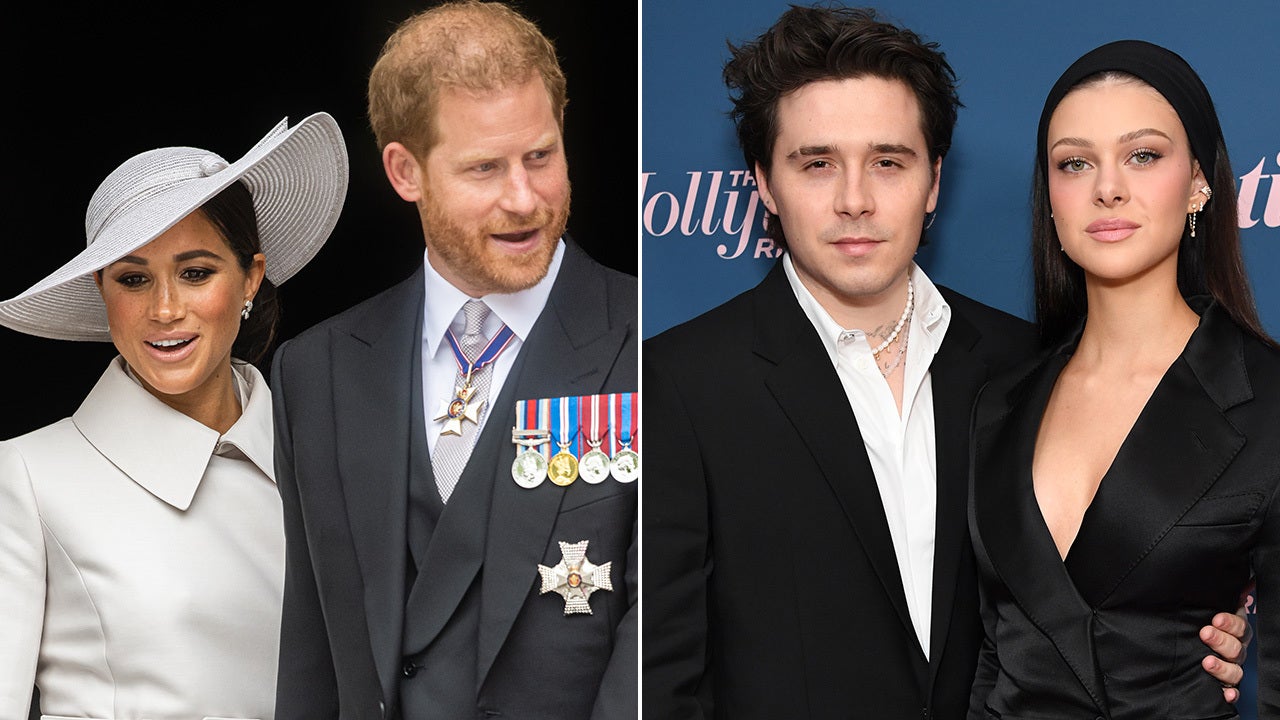 Brooklyn and Nicola Peltz Beckham's wedding lawsuit keeps getting messier, and now it seems Meghan Markle and Prince Harry are getting dragged into it. 
It seems the royal couple were potentially on the guest list. In a new court filing from wedding planners Nicole Braghin and Arianna Grijalba, Harry and Meghan's names pop up in text messages exchanged between Nicola, her mom Claudia, and the planners.
"Did Megan get an invite?" Claudia asks, according to the documents obtained by Fox News Digital. Nicola responds, "Who's Megan?"
Claudia doesn't clarify and adds, "and Harry" in the exchange, which seems to suggest she's asking about the Duke and Duchess of Sussex. 
There's no word on what happened next, but invited or not, Harry and Meghan did not attend the wedding.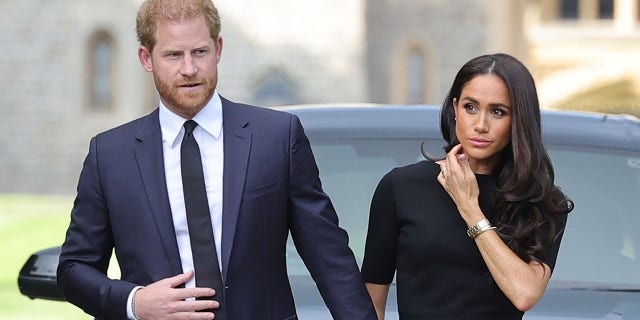 Whether invited or not, Harry and Meghan did not attend the wedding between Brooklyn and Nicola Peltz Beckham. (Chris Jackson)
MEGHAN MARKLE'S NEWLY RESURFACED BLOG REVEALS CLOSE BOND WITH NOW-ESTRANGED FATHER AMID NEW WAR WITH SISTER
The new court filing is part of an ongoing legal battle between Nicola's family and wedding planners Braghin and Grijalba, who were hired six weeks before the wedding and let go nine days later.
Nicola's father, Nelson, initially sued, claiming they refused to return a $159,000 deposit for services.
Braghin and Grijalba and their company, Plan Designs, have counter sued the Peltz family over breach of contract.
Representatives for Brooklyn and Nicola Peltz Beckham did not immediately respond to Fox News Digital's request for comment.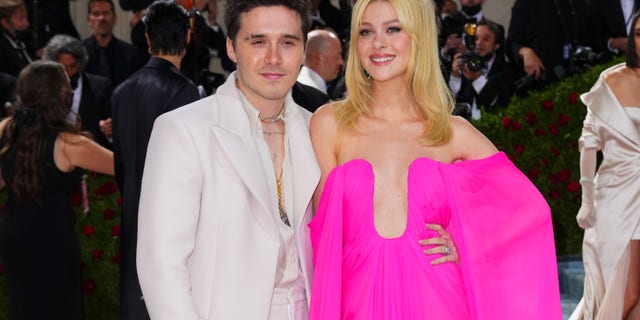 Brooklyn and Nicola Peltz Beckham tied the knot in lavish ceremony in Palm Beach, Florida in April. (Gotham)
Brooklyn and Nicola married in April of last year, in a lavish ceremony in Palm Beach, Florida. 
BROOKLYN BECKHAM AND NICOLA PELTZ MARRIED: A LOOK AT THEIR LAVISH WEDDING
Details in the court filing reveal messy behind the scenes details between the planners, the bride and her family.
The wedding planners claim Nicola and Claudia were disorganized with who they planned to invite, saying they received "four different guest lists," including one from the Peltz Beckhams with "wrong addresses, missing addresses."
It states, "Nicola would get frustrated when the wedding planners asked for the guests' contact information, and that Nicola would instruct them to 'look it up on google.'" 
The document also seems to lend credence to claims of a rift between Nicola and Brooklyn's mom, Victoria Beckham, over the wedding and Nicola's decision to not wear a gown designed by her now mother-in-law.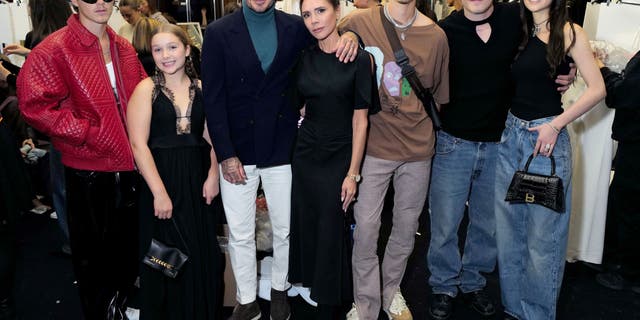 Cruz Beckham, Harper Beckham, David Beckham, Victoria Beckham, Romeo Beckham, Brooklyn Peltz Beckham and Nicola Peltz Beckham attend the Victoria Beckham Spring/summer 2023 Runway show in Val-de-Grace on September 30, 2022 in Paris, France.  (Darren Gerrish )
NICOLA PELTZ BECKHAM RESPONDS TO SUPPOSED FEUD WITH MOTHER-IN-LAW VICTORIA BECKHAM
"Both Claudia and Nicola had insisted that Victoria Beckham (Brooklyn's mother) could not know about any internal mistakes regarding the ongoing planning of her son's wedding, including any errors with the guest list. Among their many other planning activities, Plan Design was instructed to fix the guest list," the filing states.
Nicola's father, Nelson, considered canceling the event at one point, saying it would be a "s— show" but "Claudia begged Nelson not to cancel the wedding because it would 'destroy Nicola's career.'"
The planners' counter suit also claims they were asked to hide costs. A note in the document reads, "It is believed that Nelson Peltz paid more than $100,000 plus travel expenses for Nicola's hair and makeup services for the wedding. Claudia mentioned to Braghin that Nelson could not know the cost of the hair and makeup, or he would 'kill her, and be so mad.'" 
CLICK HERE TO SIGN UP FOR THE ENTERTAINMENT NEWSLETTER
Beckham is brought up less often, and appears to have been less involved in the planning. 
One text exchange in the documents shows the 23-year-old mentioning, "We should ask the security at the wedding to get those guns that shoots a net because there's probably gonna be drones," referring to potential paparazzi.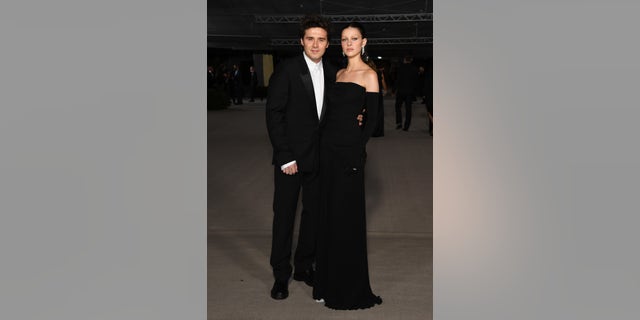 Brooklyn Peltz Beckham allegedly wanted a Wendy's truck at their wedding reception, according to court documents.  (Jon Kopaloff)
He also allegedly expressed interest in a Wendy's truck and having their signature Frosties at the reception.
The wedding planners and their company are seeking damages from Nicola's father in their counter suit, claiming, "Plan Design saved Nelson Peltz, Claudia Peltz, and their daughter Nicola Peltz Beckham from public humiliation. Through their work, Plan Design brought order to a chaotic situation."
CLICK HERE TO GET THE FOX NEWS APP
It continues, "In return for their hard work and professional services, Nelson Peltz, acting like a billionaire bully, attacked Plan Design, Braghin, and Grijalba by filing a lawsuit seeking the return of the monies paid to Plan Design accusing Plan Design and its principals of fraud, and leaking incomplete text communications from the Chat Group (to which Nelson was not even a party) to the media for the sole purpose of damaging their personal and professional reputations."