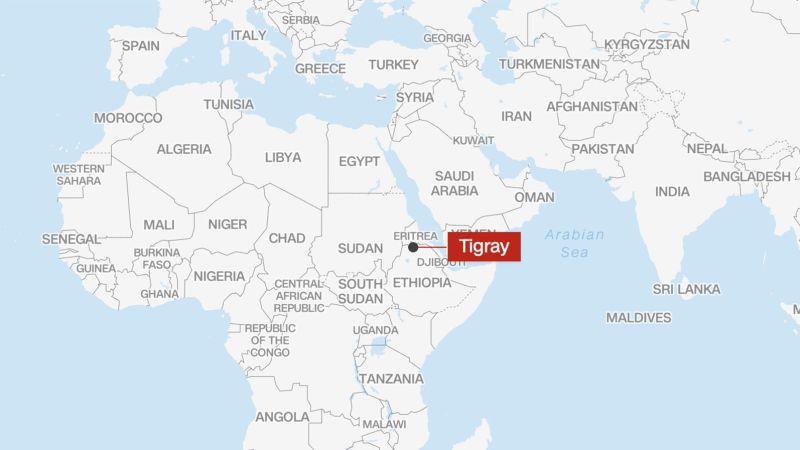 CNN  — 
Eritrean forces prevented a UN-led humanitarian mission from entering a village in the northern Ethiopian region of Tigray on Thursday, in what would mark violation of a peace deal ending fighting in the area, aid workers on the ground told CNN. After two years of fighting, the Ethiopian government and the Tigray People's Liberation Front (TPLF) signed a deal to end hostilities in November last year that included withdrawing all foreign forces from the north of the country. Eritrean soldiers had joined in on the conflict on the side of Ethiopia.
But aid workers said officials from the UN Office for the Coordination of Humanitarian Affairs (UNOCHA), as well as those from other NGOs, were stopped from reaching the village of Gemhalo by Eritrean forces.
"On 25 May 2023, a mission led by UNOCHA deputy head of Ethiopia comprised from UNOCHA, UNDSS, WHO and other INGOs were prohibited from entering Gemhalo village in Tahtay Adiyabo woreda [district] by Eritrean forces," they said.
"The mission was stopped after traveling 16km from Sheraro around Waela-Nihbi. Eritrean forces are in Tigray in close distance from Sheraro occupying five kebeles [neighborhoods] of Tahtay-Adiyabo woreda [district]," they added.
"Looting, destructing infrastructures, raping are continued. Eritrean forces are committing all forms of violations in the villages including denying humanitarian access to those areas," they said.
In January, the United States Ambassador to the United Nations Linda Thomas-Greenfield said at a press conference in Nairobi that Eritrean troops were still in Ethiopia, contradicting authorities in Addis Ababa.
"We understand that they have moved back to the border, and they have been asked to leave Ethiopia," she told reporters.
Eritrean forces also recently prevented "an African Union [peace] monitoring and verification team from carrying out their activities," said Getachew Reda, the head of Tigray's interim government. Tigrayan authorities continue to discuss the issue with the Ethiopian government, he added, saying, "it must be resolved."
CNN has reached out to the Eritrean and the Ethiopian governments for comment.
The Tigray conflict has its roots in tensions that go back generations in Ethiopia. The country is made up of 10 regions – and two cities – that have a substantial amount of autonomy, including regional police and militia. Regional governments are largely divided along entrenched ethnic lines.
Prime Minister Abiy Ahmed came to power in 2018 after decades of iron-fisted rule by a TPLF-dominated coalition, and began a drive for a new pan-Ethiopian political party, sparking fears in some regions that the country's federal system was under threat. Tensions with the TPLF boiled over and in November 2020 Abiy ordered a military assault against the group, sending in national troops and fighters from the neighboring region of Amhara, along with soldiers from Eritrea.
Thousands of people died in the fighting, while many more fled, and Tigray was plunged into severe food insecurity. All actors have been accused of carrying out atrocities in the conflict, but Eritrean forces have been linked to some of the most gruesome. In addition to perpetrating mass killings and rape, Eritrean soldiers have also been found blocking and looting food relief in multiple parts of Tigray.
Eritrea's government has denied any involvement in atrocities. Ethiopia's government has pledged investigations into any wrongdoing.