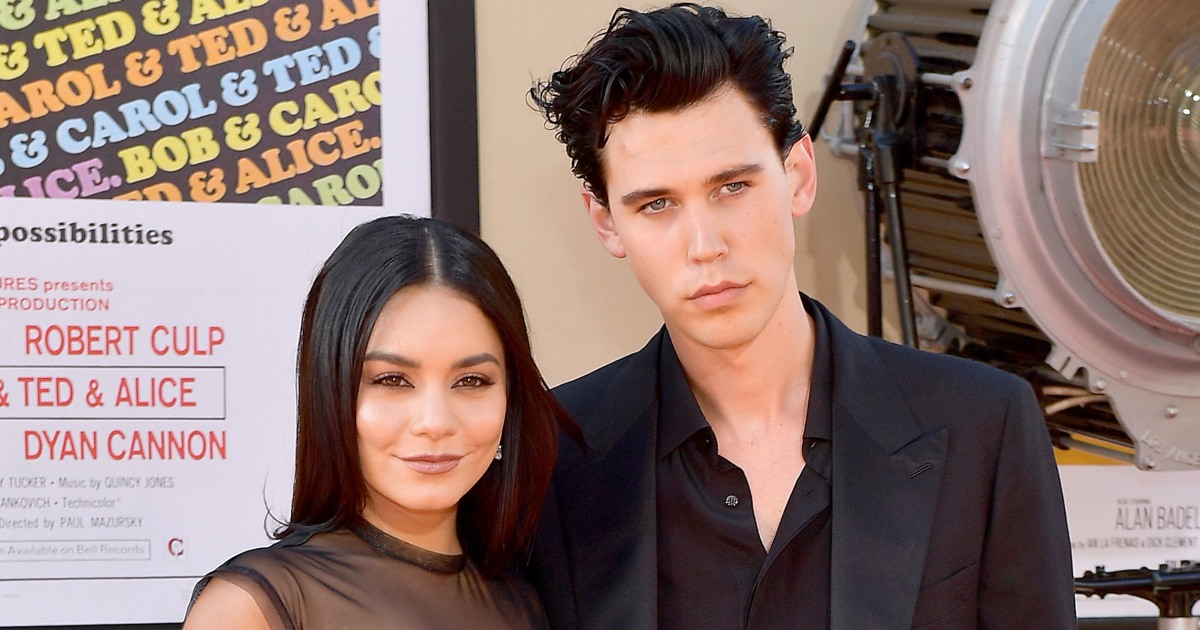 Austin Butler has received critical praise for his role as Elvis Presley in "Elvis."
After starring as the rock 'n' roll legend in the Baz Luhrmann-directed biopic, the 31-year-old actor won the best actor Golden Globe and was nominated for a Critics' Choice Award, Screen Actors Guild Award and received his first Oscar nomination. In a new interview following his Academy recognition, Butler said he "owes" his ex-girlfriend Vanessa Hudgens for encouraging him to take on the role.
At the story goes, it was Christmastime and a Presley song came on the radio when "a friend" suggested he portray the King of Rock and Roll.
"I was with my partner at the time," Butler told the Los Angeles Times interviewer before he was asked if his "friend" was indeed Vanessa Hudgens. "That's right," he replied.
"We'd been together for so long and she had this sort of clairvoyant moment and so I really, I owe her a lot for believing in me," the actor continued.
Butler and Hudgens dated from 2011 until 2020. When the actor was cast as Presley in 2019, Hudgens celebrated her "honey" on social media.
"I AMMMM OVERRRR THE F—— MOOOOOOOOONNNNN. I CANT WAIT SO PROUD OF MY HONEYYYYY!!!," she wrote on Instagram.
During this year's Hollywood Reporter's Actor's Roundtable, Butler told the story of how he became Presley, telling the other actors, "I was going to look at Christmas lights with a friend," he said. "And there was an Elvis Christmas song on the radio, and I was with a friend of mine and I was singing along, and my friend kinda looked over at me and goes, 'You've gotta play Elvis!'"
"And I said, 'Oh, that's such a long shot,'" he continued, adding that a couple weeks later he was playing the piano and "that same friend was there… and she said, 'I'm serious, you got to figure out how you can get the rights to a script and write something and do Elvis' life…"
He later got a call from his agent that Luhrmann was making the biopic and he decided to go for it.
Hudgens told the same story in August 2019, when they were still together.
"It's so crazy, because last December, we were driving along and we were listening to Christmas music, and an Elvis Presley Christmas song came on," Hudgens said on "Live With Kelly and Ryan" He had just dyed his hair dark — he's a natural blonde — and I was looking at him and he was singing along and I was like, 'Babe, you need to play Elvis. I don't know how, but I'm serious. You need to play him.'"
She also recalled him playing at the piano and telling him, "I don't know how, but we need to figure out how you can play Elvis."
Butler, meanwhile, is currently dating model Kaia Gerber, while Hudgens is in a relationship with MLB player Cole Tucker.
TODAY's Hoda Kotb and Jenna Bush Hager spoke with Butler over the phone after his Oscar nomination, where he said the news was "sort of a bittersweet moment" following the death of Lisa Marie Presley, who died on Jan. 12 after experiencing a cardiac arrest. 
"I think of how much I wish she was here right now to get to celebrate with me," Butler said, adding that he was "still processing" his nomination. "It's the same thing I'd say with Elvis, I wish that they could see these moments. It's just sort of strange to celebrate at a time of such deep grief. … I sort of think of it as a way to honor her, and this is for her, you know?"