[]
Where was Jose Guerrero found? Two arrested as missing Virginia dad is discovered dead refreshDate)) || (!!!refreshCookie && userSlug)) { refreshUserCookies(); } function refreshUserCookies() { pureJSAjaxGetWithCredentialsFlag('https://a-login.sportskeeda.com/en/login/refresh-token', function(res) { console.log(res); }, function failed() { console.error("Failed to refresh tokens"); }, true); } function getCookie(cname) { var name = cname + "="; var ca = document.cookie.split(';'); for(var i = 0; i 0) { attributes.forEach(function(attribute) { script.setAttribute(attribute.key, attribute.value); }); } function loadScript() { if (attachTo) { attachTo.appendChild(script); } else { document.head.appendChild(script); } } var scriptLoaded = false; function loadScriptOnInteraction() { if (scriptLoaded) return; scriptLoaded = true; loadScript(); } if (onUserInteraction) { document.addEventListener("scroll", loadScriptOnInteraction, { once: true }); document.addEventListener("mousemove", loadScriptOnInteraction, { once: true }); document.addEventListener("touchmove", loadScriptOnInteraction, { once: true }); } else { loadScript(); } }); } ]]> <![CDATA[ //Code is executed only on .1% of the pages if(Math.floor(Math.random() * 1000) 0) { for (var attribIter = 0; attribIter item.expiry) { // If the item is expired, delete the item from storage // and return null localStorage.removeItem(key); return null; } return item.value; } ]]> -1; } } return false; } function countMetaChanges(elements) { var charactersChanged = 0; var wordsChanged = 0; var mediaChanged = 0; for (var i = 0; i < elements.length; i++) { var element = elements[i]; if (isMediaElement(element)) { mediaChanged += 1; continue; } // use inner text to ignore html attributes var content = element.innerText || ""; content = content.replace(/[u200B-u200DuFEFF]/g, ""); if (content.length <![CDATA[ function capitalizeFirstLetter(string) { if (!string) return; return string.charAt(0).toUpperCase() + string.slice(1); } function toTitleCase(str) { return str.replace(/wS*/g, function(txt) { return txt.charAt(0).toUpperCase() + txt.substr(1).toLowerCase(); }); } function escapeString(text) { if (!text) { return ""; } var map = { '&': '&', '': '>', '"': '"', "'": ''' }; return text.replace(/[&"']/g, function(m) { return map[m]; }); } function extendedEncodeURIComponent(str) { return encodeURIComponent(str).replace(/[!'()*]/g, function(c) { return '%' + c.charCodeAt(0).toString(16); }); } ]]> = 12) { amOrPm = "PM"; } if (hour > 12) { hour = hour – 12; } return hour + ":" + minute + " " + amOrPm; } function getShortDayNames() { return ['Sun', 'Mon', 'Tue', 'Wed', 'Thu', 'Fri', 'Sat']; } function getFullDayNames() { return ['Sunday', 'Monday', 'Tuesday', 'Wednesday', 'Thursday', 'Friday', 'Saturday']; } function getFormattedDate(isoDatetime) { var currentDate = new Date(); var matchDate = new Date(isoDatetime); var tomorrowDate = new Date(new Date().getTime() + 24 * 60 * 60 * 1000); var monthNames = getShortMonthNames(); var dayNames = getShortDayNames(); var currentDateString = currentDate.getDate() + '-' + currentDate.getMonth() + '-' + currentDate.getFullYear(); var matchDateString = matchDate.getDate() + '-' + matchDate.getMonth() + '-' + matchDate.getFullYear(); var tomorrowDateString = tomorrowDate.getDate() + '-' + tomorrowDate.getMonth() + '-' + tomorrowDate.getFullYear(); var localTime = matchDate.toLocaleTimeString().replace(/:dds/, " "); var timeZone = matchDate.toString().match(/((.*))/).pop(); return dayNames[matchDate.getDay()] + ", " + matchDate.getDate() + " " + monthNames[matchDate.getMonth()] + " " + matchDate.getFullYear() + ", " + localTime + " " + timeZone; } function timeSince(isoDateString) { var date = new Date(isoDateString); var monthNames = ["Jan", "Feb", "Mar", "Apr", "May", "Jun", "Jul", "Aug", "Sep", "Oct", "Nov", "Dec"]; var seconds = Math.floor((new Date() – date) / 1000); var interval = Math.floor(seconds / 86400); if(interval > 6) { return date.getDate() + " " + monthNames[date.getMonth()] + ", " + date.getFullYear(); } if (interval > 1) { return interval + " days ago"; } if(interval === 1) { return "1 day ago"; } interval = Math.floor(seconds / 3600); if (interval === 1) { return interval + " hr ago"; } if (interval > 1) { return interval + " hrs ago"; } interval = Math.floor(seconds / 60); if (interval === 1) { return "1 min ago"; } if (interval > 1) { return interval + " mins ago"; } return Math.floor(seconds) + " seconds ago"; } function updateTimeStringsToFormatTimeSince() { var isPendingContent = window.location.hash === '#pending'; var timeElements = $all('.keeda-time-since'); for (var i = 0; i < timeElements.length; i++) { var isoDateString = timeElements[i].getAttribute('data-iso-string'); var timeSinceVal = timeSince(isoDateString); if(timeElements[i].classList.contains("author-post-time") && !timeSinceVal.includes("ago")) { timeElements[i].innerHTML = ""; } else if (isPendingContent) { timeElements[i].innerHTML = (timeSinceVal + "
(" + isoDateString.split("T")[0] + ")"); } else { timeElements[i].innerHTML = timeSinceVal; } } } function getDateObjectInIST() { var currentTime = new Date(); var currentOffset = currentTime.getTimezoneOffset(); var ISTOffset = 330; // IST offset UTC +5:30 var ISTTime = new Date(currentTime.getTime() + (ISTOffset + currentOffset) * 60000); return ISTTime; } function getDateInYYYYMMDD(date) { var d = !date ? getDateObjectInIST() : date; var month = " + (d.getMonth() + 1), day = " + d.getDate(), year = d.getFullYear(); if (month.length < 2) month = '0' + month; if (day.length = 12 ? 'pm' : 'am'; hours = hours % 12; hours = hours ? hours : 12; minutes = minutes < 10 ? '0'+minutes : minutes; var strTime = hours + ':' + minutes + ' ' + ampm; return strTime; } function getTimeDiffInDaysHoursMinutes(timeInMilliseconds) { var diffDays = Math.floor(timeInMilliseconds / 86400000); // difference in days var diffHrs = Math.floor((timeInMilliseconds % 86400000) / 3600000); // difference in hours var diffMins = Math.round(((timeInMilliseconds % 86400000) % 3600000) / 60000); // difference in minutes var result = []; if (diffDays) { result.push(diffDays + " day(s)"); } if (diffHrs) { result.push(diffHrs + " hour(s)"); } if (diffMins) { result.push(diffMins + " minute(s)"); } if (!result.length) { result.push(Math.round(timeInMilliseconds / 1000) + " second(s)"); } return result; } function getTimeAndDate(isoDateString) { var isoDateString = new Date(isoDateString); var monthNames = getShortMonthNames(); var weekNames = ['Sun', 'Mon', 'Tue', 'Wed', 'Thu', 'Fri', 'Sat']; var hours = isoDateString.getHours(); if (hours <= 9) { hours = "0" + hours; } var minutes = isoDateString.getMinutes(); if (minutes 3 && number <![CDATA[ function userLoginEvents() { var newUser = getCookie("fw_new_user"); var loginOrigin = getCookie("fw_login_origin"); var userCountry = getCookie("country_code"); var userID = getCookie("fw_ID"); var loginPage = window.location.href; var userLoginProvider = getCookie("fw_user_login_source"); var isDesktop = "1"; var sportName = "SK POP" var payload = { "login_origin": loginOrigin, "user_country": userCountry, "login_page": loginPage, "login_provider": userLoginProvider } if (isDesktop) { payload["Device"] = "Desktop"; } else { payload["Device"] = "Mobile"; } if (sportName) { payload["user_sport"] = sportName; } else { payload["user_sport"] = "N/A" } if (newUser) { if (!payload["login_origin"]) { payload["login_origin"] = "N/A"; } if (!payload["login_provider"]) { payload["login_provider"] = "N/A"; } gtag("event", "New_sign_up", payload); unsetCookie("fw_new_user"); unsetCookie("fw_login_origin"); unsetCookie("fw_user_login_source"); } else if (!newUser && loginOrigin && userLoginProvider && userID) { gtag("event", "Sign_in", payload); unsetCookie("fw_login_origin"); unsetCookie("fw_user_login_source"); } } window.addEventListener("load", function() { userLoginEvents(); }); function triggerBreadcrumbItemClickedGAEvent(breadcrumbName) { var breadcrumbPage = window.location.href; gtag("event", "BreadcrumbClick", { "breadcrumb_name": breadcrumbName, "breadcrumb_page": breadcrumbPage, }); } function triggerBrandLogoClickedGAEvent() { var userDevice; var isDesktop = "1"; if (isDesktop) { userDevice = "Desktop"; } else { userDevice = "Mobile"; } gtag("event", "Brand_logo_click", { "Device": userDevice, }); } document.addEventListener("mousemove", function (event) { //update time elements updateTimeStringsToFormatTimeSince(); var elements = $all('[data-category]'); for (var i = 0; i -1) { capabilitiesArray.push('superAdmin'); } if(data.indexOf(6) > -1) { capabilitiesArray.push('revShare'); } else { capabilitiesArray.push('noRevShare'); } if(data.indexOf(5) == -1) { capabilitiesArray.push("notSuperEditor"); } if(data.indexOf(3) == -1) { capabilitiesArray.push("notMenuEditor"); } if(data.indexOf(9) == -1) { capabilitiesArray.push("notTaxonomy"); } if(data.indexOf(10) == -1) { capabilitiesArray.push("notTagPages"); } if(data.indexOf(11) == -1) { capabilitiesArray.push("notOnlineEditor"); } if(data.indexOf(12) > -1) { capabilitiesArray.push("appNotificationAdmin"); } if(data.indexOf(14) == -1) { capabilitiesArray.push("notNewAffilate"); } if(data.indexOf(16) == -1) { capabilitiesArray.push("notWikiContributor"); } if(data.indexOf(13) > -1) { capabilitiesArray.push("canPostContent"); } if(data.indexOf(2) > -1) { capabilitiesArray.push("canModerate"); } if(data.indexOf(17) > -1) { capabilitiesArray.push("wikiAdmin"); } // checkUserCapabilities if(capabilitiesArray.indexOf("revShare") > -1 || capabilitiesArray.indexOf("canPostContent") > -1) { resolve(capabilitiesArray); } else { reject(capabilitiesArray); } if (data.indexOf(18) == -1) { capabilitiesArray.push("notTagPageAuthor"); } if (data.indexOf(19) == -1) { capabilitiesArray.push("notTagPageEditor"); } }); }) } function hasUserAcceptedTerms(capabilitiesArray) { var acceptedTermsAPI = 'https://a-login.sportskeeda.com/en/user/accepted-terms'; return pureJSAjaxGetWithPromise(acceptedTermsAPI).then(function(res) { return new Promise(function(resolve, reject) { var data = JSON.parse(res); if(data.accepted_terms === false) { capabilitiesArray.push('notAcceptedTerms'); reject(capabilitiesArray); } else if(capabilitiesArray.length > 0) { reject(capabilitiesArray); } else { resolve(true); } }); }) } function debounceGeneric(func, wait, immediate) { var timeout; return function() { var context = this, args = arguments; var later = function() { timeout = null; if (!immediate) func.apply(context, args); }; var callNow = immediate && !timeout; clearTimeout(timeout); timeout = setTimeout(later, wait); if (callNow) func.apply(context, args); }; }; function getUrlParamsValue(name) { name = name.replace(/[[]/, "\[").replace(/[]]/, "\]"); var regex = new RegExp("[\?&]" + name + "=([^&#]*)"); var results = regex.exec(location.search); return results === null ? "" : decodeURIComponent(results[1].replace(/+/g, " ")); } function isAuthorVerified(author_title) { if (author_title == 'EXPERT COLUMNIST' || author_title == 'OFFICIAL' || author_title == 'EXPERT') { return true; } else { return false; } } /** * @param: null * Comment: Check if the cookie exist otherwise set it from the request */ function checkAndSetUserCity() { var userCity = getCookie("user_city"); var citiesArray = ["Hyderabad", "Pune", "Chennai", "Delhi", "Bengaluru", "Mumbai", "Ahmedabad", "Kolkata", "Jaipur", "Vishakapatnam"]; var requiredCityExist = false; if (userCity == "" || userCity == null) { var xmlHttp = new XMLHttpRequest(); xmlHttp.open( "GET", "https://a-login.sportskeeda.com/visitor/city", false ); // false for synchronous request xmlHttp.send( null ); var result = JSON.parse(xmlHttp.responseText); if (result.city != "undefined") { userCity = result.city; var cookieExpire = new Date(); cookieExpire.setDate(cookieExpire.getDate() + 7); // Expiry after 7 days setCookie("user_city", userCity, cookieExpire); } } if (citiesArray.includes(userCity)) { requiredCityExist = true; } return requiredCityExist; } function checkAndSetUserState() { var userState = getCookie("user_state"); if (userState == "" || userState == null) { var xmlHttp = new XMLHttpRequest(); xmlHttp.open( "GET", "https://a-login.sportskeeda.com/visitor/state", false ); // false for synchronous request xmlHttp.send( null ); var result = JSON.parse(xmlHttp.responseText); if (result.city != "undefined") { userState = result.state; var cookieExpire = new Date(); cookieExpire.setDate(cookieExpire.getDate() + 7); // Expiry after 7 days setCookie("user_state", userState, cookieExpire); } } return userState; } var userId = getCookie("fw_ID"); var REACTION_IMAGES = { like: STATIC_URL + "/post-reactions/reaction-like.svg", excited: STATIC_URL + "/post-reactions/reaction-excited.svg", happy: STATIC_URL + "/post-reactions/reaction-happy.svg", anxious: STATIC_URL + "/post-reactions/reaction-anxious.svg", angry: STATIC_URL + "/post-reactions/reaction-angry.svg", sad: STATIC_URL + "/post-reactions/reaction-sad.svg", default: STATIC_URL + "/skm/assets/feed/ic-like-gray.svg", }; var REACTION_TEXT = { like: "Liked", excited: "Excited", happy: "Happy", anxious: "Anxious", angry: "Angry", sad: "Sad", default: "Like", }; function fetchAndUpdateUserLikesForPosts(postIdsArray) { if (postIdsArray.length < 1) return; if (!userId) return; var postIdsParam = postIdsArray.join(","); pureJSAjaxGet( GOTHAM_URL_HA_FRONTEND + "/posts/reactedBy?post_ids=" + postIdsParam, syncPostLikesInFeed, {}, function (err) {}, true ); } function syncPostLikesInFeed(response) { if (!userId) return; try { response = JSON.parse(response); } catch (e) { return; } for (var i = 0; i delay){ prev = now; return func.apply(context, args); } } } function generateRandomString() { var allCharacters = "ABCDEFGHIJKLMNOPQRSTUVWXYZabcdefghijklmnopqrstuvwxyz0123456789"; var base = allCharacters.split(''); var randomstr = ""; for (var i=0; i<30; i++) { randomstr += base[Math.random()*base.length|0]; } return randomstr; } function getImageWidthTransformedURL(imageURL, width) { if (!imageURL) { return ""; } if (isNaN(width)) { return imageURL; } imageURL = imageURL.replace("http://", "https://"); try { var imageURI = new URL(imageURL); imageURI.searchParams.set("w", width); return imageURI.toString(); } catch (e) { console.error("Error while transforming image width"); return ""; } } function getImageHeightTransformedURL(imageURL, height) { if (!imageURL) { return ""; } if (isNaN(height)) { return imageURL; } imageURL = imageURL.replace("http://", "https://"); try { var imageURI = new URL(imageURL); imageURI.searchParams.set("h", height); return imageURI.toString(); } catch (e) { console.error("Error while transforming image height"); return ""; } } function getNumFormat(num) { var num_format = Math.round(num); if (num >= 1000 && num = 1000000 && num = 1000000000) { num_format = (Math.round(num) / 1000000000).toFixed(1) + 'B'; } return num_format; } function isOverflow(element) { if (!element) return false; return element.scrollWidth > element.clientWidth; } function isFacebookApp() { if(!navigator) { return false; } var ua = navigator.userAgent || navigator.vendor || window.opera; return (ua.indexOf("FBAN") > -1) || (ua.indexOf("FBAV") > -1); } /** * @param: Integer timestamp * @return: String * Comment: Get the difference b/w the timestamp and current time and return user friendly date time */ function getFriendlyTimeDifferenceFromNow(timestamp) { // takes timestamp in microseconds var seconds = (Date.now() / 1000) – (timestamp / 1000); if (seconds > 31536000) { // 31536000 = 60s * 60m * 24h * 365d = one year var years = Math.round(seconds / 31536000); seconds = seconds % 31536000; if (seconds > 2592000) { // 2592000 = 60s * 60m * 24h * 30d = one month var months = Math.round(seconds / 2592000); return years + " yr " + months + " mn"; } return years + " yr"; } if (seconds > 2592000) { var months = Math.round(seconds / 2592000); seconds = seconds % 2592000; if (seconds > 86400) { var days = Math.round(seconds / 86400); return months + " mn " + days + " d"; } return months + " mn"; } if (seconds > 86400) { // 3600 * 24 = one day return Math.round(seconds / 86400) + " d"; } else if(seconds > 3600) { // One hour return Math.round(seconds / 3600 ) + " hr"; } else { // Difference in minutes return Math.round(seconds / 60 ) + " min"; } } function isInViewport(el) { var rect = el.getBoundingClientRect(); return ( rect.top >= 0 && rect.left >= 0 && rect.bottom <= (window.innerHeight || document.documentElement.clientHeight) && rect.right 0) { gtag( 'set' , { 'dimension10' : loggedInUserID } ); } gtag( 'set' , { 'dimension11' : "OutbrainWidgetdesktop" } ); var uniqueBrowserIdCookie = getCookie('unique_browser_id'); if (uniqueBrowserIdCookie) { gtag( 'set' , 'user_properties', { 'browser_id' : uniqueBrowserIdCookie } ); } gaSubSet = { 'send_to': gaID }; var sessionCookieValue = getCookie("keeda-session-uuid"); if (sessionCookieValue) { gaSubSet['keeda-session-uuid'] = sessionCookieValue; } var userID = getCookie("fw_ID"); try { var commonGASubSetKeys = JSON.parse('{"common_tags":{"page_type":"","sport":"","loggedIn_user_id":""},"article_page_tags":{"author_slug":"","published_date":"","tax-list":""},"non_amp_tags":{"SEO_article":"","Adaptive_Tag":""},"cmc_page_tags":{"match_id":"","commentary":"","match_status":"","start_time":"","end_time":""}}' || '{}'); if (Object.keys(commonGASubSetKeys).length > 0) { var commonTags = commonGASubSetKeys["common_tags"]; gaSubSet["page_type"] = 'Articlepage'; if (("SK POP").length > 0) { gaSubSet["sport"] = 'SK POP'; } if (("OutbrainWidget").length > 0) { gaSubSet["sk_version"] = "OutbrainWidget"; } if (userID > 0) { gaSubSet["loggedIn_user_id"] = userID; } var articlePageTags = commonGASubSetKeys["article_page_tags"]; gaSubSet["author_slug"] = '17ba001-ba551′; gaSubSet["published_date"] = '2023-01'; gaSubSet["tax-list"] = ',pop-culture,news,trending,'; var postId = 1378195; if (postId) { gaSubSet["post_id"] = postId; } var postSection = "News"; if (postSection) { gaSubSet["post_section"] = postSection; } var nonAMPTags = commonGASubSetKeys["non_amp_tags"]; for (var tagKey in nonAMPTags) { if (tagKey == "SEO_article" && (("").length > 0)) { gtag( 'set' , { 'dimension4' : "true" } ); gaSubSet[tagKey] = "https://www.sportskeeda.com/pop-culture/news-where-jose-guerrero-found-two-arrested-missing-virginia-dad-discovered-dead"; } else if (tagKey == "Adaptive_Tag" && ("article").length > 0 && "article" == 'adaptive_page') { gaSubSet[tagKey] = "; } else { gtag( 'set' , { 'dimension4' : "false" } ); } } } } catch(e) { console.log(e); } var userAdoptionType = getUserAdoptionType(gaSubSet["page_type"]); if (userAdoptionType) { gaSubSet["userAdoptionType"] = userAdoptionType; } if (!isVideoPage && "1") { gtag('event', 'page_view', gaSubSet); } if (!isVideoPage && "") { if(location.search.indexOf("key1=opera") > -1) { gtag('event', 'page_view', { 'send_to': gaID, 'page_path': location.pathname + location.search }); } else { if(sessionKey1CookieVal && sessionKey1CookieVal.indexOf("opera") > -1) { gtag('event', 'page_view', { 'send_to': gaID, 'page_path': location.pathname + location.search + (location.search ? "&" : "?") + "key1=" + sessionKey1CookieVal }); } else { gtag('event', 'page_view', gaSubSet); } } } } gtag('js', new Date()); gtag('config', GA_ID, { send_page_view: false }); window.addEventListener("scroll", loadGA.bind(this, GA_ID)); window.addEventListener("click", loadGA.bind(this, GA_ID)); window.addEventListener("mousemove", loadGA.bind(this, GA_ID)); if(GA4_ID) { gtag('config', GA4_ID, { send_page_view: false }); window.addEventListener("scroll", loadGA.bind(this, GA4_ID)); window.addEventListener("click", loadGA.bind(this, GA4_ID)); window.addEventListener("mousemove", loadGA.bind(this, GA4_ID)); } if (getCookie("gdpr") == 'true') { window['gtag_enable_tcf_support'] = true; } if(location.search.indexOf("opera") > -1 || sessionKey1CookieVal.indexOf("opera") > -1 || location.pathname.indexOf("third-party/") > -1) { loadGA(GA_ID); if (GA4_ID) { loadGA(GA4_ID); } } var webVitalsLoaded = false; function sendToGoogleAnalytics(metric) { gtag('event', metric.name, { metric_value: metric.value, sk_version: "OutbrainWidget" }); } //Code is executed only on .1% of the pages if(Math.floor(Math.random() * 100) = 0) { function loadWebVitals() { if(!true) { return; } if (webVitalsLoaded) { return; } var webVitalsScript = 'https://unpkg.com/web-vitals/dist/web-vitals.iife.js'; loadScriptAsync(webVitalsScript, function() { webVitals.getCLS(sendToGoogleAnalytics, true); webVitals.getFID(sendToGoogleAnalytics); webVitals.getLCP(sendToGoogleAnalytics, true); }); webVitalsLoaded = true; } window.addEventListener("scroll", loadWebVitals); window.addEventListener("click", loadWebVitals); window.addEventListener("mousemove", loadWebVitals); } ]]> <![CDATA[ var getLocation = function(href) { var l = document.createElement("a"); l.href = href; return l.pathname; }; var besideH1Links = $all('ul.desktop-h1-side-menu li a') for(i=0; i <![CDATA[ var userCountry = getCookie("country_code"); var userId = getCookie("fw_ID"); var userBrowserId = getCookie("unique_browser_id"); var userEmail = decodeURIComponent(getCookie("fw_email")); var adUnits = JSON.parse('{"Desktop_300x600_Floating":{"div":"div-gpt-ad-1510306333397-0","mediaTypes":{"banner":{"sizes":[[160,600],[120,600]]}},"bids":[{"bidder":"ix","params":{"siteId":"745046","size":[160,600]}},{"bidder":"ix","params":{"siteId":"745046","size":[120,600]}},{"bidder":"teads","params":{"placementId":148849,"pageId":135628}},{"bidder":"pubmatic","params":{"publisherId":"156349","adSlot":"Sportskeeda_Desktop_300x600_Floating@300x600"}},{"bidder":"appnexus","params":{"placementId":"23194964"}},{"bidder":"conversant","params":{"site_id":"212733","secure":1}},{"bidder":"eplanning","params":{"ci":"5e300"}},{"bidder":"insticator","params":{"adUnitId":"01G2DJ2DEWHVFQKRQYP7C92Q09"}},{"bidder":"openx","params":{"delDomain":"sportskeeda-d.openx.net","unit":551030812}},{"bidder":"rise","params":{"org":"5fcde7e56900a50001a59257"}},{"bidder":"rubicon","params":{"accountId":15140,"siteId":398014,"zoneId":2230404}},{"bidder":"catapultx","params":{"host":"cpm.catapultx.com","zoneId":157135}},{"bidder":"synacormedia","params":{"seatId":"sportskeeda","tagId":"96766"}},{"bidder":"criteo","params":{"networkId":"11376"}},{"bidder":"yahoossp","params":{"en":{"pubId":"56059","siteId":"8a9690cf017272e27aa0e49334130065","placementId":"8a96950d017f7f424c5145353a6d001f"},"hi":{"pubId":"56059","siteId":"8a9690cf017272e27aa0e4932aa70061","placementId":"8a9691a4017f7f424c104536f44a001b"}}},{"bidder":"smilewanted","params":{"zoneId":"sportskeeda.com_hb_display_1"}}]},"Desktop_300x250_01_New":{"div":"div-gpt-ad-1510306106581-0","mediaTypes":{"banner":{"sizes":[[160,600],[120,600]]}},"bids":[{"bidder":"ix","params":{"siteId":"745046","size":[160,600]}},{"bidder":"ix","params":{"siteId":"745046","size":[120,600]}},{"bidder":"teads","params":{"placementId":148849,"pageId":135628}},{"bidder":"pulsepoint","params":{"cp":562699,"cf":"120x600,160x600","ct":737232}},{"bidder":"pubmatic","params":{"publisherId":"156349","adSlot":"Sportskeeda_Desktop_300x250_01_New@300x250"}},{"bidder":"smartadserver","params":{"domain":"https://prg-apac.smartadserver.com/","siteId":473947,"pageId":1491638,"formatId":105400}},{"bidder":"appnexus","params":{"placementId":"23194964"}},{"bidder":"conversant","params":{"site_id":"212733","secure":1}},{"bidder":"eplanning","params":{"ci":"5e300"}},{"bidder":"insticator","params":{"adUnitId":"01G2DJ2DEWHVFQKRQYP7C92Q09"}},{"bidder":"openx","params":{"delDomain":"sportskeeda-d.openx.net","unit":551030812}},{"bidder":"rise","params":{"org":"5fcde7e56900a50001a59257"}},{"bidder":"rubicon","params":{"accountId":15140,"siteId":398014,"zoneId":2230404}},{"bidder":"catapultx","params":{"host":"cpm.catapultx.com","zoneId":157135}},{"bidder":"synacormedia","params":{"seatId":"sportskeeda","tagId":"96766"}},{"bidder":"criteo","params":{"networkId":"11376"}},{"bidder":"yahoossp","params":{"en":{"pubId":"56059","siteId":"8a9690cf017272e27aa0e49334130065","placementId":"8a96950d017f7f424c5145353a6d001f"},"hi":{"pubId":"56059","siteId":"8a9690cf017272e27aa0e4932aa70061","placementId":"8a9691a4017f7f424c104536f44a001b"}}},{"bidder":"smilewanted","params":{"zoneId":"sportskeeda.com_hb_display_1"}}]},"Desktop_300250_1":{"div":"div-gpt-ad-1471939034701-0","mediaTypes":{"banner":{"sizes":[[300,250],[336,280]]}},"bids":[{"bidder":"ix","params":{"siteId":"745046","size":[300,250]}},{"bidder":"ix","params":{"siteId":"745046","size":[336,280]}},{"bidder":"nextMillennium","params":{"placement_id":"10597"}},{"bidder":"pulsepoint","params":{"cp":562699,"cf":"300x250,336x280","ct":737228}},{"bidder":"pubmatic","params":{"publisherId":"156349","adSlot":"Sportskeeda_Desktop_300x250_1@300x250"}},{"bidder":"adagio","params":{"organizationId":"1238","site":"sportskeeda-com","placement":"Sidebar"}},{"bidder":"triplelift","params":{"inventoryCode":"Sportskeeda_Desktop_300250_1"}},{"bidder":"smartadserver","params":{"domain":"https://prg-apac.smartadserver.com/","siteId":473947,"pageId":1491638,"formatId":105241}},{"bidder":"appnexus","params":{"placementId":"23194964"}},{"bidder":"conversant","params":{"site_id":"212733","secure":1}},{"bidder":"eplanning","params":{"ci":"5e300"}},{"bidder":"insticator","params":{"adUnitId":"01G2DJ2DEWHVFQKRQYP7C92Q09"}},{"bidder":"openx","params":{"delDomain":"sportskeeda-d.openx.net","unit":551030812}},{"bidder":"rise","params":{"org":"5fcde7e56900a50001a59257"}},{"bidder":"rubicon","params":{"accountId":15140,"siteId":398014,"zoneId":2230404}},{"bidder":"catapultx","params":{"host":"cpm.catapultx.com","zoneId":157135}},{"bidder":"synacormedia","params":{"seatId":"sportskeeda","tagId":"96766"}},{"bidder":"criteo","params":{"networkId":"11376"}},{"bidder":"yahoossp","params":{"en":{"pubId":"56059","siteId":"8a9690cf017272e27aa0e49334130065","placementId":"8a96950d017f7f424c5145353a6d001f"},"hi":{"pubId":"56059","siteId":"8a9690cf017272e27aa0e4932aa70061","placementId":"8a9691a4017f7f424c104536f44a001b"}}},{"bidder":"smilewanted","params":{"zoneId":"sportskeeda.com_hb_display_1"}}]},"Desktop_300250_3":{"div":"div-gpt-ad-1589376019464-0","mediaTypes":{"banner":{"sizes":["fluid",[1,1],[300,250],[400,280],[600,280],[500,280],[580,300],[336,280],[480,320]]}},"bids":[{"bidder":"ix","params":{"siteId":"745046","size":[1,1]}},{"bidder":"ix","params":{"siteId":"745046","size":[300,250]}},{"bidder":"ix","params":{"siteId":"745046","size":[400,280]}},{"bidder":"ix","params":{"siteId":"745046","size":[600,280]}},{"bidder":"ix","params":{"siteId":"745046","size":[500,280]}},{"bidder":"ix","params":{"siteId":"745046","size":[580,300]}},{"bidder":"ix","params":{"siteId":"745046","size":[336,280]}},{"bidder":"ix","params":{"siteId":"745046","size":[480,320]}},{"bidder":"teads","params":{"placementId":153116,"pageId":139511}},{"bidder":"nextMillennium","params":{"placement_id":"10595"}},{"bidder":"pulsepoint","params":{"cp":562699,"cf":"fluid,1x1,300x250,336x280,400x280,500x280,480x320,600x280,580x300","ct":737266}},{"bidder":"pubmatic","params":{"publisherId":"156349","adSlot":"Sportskeeda_Desktop_300x250_3@300x250"}},{"bidder":"adagio","params":{"organizationId":"1238","site":"sportskeeda-com","placement":"Sidebar"}},{"bidder":"triplelift","params":{"inventoryCode":"Sportskeeda_Desktop_300250_3"}},{"bidder":"smartadserver","params":{"domain":"https://prg-apac.smartadserver.com/","siteId":473947,"pageId":1491638,"formatId":105243}},{"bidder":"appnexus","params":{"placementId":"23194964"}},{"bidder":"conversant","params":{"site_id":"212733","secure":1}},{"bidder":"eplanning","params":{"ci":"5e300"}},{"bidder":"insticator","params":{"adUnitId":"01G2DJ2DEWHVFQKRQYP7C92Q09"}},{"bidder":"openx","params":{"delDomain":"sportskeeda-d.openx.net","unit":551030812}},{"bidder":"rise","params":{"org":"5fcde7e56900a50001a59257"}},{"bidder":"rubicon","params":{"accountId":15140,"siteId":398014,"zoneId":2230404}},{"bidder":"catapultx","params":{"host":"cpm.catapultx.com","zoneId":157135}},{"bidder":"synacormedia","params":{"seatId":"sportskeeda","tagId":"96766"}},{"bidder":"criteo","params":{"networkId":"11376"}},{"bidder":"yahoossp","params":{"en":{"pubId":"56059","siteId":"8a9690cf017272e27aa0e49334130065","placementId":"8a96950d017f7f424c5145353a6d001f"},"hi":{"pubId":"56059","siteId":"8a9690cf017272e27aa0e4932aa70061","placementId":"8a9691a4017f7f424c104536f44a001b"}}},{"bidder":"smilewanted","params":{"zoneId":"sportskeeda.com_hb_display_1"}}]},"Desktop_article_rail_top_2022":{"div":"div-gpt-ad-1653457590899-0","mediaTypes":{"banner":{"sizes":[[336,280],[300,250]]}},"bids":[{"bidder":"ix","params":{"siteId":"745046","size":[300,250]}},{"bidder":"ix","params":{"siteId":"745046","size":[336,280]}},{"bidder":"nextMillennium","params":{"placement_id":"10597"}},{"bidder":"pulsepoint","params":{"cp":562699,"cf":"300x250,336x280","ct":737228}},{"bidder":"pubmatic","params":{"publisherId":"156349","adSlot":"Sportskeeda_Desktop_300x250_1@300x250"}},{"bidder":"adagio","params":{"organizationId":"1238","site":"sportskeeda-com","placement":"Sidebar"}},{"bidder":"triplelift","params":{"inventoryCode":"Sportskeeda_Desktop_300250_1"}},{"bidder":"smartadserver","params":{"domain":"https://prg-apac.smartadserver.com/","siteId":473947,"pageId":1491638,"formatId":105241}},{"bidder":"appnexus","params":{"placementId":"23194964"}},{"bidder":"conversant","params":{"site_id":"212733","secure":1}},{"bidder":"eplanning","params":{"ci":"5e300"}},{"bidder":"insticator","params":{"adUnitId":"01G2DJ2DEWHVFQKRQYP7C92Q09"}},{"bidder":"openx","params":{"delDomain":"sportskeeda-d.openx.net","unit":551030812}},{"bidder":"rise","params":{"org":"5fcde7e56900a50001a59257"}},{"bidder":"rubicon","params":{"accountId":15140,"siteId":398014,"zoneId":2230404}},{"bidder":"catapultx","params":{"host":"cpm.catapultx.com","zoneId":157135}},{"bidder":"synacormedia","params":{"seatId":"sportskeeda","tagId":"96766"}},{"bidder":"criteo","params":{"networkId":"11376"}},{"bidder":"yahoossp","params":{"en":{"pubId":"56059","siteId":"8a9690cf017272e27aa0e49334130065","placementId":"8a96950d017f7f424c5145353a6d001f"},"hi":{"pubId":"56059","siteId":"8a9690cf017272e27aa0e4932aa70061","placementId":"8a9691a4017f7f424c104536f44a001b"}}},{"bidder":"smilewanted","params":{"zoneId":"sportskeeda.com_hb_display_1"}}]},"Desktop_300250_4":{"div":"div-gpt-ad-1471940214015-0","mediaTypes":{"banner":{"sizes":[[300,250],[336,280],[250,250],[200,200],[250,200]]}},"bids":[{"bidder":"ix","params":{"siteId":"745046","size":[300,250]}},{"bidder":"ix","params":{"siteId":"745046","size":[336,280]}},{"bidder":"ix","params":{"siteId":"745046","size":[250,250]}},{"bidder":"ix","params":{"siteId":"745046","size":[200,200]}},{"bidder":"ix","params":{"siteId":"745046","size":[250,200]}},{"bidder":"teads","params":{"placementId":153116,"pageId":139511}},{"bidder":"pubmatic","params":{"publisherId":"156349","adSlot":"Sportskeeda_Desktop_300x250_4@300x250"}},{"bidder":"appnexus","params":{"placementId":"23194964"}},{"bidder":"conversant","params":{"site_id":"212733","secure":1}},{"bidder":"eplanning","params":{"ci":"5e300"}},{"bidder":"insticator","params":{"adUnitId":"01G2DJ2DEWHVFQKRQYP7C92Q09"}},{"bidder":"openx","params":{"delDomain":"sportskeeda-d.openx.net","unit":551030812}},{"bidder":"rise","params":{"org":"5fcde7e56900a50001a59257"}},{"bidder":"rubicon","params":{"accountId":15140,"siteId":398014,"zoneId":2230404}},{"bidder":"catapultx","params":{"host":"cpm.catapultx.com","zoneId":157135}},{"bidder":"synacormedia","params":{"seatId":"sportskeeda","tagId":"96766"}},{"bidder":"criteo","params":{"networkId":"11376"}},{"bidder":"yahoossp","params":{"en":{"pubId":"56059","siteId":"8a9690cf017272e27aa0e49334130065","placementId":"8a96950d017f7f424c5145353a6d001f"},"hi":{"pubId":"56059","siteId":"8a9690cf017272e27aa0e4932aa70061","placementId":"8a9691a4017f7f424c104536f44a001b"}}},{"bidder":"smilewanted","params":{"zoneId":"sportskeeda.com_hb_display_1"}}]},"Desktop_300250_5":{"div":"div-gpt-ad-1471940335856-0","mediaTypes":{"banner":{"sizes":[[300,250],[336,280],[250,250],[200,200],[250,200]]}},"bids":[{"bidder":"ix","params":{"siteId":"745046","size":[300,250]}},{"bidder":"ix","params":{"siteId":"745046","size":[336,280]}},{"bidder":"ix","params":{"siteId":"745046","size":[250,250]}},{"bidder":"ix","params":{"siteId":"745046","size":[200,200]}},{"bidder":"ix","params":{"siteId":"745046","size":[250,200]}},{"bidder":"teads","params":{"placementId":153116,"pageId":139511}},{"bidder":"pubmatic","params":{"publisherId":"156349","adSlot":"Sportskeeda_Desktop_300x250_5@300x250"}},{"bidder":"appnexus","params":{"placementId":"23194964"}},{"bidder":"conversant","params":{"site_id":"212733","secure":1}},{"bidder":"eplanning","params":{"ci":"5e300"}},{"bidder":"insticator","params":{"adUnitId":"01G2DJ2DEWHVFQKRQYP7C92Q09"}},{"bidder":"openx","params":{"delDomain":"sportskeeda-d.openx.net","unit":551030812}},{"bidder":"rise","params":{"org":"5fcde7e56900a50001a59257"}},{"bidder":"rubicon","params":{"accountId":15140,"siteId":398014,"zoneId":2230404}},{"bidder":"catapultx","params":{"host":"cpm.catapultx.com","zoneId":157135}},{"bidder":"synacormedia","params":{"seatId":"sportskeeda","tagId":"96766"}},{"bidder":"criteo","params":{"networkId":"11376"}},{"bidder":"yahoossp","params":{"en":{"pubId":"56059","siteId":"8a9690cf017272e27aa0e49334130065","placementId":"8a96950d017f7f424c5145353a6d001f"},"hi":{"pubId":"56059","siteId":"8a9690cf017272e27aa0e4932aa70061","placementId":"8a9691a4017f7f424c104536f44a001b"}}},{"bidder":"smilewanted","params":{"zoneId":"sportskeeda.com_hb_display_1"}}]},"DESKTOP_BELOW_ARTICLE":{"div":"div-gpt-ad-1620810392526-0","mediaTypes":{"banner":{"sizes":[[300,250],[336,280]]}},"bids":[{"bidder":"ix","params":{"siteId":"745046","size":[320,100]}},{"bidder":"ix","params":{"siteId":"745046","size":[300,100]}},{"bidder":"ix","params":{"siteId":"745046","size":[320,50]}},{"bidder":"ix","params":{"siteId":"745046","size":[300,50]}},{"bidder":"teads","params":{"placementId":148849,"pageId":135628}},{"bidder":"nextMillennium","params":{"placement_id":"10595"}},{"bidder":"pulsepoint","params":{"cp":562699,"cf":"300x250,336x280","ct":737230}},{"bidder":"pubmatic","params":{"publisherId":"156349","adSlot":"Sportskeeda_DESKTOP_BELOW_ARTICLE@320x50"}},{"bidder":"adagio","params":{"organizationId":"1238","site":"sportskeeda-com","placement":"Below The Fold"}},{"bidder":"triplelift","params":{"inventoryCode":"Sportskeeda_Desktop_Below_Article"}},{"bidder":"smartadserver","params":{"domain":"https://prg-apac.smartadserver.com/","siteId":473947,"pageId":1491638,"formatId":105241}},{"bidder":"appnexus","params":{"placementId":"23194964"}},{"bidder":"conversant","params":{"site_id":"212733","secure":1}},{"bidder":"eplanning","params":{"ci":"5e300"}},{"bidder":"insticator","params":{"adUnitId":"01G2DJ2DEWHVFQKRQYP7C92Q09"}},{"bidder":"openx","params":{"delDomain":"sportskeeda-d.openx.net","unit":551030812}},{"bidder":"rise","params":{"org":"5fcde7e56900a50001a59257"}},{"bidder":"rubicon","params":{"accountId":15140,"siteId":398014,"zoneId":2230404}},{"bidder":"catapultx","params":{"host":"cpm.catapultx.com","zoneId":157135}},{"bidder":"synacormedia","params":{"seatId":"sportskeeda","tagId":"96766"}},{"bidder":"criteo","params":{"networkId":"11376"}},{"bidder":"yahoossp","params":{"en":{"pubId":"56059","siteId":"8a9690cf017272e27aa0e49334130065","placementId":"8a96950d017f7f424c5145353a6d001f"},"hi":{"pubId":"56059","siteId":"8a9690cf017272e27aa0e4932aa70061","placementId":"8a9691a4017f7f424c104536f44a001b"}}},{"bidder":"smilewanted","params":{"zoneId":"sportskeeda.com_hb_display_1"}}]},"Desktop_72890_1":{"div":"div-gpt-ad-1471942863237-0","mediaTypes":{"banner":{"sizes":[[970,90],[728,90],[1200,90]]}},"bids":[{"bidder":"ix","params":{"siteId":"745046","size":[970,90]}},{"bidder":"ix","params":{"siteId":"745046","size":[728,90]}},{"bidder":"ix","params":{"siteId":"745046","size":[1200,90]}},{"bidder":"teads","params":{"placementId":148849,"pageId":135628}},{"bidder":"nextMillennium","params":{"placement_id":"10593"}},{"bidder":"pulsepoint","params":{"cp":562699,"cf":"728x90,970x90,1200x90","ct":737228}},{"bidder":"pubmatic","params":{"publisherId":"156349","adSlot":"Sportskeeda_Desktop_728x90_1@728x90"}},{"bidder":"adagio","params":{"organizationId":"1238","site":"sportskeeda-com","placement":"Centre Top"}},{"bidder":"triplelift","params":{"inventoryCode":"Sportskeeda_Desktop_728x90"}},{"bidder":"smartadserver","params":{"domain":"https://prg-apac.smartadserver.com/","siteId":473947,"pageId":1491638,"formatId":105245}},{"bidder":"appnexus","params":{"placementId":"23194964"}},{"bidder":"conversant","params":{"site_id":"212733","secure":1}},{"bidder":"eplanning","params":{"ci":"5e300"}},{"bidder":"insticator","params":{"adUnitId":"01G2DJ2DEWHVFQKRQYP7C92Q09"}},{"bidder":"openx","params":{"delDomain":"sportskeeda-d.openx.net","unit":551030812}},{"bidder":"rise","params":{"org":"5fcde7e56900a50001a59257"}},{"bidder":"rubicon","params":{"accountId":15140,"siteId":398014,"zoneId":2230404}},{"bidder":"catapultx","params":{"host":"cpm.catapultx.com","zoneId":157135}},{"bidder":"synacormedia","params":{"seatId":"sportskeeda","tagId":"96766"}},{"bidder":"criteo","params":{"networkId":"11376"}},{"bidder":"yahoossp","params":{"en":{"pubId":"56059","siteId":"8a9690cf017272e27aa0e49334130065","placementId":"8a96950d017f7f424c5145353a6d001f"},"hi":{"pubId":"56059","siteId":"8a9690cf017272e27aa0e4932aa70061","placementId":"8a9691a4017f7f424c104536f44a001b"}}},{"bidder":"smilewanted","params":{"zoneId":"sportskeeda.com_hb_display_1"}}]},"Desktop_72890_2":{"div":"div-gpt-ad-1495182871411-0","mediaTypes":{"banner":{"sizes":[[728,90]]}},"bids":[{"bidder":"ix","params":{"siteId":"745046","size":[728,90]}},{"bidder":"teads","params":{"placementId":148849,"pageId":135628}},{"bidder":"pulsepoint","params":{"cp":562699,"cf":"728x90","ct":737231}},{"bidder":"pubmatic","params":{"publisherId":"156349","adSlot":"Sportskeeda_Desktop_728x90_2@728x90"}},{"bidder":"smartadserver","params":{"domain":"https://prg-apac.smartadserver.com/","siteId":473947,"pageId":1491638,"formatId":105245}},{"bidder":"appnexus","params":{"placementId":"23194964"}},{"bidder":"conversant","params":{"site_id":"212733","secure":1}},{"bidder":"eplanning","params":{"ci":"5e300"}},{"bidder":"insticator","params":{"adUnitId":"01G2DJ2DEWHVFQKRQYP7C92Q09"}},{"bidder":"openx","params":{"delDomain":"sportskeeda-d.openx.net","unit":551030812}},{"bidder":"rise","params":{"org":"5fcde7e56900a50001a59257"}},{"bidder":"rubicon","params":{"accountId":15140,"siteId":398014,"zoneId":2230404}},{"bidder":"catapultx","params":{"host":"cpm.catapultx.com","zoneId":157135}},{"bidder":"synacormedia","params":{"seatId":"sportskeeda","tagId":"96766"}},{"bidder":"criteo","params":{"networkId":"11376"}},{"bidder":"yahoossp","params":{"en":{"pubId":"56059","siteId":"8a9690cf017272e27aa0e49334130065","placementId":"8a96950d017f7f424c5145353a6d001f"},"hi":{"pubId":"56059","siteId":"8a9690cf017272e27aa0e4932aa70061","placementId":"8a9691a4017f7f424c104536f44a001b"}}},{"bidder":"smilewanted","params":{"zoneId":"sportskeeda.com_hb_display_1"}}]},"Fluid_Native_Desktop":{"div":"div-gpt-ad-1557821524812-0","mediaTypes":{"banner":{"sizes":["fluid"]}},"native":true,"pos":3,"bids":[]},"Fluid_Native_Desktop_2":{"div":"div-gpt-ad-1557821558584-0","mediaTypes":{"banner":{"sizes":["fluid"]}},"native":true,"pos":6,"bids":[]},"Carousel_Widget_250x100":{"div":"div-gpt-ad-1632146417332-0","mediaTypes":{"banner":{"sizes":[[300,100]]}},"bids":[{"bidder":"ix","params":{"siteId":"745046","size":[300,100]}},{"bidder":"teads","params":{"placementId":148849,"pageId":135628}},{"bidder":"pubmatic","params":{"publisherId":"156349","adSlot":"Sportskeeda_Carousel_Widget_250x100250x100"}},{"bidder":"appnexus","params":{"placementId":"23194964"}},{"bidder":"conversant","params":{"site_id":"212733","secure":1}},{"bidder":"eplanning","params":{"ci":"5e300"}},{"bidder":"insticator","params":{"adUnitId":"01G2DJ2DEWHVFQKRQYP7C92Q09"}},{"bidder":"openx","params":{"delDomain":"sportskeeda-d.openx.net","unit":551030812}},{"bidder":"rise","params":{"org":"5fcde7e56900a50001a59257"}},{"bidder":"rubicon","params":{"accountId":15140,"siteId":398014,"zoneId":2230404}},{"bidder":"catapultx","params":{"host":"cpm.catapultx.com","zoneId":157135}},{"bidder":"synacormedia","params":{"seatId":"sportskeeda","tagId":"96766"}},{"bidder":"criteo","params":{"networkId":"11376"}},{"bidder":"yahoossp","params":{"en":{"pubId":"56059","siteId":"8a9690cf017272e27aa0e49334130065","placementId":"8a96950d017f7f424c5145353a6d001f"},"hi":{"pubId":"56059","siteId":"8a9690cf017272e27aa0e4932aa70061","placementId":"8a9691a4017f7f424c104536f44a001b"}}},{"bidder":"smilewanted","params":{"zoneId":"sportskeeda.com_hb_display_1"}}]},"FIFAWC_HP_300250_1":{"div":"div-gpt-ad-1669786710781-0","mediaTypes":{"banner":{"sizes":[[300,100],[300,250]]}},"bids":[{"bidder":"appnexus","params":{"placementId":"23194964"}},{"bidder":"conversant","params":{"site_id":"212733","secure":1}},{"bidder":"eplanning","params":{"ci":"5e300"}},{"bidder":"insticator","params":{"adUnitId":"01G2DJ2DEWHVFQKRQYP7C92Q09"}},{"bidder":"openx","params":{"delDomain":"sportskeeda-d.openx.net","unit":551030812}},{"bidder":"rise","params":{"org":"5fcde7e56900a50001a59257"}},{"bidder":"rubicon","params":{"accountId":15140,"siteId":398014,"zoneId":2230404}},{"bidder":"catapultx","params":{"host":"cpm.catapultx.com","zoneId":157135}},{"bidder":"synacormedia","params":{"seatId":"sportskeeda","tagId":"96766"}},{"bidder":"criteo","params":{"networkId":"11376"}},{"bidder":"yahoossp","params":{"en":{"pubId":"56059","siteId":"8a9690cf017272e27aa0e49334130065","placementId":"8a96950d017f7f424c5145353a6d001f"},"hi":{"pubId":"56059","siteId":"8a9690cf017272e27aa0e4932aa70061","placementId":"8a9691a4017f7f424c104536f44a001b"}}},{"bidder":"smilewanted","params":{"zoneId":"sportskeeda.com_hb_display_1"}}]},"FIFAWC_HP_300250_2":{"div":"div-gpt-ad-1669786865478-0","mediaTypes":{"banner":{"sizes":[[300,100],[300,250]]}},"bids":[{"bidder":"appnexus","params":{"placementId":"23194964"}},{"bidder":"conversant","params":{"site_id":"212733","secure":1}},{"bidder":"eplanning","params":{"ci":"5e300"}},{"bidder":"insticator","params":{"adUnitId":"01G2DJ2DEWHVFQKRQYP7C92Q09"}},{"bidder":"openx","params":{"delDomain":"sportskeeda-d.openx.net","unit":551030812}},{"bidder":"rise","params":{"org":"5fcde7e56900a50001a59257"}},{"bidder":"rubicon","params":{"accountId":15140,"siteId":398014,"zoneId":2230404}},{"bidder":"catapultx","params":{"host":"cpm.catapultx.com","zoneId":157135}},{"bidder":"synacormedia","params":{"seatId":"sportskeeda","tagId":"96766"}},{"bidder":"criteo","params":{"networkId":"11376"}},{"bidder":"yahoossp","params":{"en":{"pubId":"56059","siteId":"8a9690cf017272e27aa0e49334130065","placementId":"8a96950d017f7f424c5145353a6d001f"},"hi":{"pubId":"56059","siteId":"8a9690cf017272e27aa0e4932aa70061","placementId":"8a9691a4017f7f424c104536f44a001b"}}},{"bidder":"smilewanted","params":{"zoneId":"sportskeeda.com_hb_display_1"}}]},"Desktop_Sidebar_300x50":{"div":"div-gpt-ad-1632126524686-0","mediaTypes":{"banner":{"sizes":[[320,100],[300,100],[320,50],[300,50]]}},"bids":[{"bidder":"ix","params":{"siteId":"745046","size":[320,100]}},{"bidder":"ix","params":{"siteId":"745046","size":[300,100]}},{"bidder":"ix","params":{"siteId":"745046","size":[320,50]}},{"bidder":"ix","params":{"siteId":"745046","size":[300,50]}},{"bidder":"teads","params":{"placementId":148849,"pageId":135628}},{"bidder":"pubmatic","params":{"publisherId":"156349","adSlot":"Sportskeeda_Desktop_Sidebar_300x50@300x50"}},{"bidder":"appnexus","params":{"placementId":"23194964"}},{"bidder":"conversant","params":{"site_id":"212733","secure":1}},{"bidder":"eplanning","params":{"ci":"5e300"}},{"bidder":"insticator","params":{"adUnitId":"01G2DJ2DEWHVFQKRQYP7C92Q09"}},{"bidder":"openx","params":{"delDomain":"sportskeeda-d.openx.net","unit":551030812}},{"bidder":"rise","params":{"org":"5fcde7e56900a50001a59257"}},{"bidder":"rubicon","params":{"accountId":15140,"siteId":398014,"zoneId":2230404}},{"bidder":"catapultx","params":{"host":"cpm.catapultx.com","zoneId":157135}},{"bidder":"synacormedia","params":{"seatId":"sportskeeda","tagId":"96766"}},{"bidder":"criteo","params":{"networkId":"11376"}},{"bidder":"yahoossp","params":{"en":{"pubId":"56059","siteId":"8a9690cf017272e27aa0e49334130065","placementId":"8a96950d017f7f424c5145353a6d001f"},"hi":{"pubId":"56059","siteId":"8a9690cf017272e27aa0e4932aa70061","placementId":"8a9691a4017f7f424c104536f44a001b"}}},{"bidder":"smilewanted","params":{"zoneId":"sportskeeda.com_hb_display_1"}}]},"Mob_32050_header":{"div":"div-gpt-ad-1472029132368-0","mediaTypes":{"banner":{"sizes":[[320,100],[300,100],[320,50],[300,50]]}},"minHeight":"125px","bids":[{"bidder":"ix","params":{"siteId":"745046","size":[320,100]}},{"bidder":"ix","params":{"siteId":"745046","size":[300,100]}},{"bidder":"ix","params":{"siteId":"745046","size":[320,50]}},{"bidder":"ix","params":{"siteId":"745046","size":[300,50]}},{"bidder":"teads","params":{"placementId":148849,"pageId":135628}},{"bidder":"nextMillennium","params":{"placement_id":"10709"}},{"bidder":"pulsepoint","params":{"cp":562699,"cf":"300x50,320x50,300x100,320x100","ct":737220}},{"bidder":"pubmatic","params":{"publisherId":"156349","adSlot":"Sportskeeda_Mob_330x50_header@320x50"}},{"bidder":"triplelift","params":{"inventoryCode":"Mob_32050_header"}},{"bidder":"smartadserver","params":{"domain":"https://prg-apac.smartadserver.com/","siteId":473947,"pageId":1491638,"formatId":105242}},{"bidder":"appnexus","params":{"placementId":"23194964"}},{"bidder":"conversant","params":{"site_id":"212733","secure":1}},{"bidder":"eplanning","params":{"ci":"5e300"}},{"bidder":"insticator","params":{"adUnitId":"01G2DJ2DEWHVFQKRQYP7C92Q09"}},{"bidder":"openx","params":{"delDomain":"sportskeeda-d.openx.net","unit":551030812}},{"bidder":"rise","params":{"org":"5fcde7e56900a50001a59257"}},{"bidder":"rubicon","params":{"accountId":15140,"siteId":398014,"zoneId":2230404}},{"bidder":"catapultx","params":{"host":"cpm.catapultx.com","zoneId":157135}},{"bidder":"synacormedia","params":{"seatId":"sportskeeda","tagId":"96766"}},{"bidder":"criteo","params":{"networkId":"11376"}},{"bidder":"yahoossp","params":{"en":{"pubId":"56059","siteId":"8a9690cf017272e27aa0e49334130065","placementId":"8a96950d017f7f424c5145353a6d001f"},"hi":{"pubId":"56059","siteId":"8a9690cf017272e27aa0e4932aa70061","placementId":"8a9691a4017f7f424c104536f44a001b"}}},{"bidder":"smilewanted","params":{"zoneId":"sportskeeda.com_hb_display_1"}}]},"Mob_32050_Sticky_2019":{"div":"div-gpt-ad-1546862184774-0","mediaTypes":{"banner":{"sizes":[[300,50],[320,50]]}},"sticky":true,"bids":[{"bidder":"ix","params":{"siteId":"745046","size":[300,50]}},{"bidder":"ix","params":{"siteId":"745046","size":[320,50]}},{"bidder":"teads","params":{"placementId":148849,"pageId":135628}},{"bidder":"nextMillennium","params":{"placement_id":"10591"}},{"bidder":"pulsepoint","params":{"cp":562699,"cf":"300x50,320x50","ct":737216}},{"bidder":"pubmatic","params":{"publisherId":"156349","adSlot":"Sportskeeda_Mob_320x50_Sticky_2019@320x50"}},{"bidder":"adagio","params":{"organizationId":"1238","site":"sportskeeda-com","placement":"Bottom Sticky"}},{"bidder":"triplelift","params":{"inventoryCode":"Sportskeeda_Mobile_sticky"}},{"bidder":"smartadserver","params":{"domain":"https://prg-apac.smartadserver.com/","siteId":473947,"pageId":1491638,"formatId":105242}},{"bidder":"appnexus","params":{"placementId":"23194964"}},{"bidder":"conversant","params":{"site_id":"212733","secure":1}},{"bidder":"eplanning","params":{"ci":"5e300"}},{"bidder":"insticator","params":{"adUnitId":"01G2DJ2DEWHVFQKRQYP7C92Q09"}},{"bidder":"openx","params":{"delDomain":"sportskeeda-d.openx.net","unit":551030812}},{"bidder":"rise","params":{"org":"5fcde7e56900a50001a59257"}},{"bidder":"rubicon","params":{"accountId":15140,"siteId":398014,"zoneId":2230404}},{"bidder":"catapultx","params":{"host":"cpm.catapultx.com","zoneId":157135}},{"bidder":"synacormedia","params":{"seatId":"sportskeeda","tagId":"96766"}},{"bidder":"criteo","params":{"networkId":"11376"}},{"bidder":"yahoossp","params":{"en":{"pubId":"56059","siteId":"8a9690cf017272e27aa0e49334130065","placementId":"8a96950d017f7f424c5145353a6d001f"},"hi":{"pubId":"56059","siteId":"8a9690cf017272e27aa0e4932aa70061","placementId":"8a9691a4017f7f424c104536f44a001b"}}},{"bidder":"smilewanted","params":{"zoneId":"sportskeeda.com_hb_display_1"}}]},"CMC-Sticky":{"div":"div-gpt-ad-1597287049231-0","mediaTypes":{"banner":{"sizes":[[300,50],[320,50]]}},"sticky":true,"bids":[{"bidder":"ix","params":{"siteId":"745046","size":[300,50]}},{"bidder":"ix","params":{"siteId":"745046","size":[320,50]}},{"bidder":"teads","params":{"placementId":148849,"pageId":135628}},{"bidder":"nextMillennium","params":{"placement_id":"10591"}},{"bidder":"pulsepoint","params":{"cp":562699,"cf":"300x50,320x50","ct":737215}},{"bidder":"pubmatic","params":{"publisherId":"156349","adSlot":"Sportskeeda_CMC_Sticky@300x50"}},{"bidder":"adagio","params":{"organizationId":"1238","site":"sportskeeda-com","placement":"Bottom Sticky"}},{"bidder":"triplelift","params":{"inventoryCode":"Sportskeeda_CMC_Sticky"}},{"bidder":"smartadserver","params":{"domain":"https://prg-apac.smartadserver.com/","siteId":473947,"pageId":1491638,"formatId":105242}},{"bidder":"appnexus","params":{"placementId":"23194964"}},{"bidder":"conversant","params":{"site_id":"212733","secure":1}},{"bidder":"eplanning","params":{"ci":"5e300"}},{"bidder":"insticator","params":{"adUnitId":"01G2DJ2DEWHVFQKRQYP7C92Q09"}},{"bidder":"openx","params":{"delDomain":"sportskeeda-d.openx.net","unit":551030812}},{"bidder":"rise","params":{"org":"5fcde7e56900a50001a59257"}},{"bidder":"rubicon","params":{"accountId":15140,"siteId":398014,"zoneId":2230404}},{"bidder":"catapultx","params":{"host":"cpm.catapultx.com","zoneId":157135}},{"bidder":"synacormedia","params":{"seatId":"sportskeeda","tagId":"96766"}},{"bidder":"criteo","params":{"networkId":"11376"}},{"bidder":"yahoossp","params":{"en":{"pubId":"56059","siteId":"8a9690cf017272e27aa0e49334130065","placementId":"8a96950d017f7f424c5145353a6d001f"},"hi":{"pubId":"56059","siteId":"8a9690cf017272e27aa0e4932aa70061","placementId":"8a9691a4017f7f424c104536f44a001b"}}},{"bidder":"smilewanted","params":{"zoneId":"sportskeeda.com_hb_display_1"}}]},"CMC-Above-Info":{"div":"div-gpt-ad-1647443075030-0","mediaTypes":{"banner":{"sizes":[[300,50],[300,100],[300,250],[320,100],[320,50]]}},"bids":[{"bidder":"ix","params":{"siteId":"745046","size":[300,50]}},{"bidder":"ix","params":{"siteId":"745046","size":[300,100]}},{"bidder":"ix","params":{"siteId":"745046","size":[300,250]}},{"bidder":"ix","params":{"siteId":"745046","size":[320,100]}},{"bidder":"ix","params":{"siteId":"745046","size":[320,50]}},{"bidder":"teads","params":{"placementId":148849,"pageId":135628}},{"bidder":"nextMillennium","params":{"placement_id":"10709"}},{"bidder":"pulsepoint","params":{"cp":562699,"cf":"300x50,320x50,300x100,320x100,300x250","ct":737221}},{"bidder":"pubmatic","params":{"publisherId":"156349","adSlot":"Sportskeeda_MatchCenterHeader_300x50@300x50"}},{"bidder":"adagio","params":{"organizationId":"1238","site":"sportskeeda-com","placement":"Centre Top"}},{"bidder":"triplelift","params":{"inventoryCode":"Sportskeeda_MatchCenterHeader_300x50"}},{"bidder":"smartadserver","params":{"domain":"https://prg-apac.smartadserver.com/","siteId":473947,"pageId":1491638,"formatId":105246}},{"bidder":"appnexus","params":{"placementId":"23194964"}},{"bidder":"conversant","params":{"site_id":"212733","secure":1}},{"bidder":"eplanning","params":{"ci":"5e300"}},{"bidder":"insticator","params":{"adUnitId":"01G2DJ2DEWHVFQKRQYP7C92Q09"}},{"bidder":"openx","params":{"delDomain":"sportskeeda-d.openx.net","unit":551030812}},{"bidder":"rise","params":{"org":"5fcde7e56900a50001a59257"}},{"bidder":"rubicon","params":{"accountId":15140,"siteId":398014,"zoneId":2230404}},{"bidder":"catapultx","params":{"host":"cpm.catapultx.com","zoneId":157135}},{"bidder":"synacormedia","params":{"seatId":"sportskeeda","tagId":"96766"}},{"bidder":"criteo","params":{"networkId":"11376"}},{"bidder":"yahoossp","params":{"en":{"pubId":"56059","siteId":"8a9690cf017272e27aa0e49334130065","placementId":"8a96950d017f7f424c5145353a6d001f"},"hi":{"pubId":"56059","siteId":"8a9690cf017272e27aa0e4932aa70061","placementId":"8a9691a4017f7f424c104536f44a001b"}}},{"bidder":"smilewanted","params":{"zoneId":"sportskeeda.com_hb_display_1"}}]},"CMC-Above-Tips":{"div":"div-gpt-ad-1647443255173-0","mediaTypes":{"banner":{"sizes":[[300,50],[300,100],[300,250],[320,100],[320,50]]}},"bids":[{"bidder":"ix","params":{"siteId":"745046","size":[300,50]}},{"bidder":"ix","params":{"siteId":"745046","size":[300,100]}},{"bidder":"ix","params":{"siteId":"745046","size":[300,250]}},{"bidder":"ix","params":{"siteId":"745046","size":[320,100]}},{"bidder":"ix","params":{"siteId":"745046","size":[320,50]}},{"bidder":"teads","params":{"placementId":148849,"pageId":135628}},{"bidder":"nextMillennium","params":{"placement_id":"10709"}},{"bidder":"pulsepoint","params":{"cp":562699,"cf":"300x50,320x50,300x100,320x100,300x250","ct":737222}},{"bidder":"pubmatic","params":{"publisherId":"156349","adSlot":"Sportskeeda_MatchCenterHeader_300x50@300x50"}},{"bidder":"adagio","params":{"organizationId":"1238","site":"sportskeeda-com","placement":"Centre Top"}},{"bidder":"triplelift","params":{"inventoryCode":"Sportskeeda_MatchCenterHeader_300x50"}},{"bidder":"smartadserver","params":{"domain":"https://prg-apac.smartadserver.com/","siteId":473947,"pageId":1491638,"formatId":105246}},{"bidder":"appnexus","params":{"placementId":"23194964"}},{"bidder":"conversant","params":{"site_id":"212733","secure":1}},{"bidder":"eplanning","params":{"ci":"5e300"}},{"bidder":"insticator","params":{"adUnitId":"01G2DJ2DEWHVFQKRQYP7C92Q09"}},{"bidder":"openx","params":{"delDomain":"sportskeeda-d.openx.net","unit":551030812}},{"bidder":"rise","params":{"org":"5fcde7e56900a50001a59257"}},{"bidder":"rubicon","params":{"accountId":15140,"siteId":398014,"zoneId":2230404}},{"bidder":"catapultx","params":{"host":"cpm.catapultx.com","zoneId":157135}},{"bidder":"synacormedia","params":{"seatId":"sportskeeda","tagId":"96766"}},{"bidder":"criteo","params":{"networkId":"11376"}},{"bidder":"yahoossp","params":{"en":{"pubId":"56059","siteId":"8a9690cf017272e27aa0e49334130065","placementId":"8a96950d017f7f424c5145353a6d001f"},"hi":{"pubId":"56059","siteId":"8a9690cf017272e27aa0e4932aa70061","placementId":"8a9691a4017f7f424c104536f44a001b"}}},{"bidder":"smilewanted","params":{"zoneId":"sportskeeda.com_hb_display_1"}}]},"CMC-Above-Scorecard":{"div":"div-gpt-ad-1647443355732-0","mediaTypes":{"banner":{"sizes":[[300,50],[300,100],[300,250],[320,100],[320,50]]}},"bids":[{"bidder":"ix","params":{"siteId":"745046","size":[300,50]}},{"bidder":"ix","params":{"siteId":"745046","size":[300,100]}},{"bidder":"ix","params":{"siteId":"745046","size":[300,250]}},{"bidder":"ix","params":{"siteId":"745046","size":[320,100]}},{"bidder":"ix","params":{"siteId":"745046","size":[320,50]}},{"bidder":"teads","params":{"placementId":148849,"pageId":135628}},{"bidder":"nextMillennium","params":{"placement_id":"10709"}},{"bidder":"pulsepoint","params":{"cp":562699,"cf":"300x50,320x50,300x100,320x100,300x250","ct":737217}},{"bidder":"pubmatic","params":{"publisherId":"156349","adSlot":"Sportskeeda_MatchCenterHeader_300x50@300x50"}},{"bidder":"adagio","params":{"organizationId":"1238","site":"sportskeeda-com","placement":"Centre Top"}},{"bidder":"triplelift","params":{"inventoryCode":"Sportskeeda_MatchCenterHeader_300x50"}},{"bidder":"smartadserver","params":{"domain":"https://prg-apac.smartadserver.com/","siteId":473947,"pageId":1491638,"formatId":105246}},{"bidder":"appnexus","params":{"placementId":"23194964"}},{"bidder":"conversant","params":{"site_id":"212733","secure":1}},{"bidder":"eplanning","params":{"ci":"5e300"}},{"bidder":"insticator","params":{"adUnitId":"01G2DJ2DEWHVFQKRQYP7C92Q09"}},{"bidder":"openx","params":{"delDomain":"sportskeeda-d.openx.net","unit":551030812}},{"bidder":"rise","params":{"org":"5fcde7e56900a50001a59257"}},{"bidder":"rubicon","params":{"accountId":15140,"siteId":398014,"zoneId":2230404}},{"bidder":"catapultx","params":{"host":"cpm.catapultx.com","zoneId":157135}},{"bidder":"synacormedia","params":{"seatId":"sportskeeda","tagId":"96766"}},{"bidder":"criteo","params":{"networkId":"11376"}},{"bidder":"yahoossp","params":{"en":{"pubId":"56059","siteId":"8a9690cf017272e27aa0e49334130065","placementId":"8a96950d017f7f424c5145353a6d001f"},"hi":{"pubId":"56059","siteId":"8a9690cf017272e27aa0e4932aa70061","placementId":"8a9691a4017f7f424c104536f44a001b"}}},{"bidder":"smilewanted","params":{"zoneId":"sportskeeda.com_hb_display_1"}}]},"CMC-Above-News":{"div":"div-gpt-ad-1647443521163-0","mediaTypes":{"banner":{"sizes":[[300,50],[300,100],[300,250],[320,100],[320,50]]}},"bids":[{"bidder":"ix","params":{"siteId":"745046","size":[300,50]}},{"bidder":"ix","params":{"siteId":"745046","size":[300,100]}},{"bidder":"ix","params":{"siteId":"745046","size":[300,250]}},{"bidder":"ix","params":{"siteId":"745046","size":[320,100]}},{"bidder":"ix","params":{"siteId":"745046","size":[320,50]}},{"bidder":"teads","params":{"placementId":148849,"pageId":135628}},{"bidder":"nextMillennium","params":{"placement_id":"10709"}},{"bidder":"pulsepoint","params":{"cp":562699,"cf":"300x50,320x50,300x100,320x100,300x250","ct":737223}},{"bidder":"pubmatic","params":{"publisherId":"156349","adSlot":"Sportskeeda_MatchCenterHeader_300x50@300x50"}},{"bidder":"adagio","params":{"organizationId":"1238","site":"sportskeeda-com","placement":"Centre Top"}},{"bidder":"triplelift","params":{"inventoryCode":"Sportskeeda_MatchCenterHeader_300x50"}},{"bidder":"smartadserver","params":{"domain":"https://prg-apac.smartadserver.com/","siteId":473947,"pageId":1491638,"formatId":105246}},{"bidder":"appnexus","params":{"placementId":"23194964"}},{"bidder":"conversant","params":{"site_id":"212733","secure":1}},{"bidder":"eplanning","params":{"ci":"5e300"}},{"bidder":"insticator","params":{"adUnitId":"01G2DJ2DEWHVFQKRQYP7C92Q09"}},{"bidder":"openx","params":{"delDomain":"sportskeeda-d.openx.net","unit":551030812}},{"bidder":"rise","params":{"org":"5fcde7e56900a50001a59257"}},{"bidder":"rubicon","params":{"accountId":15140,"siteId":398014,"zoneId":2230404}},{"bidder":"catapultx","params":{"host":"cpm.catapultx.com","zoneId":157135}},{"bidder":"synacormedia","params":{"seatId":"sportskeeda","tagId":"96766"}},{"bidder":"criteo","params":{"networkId":"11376"}},{"bidder":"yahoossp","params":{"en":{"pubId":"56059","siteId":"8a9690cf017272e27aa0e49334130065","placementId":"8a96950d017f7f424c5145353a6d001f"},"hi":{"pubId":"56059","siteId":"8a9690cf017272e27aa0e4932aa70061","placementId":"8a9691a4017f7f424c104536f44a001b"}}},{"bidder":"smilewanted","params":{"zoneId":"sportskeeda.com_hb_display_1"}}]},"CMC_Between_Trending":{"div":"div-gpt-ad-1648628442132-0","mediaTypes":{"banner":{"sizes":[[320,100],[300,250],[300,50],[300,100],[320,50]]}},"prebid":true,"bids":[{"bidder":"pulsepoint","params":{"cp":562699,"cf":"300x50,320x50,300x100,320x100,300x250","ct":737226}},{"bidder":"smartadserver","params":{"domain":"https://prg-apac.smartadserver.com/","siteId":473947,"pageId":1491638,"formatId":105246}},{"bidder":"appnexus","params":{"placementId":"23194964"}},{"bidder":"conversant","params":{"site_id":"212733","secure":1}},{"bidder":"eplanning","params":{"ci":"5e300"}},{"bidder":"insticator","params":{"adUnitId":"01G2DJ2DEWHVFQKRQYP7C92Q09"}},{"bidder":"openx","params":{"delDomain":"sportskeeda-d.openx.net","unit":551030812}},{"bidder":"rise","params":{"org":"5fcde7e56900a50001a59257"}},{"bidder":"rubicon","params":{"accountId":15140,"siteId":398014,"zoneId":2230404}},{"bidder":"catapultx","params":{"host":"cpm.catapultx.com","zoneId":157135}},{"bidder":"synacormedia","params":{"seatId":"sportskeeda","tagId":"96766"}},{"bidder":"criteo","params":{"networkId":"11376"}},{"bidder":"yahoossp","params":{"en":{"pubId":"56059","siteId":"8a9690cf017272e27aa0e49334130065","placementId":"8a96950d017f7f424c5145353a6d001f"},"hi":{"pubId":"56059","siteId":"8a9690cf017272e27aa0e4932aa70061","placementId":"8a9691a4017f7f424c104536f44a001b"}}},{"bidder":"smilewanted","params":{"zoneId":"sportskeeda.com_hb_display_1"}}]},"Mob_300250_1":{"div":"div-gpt-ad-1486709274862-0","mediaTypes":{"banner":{"sizes":[[300,50],[320,50],[300,100],[320,100],[300,250],[336,280],[250,250],[200,200],[250,200]]}},"bids":[{"bidder":"ix","params":{"siteId":"745046","size":[300,250]}},{"bidder":"ix","params":{"siteId":"745046","size":[336,280]}},{"bidder":"ix","params":{"siteId":"745046","size":[250,250]}},{"bidder":"ix","params":{"siteId":"745046","size":[200,200]}},{"bidder":"ix","params":{"siteId":"745046","size":[250,200]}},{"bidder":"teads","params":{"placementId":148849,"pageId":135628}},{"bidder":"pubmatic","params":{"publisherId":"156349","adSlot":"Sportskeeda_Mob_300x250_1@300x250"}},{"bidder":"appnexus","params":{"placementId":"23194964"}},{"bidder":"conversant","params":{"site_id":"212733","secure":1}},{"bidder":"eplanning","params":{"ci":"5e300"}},{"bidder":"insticator","params":{"adUnitId":"01G2DJ2DEWHVFQKRQYP7C92Q09"}},{"bidder":"openx","params":{"delDomain":"sportskeeda-d.openx.net","unit":551030812}},{"bidder":"rise","params":{"org":"5fcde7e56900a50001a59257"}},{"bidder":"rubicon","params":{"accountId":15140,"siteId":398014,"zoneId":2230404}},{"bidder":"catapultx","params":{"host":"cpm.catapultx.com","zoneId":157135}},{"bidder":"synacormedia","params":{"seatId":"sportskeeda","tagId":"96766"}},{"bidder":"criteo","params":{"networkId":"11376"}},{"bidder":"yahoossp","params":{"en":{"pubId":"56059","siteId":"8a9690cf017272e27aa0e49334130065","placementId":"8a96950d017f7f424c5145353a6d001f"},"hi":{"pubId":"56059","siteId":"8a9690cf017272e27aa0e4932aa70061","placementId":"8a9691a4017f7f424c104536f44a001b"}}},{"bidder":"smilewanted","params":{"zoneId":"sportskeeda.com_hb_display_1"}}]},"Mob_300250_2":{"div":"div-gpt-ad-1486709274862-1","mediaTypes":{"banner":{"sizes":["fluid",[1,1],[300,250],[336,280],[250,250]]}},"parallax":true,"minHeight":"290px","bids":[{"bidder":"ix","params":{"siteId":"745046","size":[300,250]}},{"bidder":"ix","params":{"siteId":"745046","size":[336,280]}},{"bidder":"teads","params":{"placementId":153116,"pageId":139511}},{"bidder":"nextMillennium","params":{"placement_id":"10596"}},{"bidder":"pulsepoint","params":{"cp":562699,"cf":"fluid,1x1,300x50,320x50,300x100,320x100,200x200,250x200,250x250,300x250,336x280","ct":737261}},{"bidder":"pubmatic","params":{"publisherId":"156349","adSlot":"Sportskeeda_Mob_300x250_2@300x250"}},{"bidder":"adagio","params":{"organizationId":"1238","site":"sportskeeda-com","placement":"Above The Fold"}},{"bidder":"triplelift","params":{"inventoryCode":"Sportskeeda_Mobile_2"}},{"bidder":"smartadserver","params":{"domain":"https://prg-apac.smartadserver.com/","siteId":473947,"pageId":1491638,"formatId":105246}},{"bidder":"appnexus","params":{"placementId":"23194964"}},{"bidder":"conversant","params":{"site_id":"212733","secure":1}},{"bidder":"eplanning","params":{"ci":"5e300"}},{"bidder":"insticator","params":{"adUnitId":"01G2DJ2DEWHVFQKRQYP7C92Q09"}},{"bidder":"openx","params":{"delDomain":"sportskeeda-d.openx.net","unit":551030812}},{"bidder":"rise","params":{"org":"5fcde7e56900a50001a59257"}},{"bidder":"rubicon","params":{"accountId":15140,"siteId":398014,"zoneId":2230404}},{"bidder":"catapultx","params":{"host":"cpm.catapultx.com","zoneId":157135}},{"bidder":"synacormedia","params":{"seatId":"sportskeeda","tagId":"96766"}},{"bidder":"criteo","params":{"networkId":"11376"}},{"bidder":"yahoossp","params":{"en":{"pubId":"56059","siteId":"8a9690cf017272e27aa0e49334130065","placementId":"8a96950d017f7f424c5145353a6d001f"},"hi":{"pubId":"56059","siteId":"8a9690cf017272e27aa0e4932aa70061","placementId":"8a9691a4017f7f424c104536f44a001b"}}},{"bidder":"smilewanted","params":{"zoneId":"sportskeeda.com_hb_display_1"}}]},"Mob_300250_3":{"div":"div-gpt-ad-1544790280952-0","mediaTypes":{"banner":{"sizes":["fluid",[1,1],[300,50],[320,50],[300,100],[320,100],[300,250],[336,280],[250,250],[200,200],[250,200]]}},"bids":[{"bidder":"ix","params":{"siteId":"745046","size":[300,250]}},{"bidder":"ix","params":{"siteId":"745046","size":[320,50]}},{"bidder":"ix","params":{"siteId":"745046","size":[336,280]}},{"bidder":"teads","params":{"placementId":153116,"pageId":139511}},{"bidder":"nextMillennium","params":{"placement_id":"10596"}},{"bidder":"pulsepoint","params":{"cp":562699,"cf":"fluid,1x1,300x50,320x50,300x100,320x100,200x200,250x200,250x250,300x250,336x280","ct":737265}},{"bidder":"pubmatic","params":{"publisherId":"156349","adSlot":"Sportskeeda_Mob_300x250_3@300x250"}},{"bidder":"adagio","params":{"organizationId":"1238","site":"sportskeeda-com","placement":"Above The Fold"}},{"bidder":"triplelift","params":{"inventoryCode":"Sportskeeda_Mobile_3"}},{"bidder":"smartadserver","params":{"domain":"https://prg-apac.smartadserver.com/","siteId":473947,"pageId":1491638,"formatId":105246}},{"bidder":"appnexus","params":{"placementId":"23194964"}},{"bidder":"conversant","params":{"site_id":"212733","secure":1}},{"bidder":"eplanning","params":{"ci":"5e300"}},{"bidder":"insticator","params":{"adUnitId":"01G2DJ2DEWHVFQKRQYP7C92Q09"}},{"bidder":"openx","params":{"delDomain":"sportskeeda-d.openx.net","unit":551030812}},{"bidder":"rise","params":{"org":"5fcde7e56900a50001a59257"}},{"bidder":"rubicon","params":{"accountId":15140,"siteId":398014,"zoneId":2230404}},{"bidder":"catapultx","params":{"host":"cpm.catapultx.com","zoneId":157135}},{"bidder":"synacormedia","params":{"seatId":"sportskeeda","tagId":"96766"}},{"bidder":"criteo","params":{"networkId":"11376"}},{"bidder":"yahoossp","params":{"en":{"pubId":"56059","siteId":"8a9690cf017272e27aa0e49334130065","placementId":"8a96950d017f7f424c5145353a6d001f"},"hi":{"pubId":"56059","siteId":"8a9690cf017272e27aa0e4932aa70061","placementId":"8a9691a4017f7f424c104536f44a001b"}}},{"bidder":"smilewanted","params":{"zoneId":"sportskeeda.com_hb_display_1"}}]},"Mob_300250_4":{"div":"div-gpt-ad-1486709274862-3","mediaTypes":{"banner":{"sizes":["fluid",[1,1],[300,50],[320,50],[300,100],[320,100],[300,250],[336,280],[250,250],[200,200],[250,200]]}},"bids":[{"bidder":"ix","params":{"siteId":"745046","size":[300,250]}},{"bidder":"ix","params":{"siteId":"745046","size":[320,50]}},{"bidder":"ix","params":{"siteId":"745046","size":[336,280]}},{"bidder":"teads","params":{"placementId":153116,"pageId":139511}},{"bidder":"nextMillennium","params":{"placement_id":"10596"}},{"bidder":"pulsepoint","params":{"cp":562699,"cf":"fluid,1x1,300x50,320x50,300x100,320x100,200x200,250x200,250x250,300x250,336x28","ct":737262}},{"bidder":"pubmatic","params":{"publisherId":"156349","adSlot":"Sportskeeda_Mob_300x250_4@300x250"}},{"bidder":"adagio","params":{"organizationId":"1238","site":"sportskeeda-com","placement":"Above The Fold"}},{"bidder":"triplelift","params":{"inventoryCode":"Sportskeeda_Mobile_4"}},{"bidder":"smartadserver","params":{"domain":"https://prg-apac.smartadserver.com/","siteId":473947,"pageId":1491638,"formatId":105246}},{"bidder":"appnexus","params":{"placementId":"23194964"}},{"bidder":"conversant","params":{"site_id":"212733","secure":1}},{"bidder":"eplanning","params":{"ci":"5e300"}},{"bidder":"insticator","params":{"adUnitId":"01G2DJ2DEWHVFQKRQYP7C92Q09"}},{"bidder":"openx","params":{"delDomain":"sportskeeda-d.openx.net","unit":551030812}},{"bidder":"rise","params":{"org":"5fcde7e56900a50001a59257"}},{"bidder":"rubicon","params":{"accountId":15140,"siteId":398014,"zoneId":2230404}},{"bidder":"catapultx","params":{"host":"cpm.catapultx.com","zoneId":157135}},{"bidder":"synacormedia","params":{"seatId":"sportskeeda","tagId":"96766"}},{"bidder":"criteo","params":{"networkId":"11376"}},{"bidder":"yahoossp","params":{"en":{"pubId":"56059","siteId":"8a9690cf017272e27aa0e49334130065","placementId":"8a96950d017f7f424c5145353a6d001f"},"hi":{"pubId":"56059","siteId":"8a9690cf017272e27aa0e4932aa70061","placementId":"8a9691a4017f7f424c104536f44a001b"}}},{"bidder":"smilewanted","params":{"zoneId":"sportskeeda.com_hb_display_1"}}]},"Mob_300250_5":{"div":"div-gpt-ad-1486709274862-4","mediaTypes":{"banner":{"sizes":["fluid",[1,1],[300,50],[320,50],[300,100],[320,100],[300,250],[336,280],[250,250],[200,200],[250,200]]}},"bids":[{"bidder":"ix","params":{"siteId":"745046","size":[300,250]}},{"bidder":"ix","params":{"siteId":"745046","size":[336,280]}},{"bidder":"ix","params":{"siteId":"745046","size":[250,250]}},{"bidder":"ix","params":{"siteId":"745046","size":[200,200]}},{"bidder":"ix","params":{"siteId":"745046","size":[250,200]}},{"bidder":"teads","params":{"placementId":153116,"pageId":139511}},{"bidder":"nextMillennium","params":{"placement_id":"10596"}},{"bidder":"pulsepoint","params":{"cp":562699,"cf":"fluid,1x1,300x50,320x50,300x100,320x100,200x200,250x200,250x250,300x250,336x28","ct":737264}},{"bidder":"pubmatic","params":{"publisherId":"156349","adSlot":"Sportskeeda_Mob_300x250_5@300x250"}},{"bidder":"adagio","params":{"organizationId":"1238","site":"sportskeeda-com","placement":"Above The Fold"}},{"bidder":"triplelift","params":{"inventoryCode":"Sportskeeda_Mobile_5"}},{"bidder":"smartadserver","params":{"domain":"https://prg-apac.smartadserver.com/","siteId":473947,"pageId":1491638,"formatId":105246}},{"bidder":"appnexus","params":{"placementId":"23194964"}},{"bidder":"conversant","params":{"site_id":"212733","secure":1}},{"bidder":"eplanning","params":{"ci":"5e300"}},{"bidder":"insticator","params":{"adUnitId":"01G2DJ2DEWHVFQKRQYP7C92Q09"}},{"bidder":"openx","params":{"delDomain":"sportskeeda-d.openx.net","unit":551030812}},{"bidder":"rise","params":{"org":"5fcde7e56900a50001a59257"}},{"bidder":"rubicon","params":{"accountId":15140,"siteId":398014,"zoneId":2230404}},{"bidder":"catapultx","params":{"host":"cpm.catapultx.com","zoneId":157135}},{"bidder":"synacormedia","params":{"seatId":"sportskeeda","tagId":"96766"}},{"bidder":"criteo","params":{"networkId":"11376"}},{"bidder":"yahoossp","params":{"en":{"pubId":"56059","siteId":"8a9690cf017272e27aa0e49334130065","placementId":"8a96950d017f7f424c5145353a6d001f"},"hi":{"pubId":"56059","siteId":"8a9690cf017272e27aa0e4932aa70061","placementId":"8a9691a4017f7f424c104536f44a001b"}}},{"bidder":"smilewanted","params":{"zoneId":"sportskeeda.com_hb_display_1"}}]},"Mob_300250_6":{"div":"div-gpt-ad-1496133676474-0","mediaTypes":{"banner":{"sizes":["fluid",[1,1],[300,50],[320,50],[300,100],[320,100],[300,250],[336,280],[250,250],[200,200],[250,200]]}},"bids":[{"bidder":"ix","params":{"siteId":"745046","size":[300,250]}},{"bidder":"ix","params":{"siteId":"745046","size":[320,50]}},{"bidder":"ix","params":{"siteId":"745046","size":[336,280]}},{"bidder":"teads","params":{"placementId":153116,"pageId":139511}},{"bidder":"nextMillennium","params":{"placement_id":"10596"}},{"bidder":"pulsepoint","params":{"cp":562699,"cf":"fluid,1x1,300x50,320x50,300x100,320x100,200x200,250x200,250x250,300x250,336x28","ct":737263}},{"bidder":"pubmatic","params":{"publisherId":"156349","adSlot":"Sportskeeda_Mob_300x250_6@300x250"}},{"bidder":"adagio","params":{"organizationId":"1238","site":"sportskeeda-com","placement":"Below The Fold"}},{"bidder":"triplelift","params":{"inventoryCode":"Sportskeeda_Mobile_6"}},{"bidder":"smartadserver","params":{"domain":"https://prg-apac.smartadserver.com/","siteId":473947,"pageId":1491638,"formatId":105246}},{"bidder":"appnexus","params":{"placementId":"23194964"}},{"bidder":"conversant","params":{"site_id":"212733","secure":1}},{"bidder":"eplanning","params":{"ci":"5e300"}},{"bidder":"insticator","params":{"adUnitId":"01G2DJ2DEWHVFQKRQYP7C92Q09"}},{"bidder":"openx","params":{"delDomain":"sportskeeda-d.openx.net","unit":551030812}},{"bidder":"rise","params":{"org":"5fcde7e56900a50001a59257"}},{"bidder":"rubicon","params":{"accountId":15140,"siteId":398014,"zoneId":2230404}},{"bidder":"catapultx","params":{"host":"cpm.catapultx.com","zoneId":157135}},{"bidder":"synacormedia","params":{"seatId":"sportskeeda","tagId":"96766"}},{"bidder":"criteo","params":{"networkId":"11376"}},{"bidder":"yahoossp","params":{"en":{"pubId":"56059","siteId":"8a9690cf017272e27aa0e49334130065","placementId":"8a96950d017f7f424c5145353a6d001f"},"hi":{"pubId":"56059","siteId":"8a9690cf017272e27aa0e4932aa70061","placementId":"8a9691a4017f7f424c104536f44a001b"}}},{"bidder":"smilewanted","params":{"zoneId":"sportskeeda.com_hb_display_1"}}]},"Mob_300250_08":{"div":"div-gpt-ad-1548079988588-0","mediaTypes":{"banner":{"sizes":[[300,50],[320,50],[300,100],[320,100],[300,250],[336,280],[250,250],[200,200],[250,200]]}},"bids":[{"bidder":"ix","params":{"siteId":"745046","size":[300,250]}},{"bidder":"ix","params":{"siteId":"745046","size":[320,50]}},{"bidder":"ix","params":{"siteId":"745046","size":[336,280]}},{"bidder":"teads","params":{"placementId":153116,"pageId":139511}},{"bidder":"nextMillennium","params":{"placement_id":"10596"}},{"bidder":"pulsepoint","params":{"cp":562699,"cf":"300x50,320x50,300x100,320x100,200x200,250x200,250x250,300x250,336x280","ct":737219}},{"bidder":"pubmatic","params":{"publisherId":"156349","adSlot":"Sportskeeda_Mob_300x250_8@300x250"}},{"bidder":"adagio","params":{"organizationId":"1238","site":"sportskeeda-com","placement":"Below The Fold"}},{"bidder":"triplelift","params":{"inventoryCode":"Sportskeeda_Mobile_08"}},{"bidder":"smartadserver","params":{"domain":"https://prg-apac.smartadserver.com/","siteId":473947,"pageId":1491638,"formatId":105242}},{"bidder":"appnexus","params":{"placementId":"23194964"}},{"bidder":"conversant","params":{"site_id":"212733","secure":1}},{"bidder":"eplanning","params":{"ci":"5e300"}},{"bidder":"insticator","params":{"adUnitId":"01G2DJ2DEWHVFQKRQYP7C92Q09"}},{"bidder":"openx","params":{"delDomain":"sportskeeda-d.openx.net","unit":551030812}},{"bidder":"rise","params":{"org":"5fcde7e56900a50001a59257"}},{"bidder":"rubicon","params":{"accountId":15140,"siteId":398014,"zoneId":2230404}},{"bidder":"catapultx","params":{"host":"cpm.catapultx.com","zoneId":157135}},{"bidder":"synacormedia","params":{"seatId":"sportskeeda","tagId":"96766"}},{"bidder":"criteo","params":{"networkId":"11376"}},{"bidder":"yahoossp","params":{"en":{"pubId":"56059","siteId":"8a9690cf017272e27aa0e49334130065","placementId":"8a96950d017f7f424c5145353a6d001f"},"hi":{"pubId":"56059","siteId":"8a9690cf017272e27aa0e4932aa70061","placementId":"8a9691a4017f7f424c104536f44a001b"}}},{"bidder":"smilewanted","params":{"zoneId":"sportskeeda.com_hb_display_1"}}]},"Mob_300250_09":{"div":"div-gpt-ad-1548079869235-0","mediaTypes":{"banner":{"sizes":[[300,50],[320,50],[300,100],[320,100],[300,250],[336,280],[250,250],[200,200],[250,200]]}},"bids":[{"bidder":"ix","params":{"siteId":"745046","size":[300,250]}},{"bidder":"ix","params":{"siteId":"745046","size":[336,280]}},{"bidder":"ix","params":{"siteId":"745046","size":[250,250]}},{"bidder":"ix","params":{"siteId":"745046","size":[200,200]}},{"bidder":"ix","params":{"siteId":"745046","size":[250,200]}},{"bidder":"teads","params":{"placementId":153116,"pageId":139511}},{"bidder":"pubmatic","params":{"publisherId":"156349","adSlot":"Sportskeeda_Mob_300x250_9@300x250"}},{"bidder":"appnexus","params":{"placementId":"23194964"}},{"bidder":"conversant","params":{"site_id":"212733","secure":1}},{"bidder":"eplanning","params":{"ci":"5e300"}},{"bidder":"insticator","params":{"adUnitId":"01G2DJ2DEWHVFQKRQYP7C92Q09"}},{"bidder":"openx","params":{"delDomain":"sportskeeda-d.openx.net","unit":551030812}},{"bidder":"rise","params":{"org":"5fcde7e56900a50001a59257"}},{"bidder":"rubicon","params":{"accountId":15140,"siteId":398014,"zoneId":2230404}},{"bidder":"catapultx","params":{"host":"cpm.catapultx.com","zoneId":157135}},{"bidder":"synacormedia","params":{"seatId":"sportskeeda","tagId":"96766"}},{"bidder":"criteo","params":{"networkId":"11376"}},{"bidder":"yahoossp","params":{"en":{"pubId":"56059","siteId":"8a9690cf017272e27aa0e49334130065","placementId":"8a96950d017f7f424c5145353a6d001f"},"hi":{"pubId":"56059","siteId":"8a9690cf017272e27aa0e4932aa70061","placementId":"8a9691a4017f7f424c104536f44a001b"}}},{"bidder":"smilewanted","params":{"zoneId":"sportskeeda.com_hb_display_1"}}]},"Mob_300250_10":{"div":"div-gpt-ad-1548079932983-0","mediaTypes":{"banner":{"sizes":[[300,50],[320,50],[300,100],[320,100],[300,250],[336,280],[250,250],[200,200],[250,200]]}},"bids":[{"bidder":"ix","params":{"siteId":"745046","size":[300,250]}},{"bidder":"ix","params":{"siteId":"745046","size":[336,280]}},{"bidder":"ix","params":{"siteId":"745046","size":[250,250]}},{"bidder":"ix","params":{"siteId":"745046","size":[200,200]}},{"bidder":"ix","params":{"siteId":"745046","size":[250,200]}},{"bidder":"teads","params":{"placementId":153116,"pageId":139511}},{"bidder":"pubmatic","params":{"publisherId":"156349","adSlot":"Sportskeeda_Mob_300x250_10@300x250"}},{"bidder":"appnexus","params":{"placementId":"23194964"}},{"bidder":"conversant","params":{"site_id":"212733","secure":1}},{"bidder":"eplanning","params":{"ci":"5e300"}},{"bidder":"insticator","params":{"adUnitId":"01G2DJ2DEWHVFQKRQYP7C92Q09"}},{"bidder":"openx","params":{"delDomain":"sportskeeda-d.openx.net","unit":551030812}},{"bidder":"rise","params":{"org":"5fcde7e56900a50001a59257"}},{"bidder":"rubicon","params":{"accountId":15140,"siteId":398014,"zoneId":2230404}},{"bidder":"catapultx","params":{"host":"cpm.catapultx.com","zoneId":157135}},{"bidder":"synacormedia","params":{"seatId":"sportskeeda","tagId":"96766"}},{"bidder":"criteo","params":{"networkId":"11376"}},{"bidder":"yahoossp","params":{"en":{"pubId":"56059","siteId":"8a9690cf017272e27aa0e49334130065","placementId":"8a96950d017f7f424c5145353a6d001f"},"hi":{"pubId":"56059","siteId":"8a9690cf017272e27aa0e4932aa70061","placementId":"8a9691a4017f7f424c104536f44a001b"}}},{"bidder":"smilewanted","params":{"zoneId":"sportskeeda.com_hb_display_1"}}]},"Mob_300250_11":{"div":"div-gpt-ad-1548080127306-0","mediaTypes":{"banner":{"sizes":[[300,50],[320,50],[300,100],[320,100],[300,250],[336,280],[250,250],[200,200],[250,200]]}},"bids":[{"bidder":"ix","params":{"siteId":"745046","size":[300,250]}},{"bidder":"ix","params":{"siteId":"745046","size":[336,280]}},{"bidder":"ix","params":{"siteId":"745046","size":[250,250]}},{"bidder":"ix","params":{"siteId":"745046","size":[200,200]}},{"bidder":"ix","params":{"siteId":"745046","size":[250,200]}},{"bidder":"teads","params":{"placementId":153116,"pageId":139511}},{"bidder":"pubmatic","params":{"publisherId":"156349","adSlot":"Sportskeeda_Mob_300x250_11@300x250"}},{"bidder":"appnexus","params":{"placementId":"23194964"}},{"bidder":"conversant","params":{"site_id":"212733","secure":1}},{"bidder":"eplanning","params":{"ci":"5e300"}},{"bidder":"insticator","params":{"adUnitId":"01G2DJ2DEWHVFQKRQYP7C92Q09"}},{"bidder":"openx","params":{"delDomain":"sportskeeda-d.openx.net","unit":551030812}},{"bidder":"rise","params":{"org":"5fcde7e56900a50001a59257"}},{"bidder":"rubicon","params":{"accountId":15140,"siteId":398014,"zoneId":2230404}},{"bidder":"catapultx","params":{"host":"cpm.catapultx.com","zoneId":157135}},{"bidder":"synacormedia","params":{"seatId":"sportskeeda","tagId":"96766"}},{"bidder":"criteo","params":{"networkId":"11376"}},{"bidder":"yahoossp","params":{"en":{"pubId":"56059","siteId":"8a9690cf017272e27aa0e49334130065","placementId":"8a96950d017f7f424c5145353a6d001f"},"hi":{"pubId":"56059","siteId":"8a9690cf017272e27aa0e4932aa70061","placementId":"8a9691a4017f7f424c104536f44a001b"}}},{"bidder":"smilewanted","params":{"zoneId":"sportskeeda.com_hb_display_1"}}]},"MatchCenterHeader_300x50":{"div":"div-gpt-ad-1548933259437-0","mediaTypes":{"banner":{"sizes":["fluid",[300,50],[320,50],[300,100],[320,100],[300,250]]}},"noMinHeight":true,"bids":[{"bidder":"ix","params":{"siteId":"745046","size":[300,50]}},{"bidder":"ix","params":{"siteId":"745046","size":[320,50]}},{"bidder":"ix","params":{"siteId":"745046","size":[300,100]}},{"bidder":"ix","params":{"siteId":"745046","size":[320,100]}},{"bidder":"ix","params":{"siteId":"745046","size":[300,250]}},{"bidder":"teads","params":{"placementId":148849,"pageId":135628}},{"bidder":"nextMillennium","params":{"placement_id":"10709"}},{"bidder":"pulsepoint","params":{"cp":562699,"cf":"Fluid,300x50,320x50,300x100,320x100,300x250","ct":737259}},{"bidder":"pubmatic","params":{"publisherId":"156349","adSlot":"Sportskeeda_MatchCenterHeader_300x50@300x50"}},{"bidder":"adagio","params":{"organizationId":"1238","site":"sportskeeda-com","placement":"Centre Top"}},{"bidder":"triplelift","params":{"inventoryCode":"Sportskeeda_MatchCenterHeader_300x50"}},{"bidder":"smartadserver","params":{"domain":"https://prg-apac.smartadserver.com/","siteId":473947,"pageId":1491638,"formatId":105246}},{"bidder":"appnexus","params":{"placementId":"23194964"}},{"bidder":"conversant","params":{"site_id":"212733","secure":1}},{"bidder":"eplanning","params":{"ci":"5e300"}},{"bidder":"insticator","params":{"adUnitId":"01G2DJ2DEWHVFQKRQYP7C92Q09"}},{"bidder":"openx","params":{"delDomain":"sportskeeda-d.openx.net","unit":551030812}},{"bidder":"rise","params":{"org":"5fcde7e56900a50001a59257"}},{"bidder":"rubicon","params":{"accountId":15140,"siteId":398014,"zoneId":2230404}},{"bidder":"catapultx","params":{"host":"cpm.catapultx.com","zoneId":157135}},{"bidder":"synacormedia","params":{"seatId":"sportskeeda","tagId":"96766"}},{"bidder":"criteo","params":{"networkId":"11376"}},{"bidder":"yahoossp","params":{"en":{"pubId":"56059","siteId":"8a9690cf017272e27aa0e49334130065","placementId":"8a96950d017f7f424c5145353a6d001f"},"hi":{"pubId":"56059","siteId":"8a9690cf017272e27aa0e4932aa70061","placementId":"8a9691a4017f7f424c104536f44a001b"}}},{"bidder":"smilewanted","params":{"zoneId":"sportskeeda.com_hb_display_1"}}]},"MatchCenter_300x250_2019":{"div":"div-gpt-ad-1547097228479-0","mediaTypes":{"banner":{"sizes":[[300,50],[320,50],[300,100],[320,100]]}},"bids":[{"bidder":"ix","params":{"siteId":"745046","size":[300,50]}},{"bidder":"ix","params":{"siteId":"745046","size":[320,50]}},{"bidder":"ix","params":{"siteId":"745046","size":[300,100]}},{"bidder":"ix","params":{"siteId":"745046","size":[320,100]}},{"bidder":"teads","params":{"placementId":148849,"pageId":135628}},{"bidder":"pubmatic","params":{"publisherId":"156349","adSlot":"Sportskeeda_MatchCenter_300x250_2019@300x250"}},{"bidder":"appnexus","params":{"placementId":"23194964"}},{"bidder":"conversant","params":{"site_id":"212733","secure":1}},{"bidder":"eplanning","params":{"ci":"5e300"}},{"bidder":"insticator","params":{"adUnitId":"01G2DJ2DEWHVFQKRQYP7C92Q09"}},{"bidder":"openx","params":{"delDomain":"sportskeeda-d.openx.net","unit":551030812}},{"bidder":"rise","params":{"org":"5fcde7e56900a50001a59257"}},{"bidder":"rubicon","params":{"accountId":15140,"siteId":398014,"zoneId":2230404}},{"bidder":"catapultx","params":{"host":"cpm.catapultx.com","zoneId":157135}},{"bidder":"synacormedia","params":{"seatId":"sportskeeda","tagId":"96766"}},{"bidder":"criteo","params":{"networkId":"11376"}},{"bidder":"yahoossp","params":{"en":{"pubId":"56059","siteId":"8a9690cf017272e27aa0e49334130065","placementId":"8a96950d017f7f424c5145353a6d001f"},"hi":{"pubId":"56059","siteId":"8a9690cf017272e27aa0e4932aa70061","placementId":"8a9691a4017f7f424c104536f44a001b"}}},{"bidder":"smilewanted","params":{"zoneId":"sportskeeda.com_hb_display_1"}}]},"MatchCenter_score_300x250_2019":{"div":"div-gpt-ad-1547540930933-0","mediaTypes":{"banner":{"sizes":[[300,50],[320,50],[300,100],[320,100],[300,250]]}},"bids":[{"bidder":"ix","params":{"siteId":"745046","size":[300,50]}},{"bidder":"ix","params":{"siteId":"745046","size":[320,50]}},{"bidder":"ix","params":{"siteId":"745046","size":[300,100]}},{"bidder":"ix","params":{"siteId":"745046","size":[320,100]}},{"bidder":"ix","params":{"siteId":"745046","size":[300,250]}},{"bidder":"teads","params":{"placementId":148849,"pageId":135628}},{"bidder":"pubmatic","params":{"publisherId":"156349","adSlot":"Sportskeeda_MatchCenter_score_300x250_2019@300x250"}},{"bidder":"appnexus","params":{"placementId":"23194964"}},{"bidder":"conversant","params":{"site_id":"212733","secure":1}},{"bidder":"eplanning","params":{"ci":"5e300"}},{"bidder":"insticator","params":{"adUnitId":"01G2DJ2DEWHVFQKRQYP7C92Q09"}},{"bidder":"openx","params":{"delDomain":"sportskeeda-d.openx.net","unit":551030812}},{"bidder":"rise","params":{"org":"5fcde7e56900a50001a59257"}},{"bidder":"rubicon","params":{"accountId":15140,"siteId":398014,"zoneId":2230404}},{"bidder":"catapultx","params":{"host":"cpm.catapultx.com","zoneId":157135}},{"bidder":"synacormedia","params":{"seatId":"sportskeeda","tagId":"96766"}},{"bidder":"criteo","params":{"networkId":"11376"}},{"bidder":"yahoossp","params":{"en":{"pubId":"56059","siteId":"8a9690cf017272e27aa0e49334130065","placementId":"8a96950d017f7f424c5145353a6d001f"},"hi":{"pubId":"56059","siteId":"8a9690cf017272e27aa0e4932aa70061","placementId":"8a9691a4017f7f424c104536f44a001b"}}},{"bidder":"smilewanted","params":{"zoneId":"sportskeeda.com_hb_display_1"}}]},"MatchCenter_Commentary_300x250_2021":{"div":"div-gpt-ad-1610966688135-0","mediaTypes":{"banner":{"sizes":["fluid",[1,1],[300,100],[320,50],[300,50],[320,100],[300,250]]}},"bids":[{"bidder":"ix","params":{"siteId":"745046","size":[300,100]}},{"bidder":"ix","params":{"siteId":"745046","size":[320,50]}},{"bidder":"ix","params":{"siteId":"745046","size":[300,50]}},{"bidder":"ix","params":{"siteId":"745046","size":[320,100]}},{"bidder":"teads","params":{"placementId":153116,"pageId":139511}},{"bidder":"nextMillennium","params":{"placement_id":"10709"}},{"bidder":"pulsepoint","params":{"cp":562699,"cf":"fluid,1x1,300x50,320x50,300x100,320x100,300x250","ct":737267}},{"bidder":"pubmatic","params":{"publisherId":"156349","adSlot":"Sportskeeda_MatchCenter_Commentary_300x250_2021@300x250"}},{"bidder":"adagio","params":{"organizationId":"1238","site":"sportskeeda-com","placement":"In - Article"}},{"bidder":"triplelift","params":{"inventoryCode":"Sportskeeda_MatchCenter_Commentary_300x250"}},{"bidder":"smartadserver","params":{"domain":"https://prg-apac.smartadserver.com/","siteId":473947,"pageId":1491638,"formatId":105243}},{"bidder":"appnexus","params":{"placementId":"23194964"}},{"bidder":"conversant","params":{"site_id":"212733","secure":1}},{"bidder":"eplanning","params":{"ci":"5e300"}},{"bidder":"insticator","params":{"adUnitId":"01G2DJ2DEWHVFQKRQYP7C92Q09"}},{"bidder":"openx","params":{"delDomain":"sportskeeda-d.openx.net","unit":551030812}},{"bidder":"rise","params":{"org":"5fcde7e56900a50001a59257"}},{"bidder":"rubicon","params":{"accountId":15140,"siteId":398014,"zoneId":2230404}},{"bidder":"catapultx","params":{"host":"cpm.catapultx.com","zoneId":157135}},{"bidder":"synacormedia","params":{"seatId":"sportskeeda","tagId":"96766"}},{"bidder":"criteo","params":{"networkId":"11376"}},{"bidder":"yahoossp","params":{"en":{"pubId":"56059","siteId":"8a9690cf017272e27aa0e49334130065","placementId":"8a96950d017f7f424c5145353a6d001f"},"hi":{"pubId":"56059","siteId":"8a9690cf017272e27aa0e4932aa70061","placementId":"8a9691a4017f7f424c104536f44a001b"}}},{"bidder":"smilewanted","params":{"zoneId":"sportskeeda.com_hb_display_1"}}]},"MatchPreviewHeader_2019":{"div":"div-gpt-ad-1549351402243-0","mediaTypes":{"banner":{"sizes":[[320,50],[300,50],[300,100],[320,100]]}},"bids":[{"bidder":"ix","params":{"siteId":"745046","size":[320,50]}},{"bidder":"ix","params":{"siteId":"745046","size":[300,50]}},{"bidder":"ix","params":{"siteId":"745046","size":[300,100]}},{"bidder":"ix","params":{"siteId":"745046","size":[320,100]}},{"bidder":"teads","params":{"placementId":148849,"pageId":135628}},{"bidder":"pubmatic","params":{"publisherId":"156349","adSlot":"Sportskeeda_MatchPreviewHeader_2019@320x50"}},{"bidder":"appnexus","params":{"placementId":"23194964"}},{"bidder":"conversant","params":{"site_id":"212733","secure":1}},{"bidder":"eplanning","params":{"ci":"5e300"}},{"bidder":"insticator","params":{"adUnitId":"01G2DJ2DEWHVFQKRQYP7C92Q09"}},{"bidder":"openx","params":{"delDomain":"sportskeeda-d.openx.net","unit":551030812}},{"bidder":"rise","params":{"org":"5fcde7e56900a50001a59257"}},{"bidder":"rubicon","params":{"accountId":15140,"siteId":398014,"zoneId":2230404}},{"bidder":"catapultx","params":{"host":"cpm.catapultx.com","zoneId":157135}},{"bidder":"synacormedia","params":{"seatId":"sportskeeda","tagId":"96766"}},{"bidder":"criteo","params":{"networkId":"11376"}},{"bidder":"yahoossp","params":{"en":{"pubId":"56059","siteId":"8a9690cf017272e27aa0e49334130065","placementId":"8a96950d017f7f424c5145353a6d001f"},"hi":{"pubId":"56059","siteId":"8a9690cf017272e27aa0e4932aa70061","placementId":"8a9691a4017f7f424c104536f44a001b"}}},{"bidder":"smilewanted","params":{"zoneId":"sportskeeda.com_hb_display_1"}}]},"MatchPreview1_300x250_2019":{"div":"div-gpt-ad-1549351933760-0","mediaTypes":{"banner":{"sizes":[[300,250],[336,280],[250,250],[200,200],[250,200]]}},"bids":[{"bidder":"ix","params":{"siteId":"745046","size":[300,250]}},{"bidder":"ix","params":{"siteId":"745046","size":[336,280]}},{"bidder":"ix","params":{"siteId":"745046","size":[250,250]}},{"bidder":"ix","params":{"siteId":"745046","size":[200,200]}},{"bidder":"ix","params":{"siteId":"745046","size":[250,200]}},{"bidder":"teads","params":{"placementId":148849,"pageId":135628}},{"bidder":"pubmatic","params":{"publisherId":"156349","adSlot":"Sportskeeda_MatchPreview1_300x250_2019@300x250"}},{"bidder":"appnexus","params":{"placementId":"23194964"}},{"bidder":"conversant","params":{"site_id":"212733","secure":1}},{"bidder":"eplanning","params":{"ci":"5e300"}},{"bidder":"insticator","params":{"adUnitId":"01G2DJ2DEWHVFQKRQYP7C92Q09"}},{"bidder":"openx","params":{"delDomain":"sportskeeda-d.openx.net","unit":551030812}},{"bidder":"rise","params":{"org":"5fcde7e56900a50001a59257"}},{"bidder":"rubicon","params":{"accountId":15140,"siteId":398014,"zoneId":2230404}},{"bidder":"catapultx","params":{"host":"cpm.catapultx.com","zoneId":157135}},{"bidder":"synacormedia","params":{"seatId":"sportskeeda","tagId":"96766"}},{"bidder":"criteo","params":{"networkId":"11376"}},{"bidder":"yahoossp","params":{"en":{"pubId":"56059","siteId":"8a9690cf017272e27aa0e49334130065","placementId":"8a96950d017f7f424c5145353a6d001f"},"hi":{"pubId":"56059","siteId":"8a9690cf017272e27aa0e4932aa70061","placementId":"8a9691a4017f7f424c104536f44a001b"}}},{"bidder":"smilewanted","params":{"zoneId":"sportskeeda.com_hb_display_1"}}]},"Mob_300100_TeamPage1":{"div":"div-gpt-ad-1553934815311-0","mediaTypes":{"banner":{"sizes":[[300,100],[300,50],[320,50],[320,100]]}},"bids":[{"bidder":"ix","params":{"siteId":"745046","size":[300,100]}},{"bidder":"ix","params":{"siteId":"745046","size":[300,50]}},{"bidder":"ix","params":{"siteId":"745046","size":[320,50]}},{"bidder":"ix","params":{"siteId":"745046","size":[320,100]}},{"bidder":"teads","params":{"placementId":148849,"pageId":135628}},{"bidder":"nextMillennium","params":{"placement_id":"10709"}},{"bidder":"pulsepoint","params":{"cp":562699,"cf":"300x50,320x50,300x100,320x100","ct":737223}},{"bidder":"pubmatic","params":{"publisherId":"156349","adSlot":"Sportskeeda_Mob_300100_TeamPage1@300x250"}},{"bidder":"triplelift","params":{"inventoryCode":"Mob_300100_TeamPage_1"}},{"bidder":"smartadserver","params":{"domain":"https://prg-apac.smartadserver.com/","siteId":473947,"pageId":1491638,"formatId":105242}},{"bidder":"appnexus","params":{"placementId":"23194964"}},{"bidder":"conversant","params":{"site_id":"212733","secure":1}},{"bidder":"eplanning","params":{"ci":"5e300"}},{"bidder":"insticator","params":{"adUnitId":"01G2DJ2DEWHVFQKRQYP7C92Q09"}},{"bidder":"openx","params":{"delDomain":"sportskeeda-d.openx.net","unit":551030812}},{"bidder":"rise","params":{"org":"5fcde7e56900a50001a59257"}},{"bidder":"rubicon","params":{"accountId":15140,"siteId":398014,"zoneId":2230404}},{"bidder":"catapultx","params":{"host":"cpm.catapultx.com","zoneId":157135}},{"bidder":"synacormedia","params":{"seatId":"sportskeeda","tagId":"96766"}},{"bidder":"criteo","params":{"networkId":"11376"}},{"bidder":"yahoossp","params":{"en":{"pubId":"56059","siteId":"8a9690cf017272e27aa0e49334130065","placementId":"8a96950d017f7f424c5145353a6d001f"},"hi":{"pubId":"56059","siteId":"8a9690cf017272e27aa0e4932aa70061","placementId":"8a9691a4017f7f424c104536f44a001b"}}},{"bidder":"smilewanted","params":{"zoneId":"sportskeeda.com_hb_display_1"}}]},"Mob_300100_TeamPage2":{"div":"div-gpt-ad-1553934886440-0","mediaTypes":{"banner":{"sizes":[[300,100],[300,50],[320,50],[320,100]]}},"bids":[{"bidder":"ix","params":{"siteId":"745046","size":[300,100]}},{"bidder":"ix","params":{"siteId":"745046","size":[300,50]}},{"bidder":"ix","params":{"siteId":"745046","size":[320,50]}},{"bidder":"ix","params":{"siteId":"745046","size":[320,100]}},{"bidder":"teads","params":{"placementId":148849,"pageId":135628}},{"bidder":"nextMillennium","params":{"placement_id":"10709"}},{"bidder":"pulsepoint","params":{"cp":562699,"cf":"300x50,320x50,300x100,320x100","ct":737224}},{"bidder":"pubmatic","params":{"publisherId":"156349","adSlot":"Sportskeeda_Mob_300100_TeamPage2@300x100"}},{"bidder":"triplelift","params":{"inventoryCode":"Mob_300100_TeamPage_2"}},{"bidder":"smartadserver","params":{"domain":"https://prg-apac.smartadserver.com/","siteId":473947,"pageId":1491638,"formatId":105242}},{"bidder":"appnexus","params":{"placementId":"23194964"}},{"bidder":"conversant","params":{"site_id":"212733","secure":1}},{"bidder":"eplanning","params":{"ci":"5e300"}},{"bidder":"insticator","params":{"adUnitId":"01G2DJ2DEWHVFQKRQYP7C92Q09"}},{"bidder":"openx","params":{"delDomain":"sportskeeda-d.openx.net","unit":551030812}},{"bidder":"rise","params":{"org":"5fcde7e56900a50001a59257"}},{"bidder":"rubicon","params":{"accountId":15140,"siteId":398014,"zoneId":2230404}},{"bidder":"catapultx","params":{"host":"cpm.catapultx.com","zoneId":157135}},{"bidder":"synacormedia","params":{"seatId":"sportskeeda","tagId":"96766"}},{"bidder":"criteo","params":{"networkId":"11376"}},{"bidder":"yahoossp","params":{"en":{"pubId":"56059","siteId":"8a9690cf017272e27aa0e49334130065","placementId":"8a96950d017f7f424c5145353a6d001f"},"hi":{"pubId":"56059","siteId":"8a9690cf017272e27aa0e4932aa70061","placementId":"8a9691a4017f7f424c104536f44a001b"}}},{"bidder":"smilewanted","params":{"zoneId":"sportskeeda.com_hb_display_1"}}]},"Mob_300x50_fixed_homepage_inarticle":{"div":"div-gpt-ad-1647967486065-0","mediaTypes":{"banner":{"sizes":[[300,50],[320,50]]}},"mobile":true,"bids":[]},"Native_Mobile_Fluid":{"div":"div-gpt-ad-1557821088313-0","mediaTypes":{"banner":{"sizes":["fluid"]}},"native":true,"mobile":true,"pos":3,"bids":[]},"Native_Mobile_Fluid_2":{"div":"div-gpt-ad-1557821449555-0","mediaTypes":{"banner":{"sizes":["fluid"]}},"native":true,"mobile":true,"pos":6,"bids":[]},"MobileFeed-1":{"div":"div-gpt-ad-1597678461348-0","mediaTypes":{"banner":{"sizes":[[320,100]]}},"native":true,"mobile":true,"pos":3,"bids":[]},"MobileFeed-2":{"div":"div-gpt-ad-1597678582290-0","mediaTypes":{"banner":{"sizes":[[320,100]]}},"native":true,"mobile":true,"pos":6,"bids":[]},"CMC_Interstitial":{"div":"div-gpt-ad-1562932228734-0","mediaTypes":{"banner":{"sizes":[[300,600]]}},"interstitial":true,"bids":[]},"TEADS_1x1":{"div":"div-gpt-ad-1614590966004-0","mediaTypes":{"banner":{"sizes":[[1,1],[300,250],[336,280],[250,250],[200,200],[250,200]]}},"bids":[{"bidder":"ix","params":{"siteId":"745046","size":[1,1]}},{"bidder":"ix","params":{"siteId":"745046","size":[300,250]}},{"bidder":"ix","params":{"siteId":"745046","size":[336,280]}},{"bidder":"ix","params":{"siteId":"745046","size":[250,250]}},{"bidder":"ix","params":{"siteId":"745046","size":[200,200]}},{"bidder":"ix","params":{"siteId":"745046","size":[250,200]}},{"bidder":"teads","params":{"placementId":153116,"pageId":139511}},{"bidder":"pubmatic","params":{"publisherId":"156349","adSlot":"Sportskeeda_TEADS_1x1@300x250"}},{"bidder":"appnexus","params":{"placementId":"23194964"}},{"bidder":"conversant","params":{"site_id":"212733","secure":1}},{"bidder":"eplanning","params":{"ci":"5e300"}},{"bidder":"insticator","params":{"adUnitId":"01G2DJ2DEWHVFQKRQYP7C92Q09"}},{"bidder":"openx","params":{"delDomain":"sportskeeda-d.openx.net","unit":551030812}},{"bidder":"rise","params":{"org":"5fcde7e56900a50001a59257"}},{"bidder":"rubicon","params":{"accountId":15140,"siteId":398014,"zoneId":2230404}},{"bidder":"catapultx","params":{"host":"cpm.catapultx.com","zoneId":157135}},{"bidder":"synacormedia","params":{"seatId":"sportskeeda","tagId":"96766"}},{"bidder":"criteo","params":{"networkId":"11376"}},{"bidder":"yahoossp","params":{"en":{"pubId":"56059","siteId":"8a9690cf017272e27aa0e49334130065","placementId":"8a96950d017f7f424c5145353a6d001f"},"hi":{"pubId":"56059","siteId":"8a9690cf017272e27aa0e4932aa70061","placementId":"8a9691a4017f7f424c104536f44a001b"}}},{"bidder":"smilewanted","params":{"zoneId":"sportskeeda.com_hb_display_1"}}]},"TEADS_1x1_Desktop":{"div":"div-gpt-ad-1615786681190-0","mediaTypes":{"banner":{"sizes":[[1,1],[300,250],[336,280],[250,250],[200,200],[250,200],[300,600]]}},"noMinHeight":true,"bids":[{"bidder":"ix","params":{"siteId":"745046","size":[1,1]}},{"bidder":"ix","params":{"siteId":"745046","size":[300,250]}},{"bidder":"ix","params":{"siteId":"745046","size":[336,280]}},{"bidder":"ix","params":{"siteId":"745046","size":[250,250]}},{"bidder":"ix","params":{"siteId":"745046","size":[200,200]}},{"bidder":"ix","params":{"siteId":"745046","size":[250,200]}},{"bidder":"ix","params":{"siteId":"745046","size":[300,600]}},{"bidder":"teads","params":{"placementId":153116,"pageId":139511}},{"bidder":"pubmatic","params":{"publisherId":"156349","adSlot":"Sportskeeda_TEADS_1x1_Desktop@300x250"}},{"bidder":"appnexus","params":{"placementId":"23194964"}},{"bidder":"conversant","params":{"site_id":"212733","secure":1}},{"bidder":"eplanning","params":{"ci":"5e300"}},{"bidder":"insticator","params":{"adUnitId":"01G2DJ2DEWHVFQKRQYP7C92Q09"}},{"bidder":"openx","params":{"delDomain":"sportskeeda-d.openx.net","unit":551030812}},{"bidder":"rise","params":{"org":"5fcde7e56900a50001a59257"}},{"bidder":"rubicon","params":{"accountId":15140,"siteId":398014,"zoneId":2230404}},{"bidder":"catapultx","params":{"host":"cpm.catapultx.com","zoneId":157135}},{"bidder":"synacormedia","params":{"seatId":"sportskeeda","tagId":"96766"}},{"bidder":"criteo","params":{"networkId":"11376"}},{"bidder":"yahoossp","params":{"en":{"pubId":"56059","siteId":"8a9690cf017272e27aa0e49334130065","placementId":"8a96950d017f7f424c5145353a6d001f"},"hi":{"pubId":"56059","siteId":"8a9690cf017272e27aa0e4932aa70061","placementId":"8a9691a4017f7f424c104536f44a001b"}}},{"bidder":"smilewanted","params":{"zoneId":"sportskeeda.com_hb_display_1"}}]},"CMC_BELOW_CONTENT":{"div":"div-gpt-ad-1624534694997-0","mediaTypes":{"banner":{"sizes":["fluid",[300,100],[300,250],[336,280],[250,250],[200,200],[250,200],[300,600]]}},"bids":[{"bidder":"ix","params":{"siteId":"745046","size":[300,100]}},{"bidder":"ix","params":{"siteId":"745046","size":[300,250]}},{"bidder":"ix","params":{"siteId":"745046","size":[336,280]}},{"bidder":"ix","params":{"siteId":"745046","size":[250,250]}},{"bidder":"ix","params":{"siteId":"745046","size":[200,200]}},{"bidder":"ix","params":{"siteId":"745046","size":[250,200]}},{"bidder":"ix","params":{"siteId":"745046","size":[300,600]}},{"bidder":"teads","params":{"placementId":148849,"pageId":135628}},{"bidder":"nextMillennium","params":{"placement_id":"10596"}},{"bidder":"pulsepoint","params":{"cp":562699,"cf":"300x50,320x50,300x100,320x100,300x250","ct":737227}},{"bidder":"pubmatic","params":{"publisherId":"156349","adSlot":"Sportskeeda_CMC_BELOW_CONTENT"}},{"bidder":"adagio","params":{"organizationId":"1238","site":"sportskeeda-com","placement":"Below The Fold"}},{"bidder":"triplelift","params":{"inventoryCode":"Sportskeeda_CMC_Below_Content"}},{"bidder":"smartadserver","params":{"domain":"https://prg-apac.smartadserver.com/","siteId":473947,"pageId":1491638,"formatId":105246}},{"bidder":"appnexus","params":{"placementId":"23194964"}},{"bidder":"conversant","params":{"site_id":"212733","secure":1}},{"bidder":"eplanning","params":{"ci":"5e300"}},{"bidder":"insticator","params":{"adUnitId":"01G2DJ2DEWHVFQKRQYP7C92Q09"}},{"bidder":"openx","params":{"delDomain":"sportskeeda-d.openx.net","unit":551030812}},{"bidder":"rise","params":{"org":"5fcde7e56900a50001a59257"}},{"bidder":"rubicon","params":{"accountId":15140,"siteId":398014,"zoneId":2230404}},{"bidder":"catapultx","params":{"host":"cpm.catapultx.com","zoneId":157135}},{"bidder":"synacormedia","params":{"seatId":"sportskeeda","tagId":"96766"}},{"bidder":"criteo","params":{"networkId":"11376"}},{"bidder":"yahoossp","params":{"en":{"pubId":"56059","siteId":"8a9690cf017272e27aa0e49334130065","placementId":"8a96950d017f7f424c5145353a6d001f"},"hi":{"pubId":"56059","siteId":"8a9690cf017272e27aa0e4932aa70061","placementId":"8a9691a4017f7f424c104536f44a001b"}}},{"bidder":"smilewanted","params":{"zoneId":"sportskeeda.com_hb_display_1"}}]},"InfiniteContent_MOBILE":{"mediaTypes":{"banner":{"sizes":[[300,250],[336,280],[250,250],[200,200],[250,200]]}},"infiniteContent":true,"bids":[{"bidder":"ix","params":{"siteId":"745046","size":[300,250]}},{"bidder":"ix","params":{"siteId":"745046","size":[336,280]}},{"bidder":"ix","params":{"siteId":"745046","size":[250,250]}},{"bidder":"ix","params":{"siteId":"745046","size":[200,200]}},{"bidder":"ix","params":{"siteId":"745046","size":[250,200]}},{"bidder":"teads","params":{"placementId":153116,"pageId":139511}},{"bidder":"pubmatic","params":{"publisherId":"156349","adSlot":"Sportskeeda_InfiniteContent_MOBILE@300x250"}},{"bidder":"appnexus","params":{"placementId":"23194964"}},{"bidder":"conversant","params":{"site_id":"212733","secure":1}},{"bidder":"eplanning","params":{"ci":"5e300"}},{"bidder":"insticator","params":{"adUnitId":"01G2DJ2DEWHVFQKRQYP7C92Q09"}},{"bidder":"openx","params":{"delDomain":"sportskeeda-d.openx.net","unit":551030812}},{"bidder":"rise","params":{"org":"5fcde7e56900a50001a59257"}},{"bidder":"rubicon","params":{"accountId":15140,"siteId":398014,"zoneId":2230404}},{"bidder":"catapultx","params":{"host":"cpm.catapultx.com","zoneId":157135}},{"bidder":"synacormedia","params":{"seatId":"sportskeeda","tagId":"96766"}},{"bidder":"criteo","params":{"networkId":"11376"}},{"bidder":"yahoossp","params":{"en":{"pubId":"56059","siteId":"8a9690cf017272e27aa0e49334130065","placementId":"8a96950d017f7f424c5145353a6d001f"},"hi":{"pubId":"56059","siteId":"8a9690cf017272e27aa0e4932aa70061","placementId":"8a9691a4017f7f424c104536f44a001b"}}},{"bidder":"smilewanted","params":{"zoneId":"sportskeeda.com_hb_display_1"}}]},"InfiniteContent_DESKTOP":{"mediaTypes":{"banner":{"sizes":[[300,250],[336,280],[250,250],[200,200],[250,200]]}},"infiniteContent":true,"bids":[{"bidder":"ix","params":{"siteId":"745046","size":[300,250]}},{"bidder":"ix","params":{"siteId":"745046","size":[336,280]}},{"bidder":"ix","params":{"siteId":"745046","size":[250,250]}},{"bidder":"ix","params":{"siteId":"745046","size":[200,200]}},{"bidder":"ix","params":{"siteId":"745046","size":[250,200]}},{"bidder":"teads","params":{"placementId":153116,"pageId":139511}},{"bidder":"pubmatic","params":{"publisherId":"156349","adSlot":"Sportskeeda_InfiniteContent_DESKTOP@300x250"}},{"bidder":"appnexus","params":{"placementId":"23194964"}},{"bidder":"conversant","params":{"site_id":"212733","secure":1}},{"bidder":"eplanning","params":{"ci":"5e300"}},{"bidder":"insticator","params":{"adUnitId":"01G2DJ2DEWHVFQKRQYP7C92Q09"}},{"bidder":"openx","params":{"delDomain":"sportskeeda-d.openx.net","unit":551030812}},{"bidder":"rise","params":{"org":"5fcde7e56900a50001a59257"}},{"bidder":"rubicon","params":{"accountId":15140,"siteId":398014,"zoneId":2230404}},{"bidder":"catapultx","params":{"host":"cpm.catapultx.com","zoneId":157135}},{"bidder":"synacormedia","params":{"seatId":"sportskeeda","tagId":"96766"}},{"bidder":"criteo","params":{"networkId":"11376"}},{"bidder":"yahoossp","params":{"en":{"pubId":"56059","siteId":"8a9690cf017272e27aa0e49334130065","placementId":"8a96950d017f7f424c5145353a6d001f"},"hi":{"pubId":"56059","siteId":"8a9690cf017272e27aa0e4932aa70061","placementId":"8a9691a4017f7f424c104536f44a001b"}}},{"bidder":"smilewanted","params":{"zoneId":"sportskeeda.com_hb_display_1"}}]},"InHouse_CMC_MOBILE":{"inhouse":true},"Interstitial":{"div":"div-gpt-ad-1423053234910-0","mediaTypes":{"banner":{"sizes":[[1,1]]}},"interstitial":true,"bids":[]},"Mobileinterstitial":{"div":"div-gpt-ad-1426841729957-0","mediaTypes":{"banner":{"sizes":[[1,1]]}},"interstitial":true,"bids":[]},"MANAGED_WEB_INTERSTITIAL":{"div":"","mediaTypes":{"banner":{"sizes":[[1,1]]}},"managedInterstitial":true,"bids":[]}}'); var nativeAds = []; var pageInteractionBegin; var adSlotsLoaded = {}; var IS_GDPR_APPLICABLE = getCookie("gdpr") == "true"; var gptLoaded = false; var prebidLoaded = false; var pwtLoaded = false; var admiralLoaded = false; var gdprLoaded = false; var intowowLoaded = false; var adsCallFired = false; var adopsdecisions = adopsdecisions || {}; var cmcTeadsAdLoaded = false; var googletag = googletag || {}; googletag.cmd = googletag.cmd || []; var pbjs = pbjs || {}; pbjs.que = pbjs.que || []; var googlefc = googlefc || {}; googlefc.ccpa = googlefc.ccpa || {} googlefc.callbackQueue = googlefc.callbackQueue || []; var PWT = {}; var prebidDependencyCounter = 0; function loadIntowowScript() { if(intowowLoaded) return; intowowLoaded = true; function ybGPTHook(e,t,n,r,i,o,a){if(t&&0!==t.length&&n&&r&&i){e.googletag=e.googletag||{cmd:[]};var _,s=o,g=a,f=["0","1","2","3","4","5","6","7","8","9","a","b","c","d","e","f","g","h","i","j","k","l","m","n","o","p","q","r","s","t","u","v","w","x","y","z"],u={"1_0010":"01","1_0011":"02","1_0020":"03","1_0021":"04","1_0110":"05","1_0111":"06","1_0120":"07","1_0121":"08","1_0310":"09","1_0311":"0a","1_0320":"0b","1_0321":"0c","1_0610":"0d","1_0611":"0e","1_0620":"0f","1_0621":"0g","1_0810":"0h","1_0811":"0i","1_0820":"0j","1_0821":"0k","2_0000":"19","2_0001":"1a","2_0002":"1b","2_000z":"1c","2_0030":"1d","2_0031":"1e","2_0032":"1f","2_003z":"1g","2_0100":"1h","2_0101":"1i","2_0102":"1j","2_010z":"1k","2_0130":"1l","2_0131":"1m","2_0132":"1n","2_013z":"1o","2_0300":"1p","2_0301":"1q","2_0302":"1r","2_030z":"1s","2_0330":"1t","2_0331":"1u","2_0332":"1v","2_033z":"1w","2_0600":"1x","2_0601":"1y","2_0602":"1z","2_060z":"20","2_0630":"21","2_0631":"22","2_0632":"23","2_063z":"24","2_0800":"25","2_0801":"26","2_0802":"27","2_080z":"28","2_0830":"29","2_0831":"2a","2_0832":"2b","2_083z":"2c","1_0z10":"3l","1_0z11":"3m","1_0z20":"3n","1_0z21":"3o","2_0z00":"3x","2_0z01":"3y","2_0z02":"3z","2_0z0z":"40","2_0z30":"41","2_0z31":"42","2_0z32":"43","2_0z3z":"44"},d={gpt:0,amp:1,video:2,mobile:3,gpt_lite:4,adx_tag:5},l={out_of_page:0,anchor:1,app_open:2,banner:3,instream_audio:4,instream_video:5,interstitial:6,native_advance:7,rewarded:8,others:35},v={desktop:0,smartphone:1,tablet:2,connecttv:3,others:35},h={ios:0,android:1,macos:2,windows:3,others:35},c={chrome:0,safari:1,edge:2,others:35};e.googletag.cmd.unshift=function(t){e.googletag.cmd.splice(1,0,t)},e.googletag.cmd.push((function(){var n=["slotRequested","slotResponseReceived","slotRenderEnded","slotOnload","impressionViewable","slotVisibilityChanged"],r=n.slice(1),i=e.googletag.pubads();function o(e){return"u"+(e<11?e:e<26?"10-":e<51?"25-":e<101?"50-":"100-")}function a(t){return e.document.getElementById(t.getSlotElementId())}function _(e){var n=e.__getResponseInformation?e.__getResponseInformation():e.getResponseInformation();return n&&n.advertiserId&&-1!==t.indexOf(n.advertiserId)}function s(e,t){try{var n=a(e);t?n.style["min-width"]||n.style["min-height"]||(n.style["min-width"]=n.offsetWidth+"px",n.style["min-height"]=n.offsetHeight+"px",e.__keepSize=1):e.__keepSize&&(n.style["min-width"]="",n.style["min-height"]="",delete e.__keepSize)}catch(e){}}function g(e){e.__setTargeting=e.setTargeting,e.setTargeting=function(){var t=[];for(var n in arguments)t.push(arguments[n]);var r=e.__setTargeting.apply(e,t);return E(e),r}.bind(e)}function f(e){e.__clearTargeting=e.clearTargeting,e.clearTargeting=function(){var t=[];for(var n in arguments)t.push(arguments[n]);var r=e.__clearTargeting.apply(e,t);return E(e),r}.bind(e)}i.__product_version=3,i.__hook_version=5,i.setTargeting("in2w_key15","u0"),i.__refresh=i.refresh,i.refresh=function(e){var t=[];for(var n in arguments)t.push(arguments[n]);try{for(var n in e||(e=this.getSlots()),e){var r=e[n];r.setTargeting("in2w_key15",o(r.__refreshCount||0))}}catch(e){}i.__refresh.apply(i,t)}.bind(i),i.__setTargeting=i.setTargeting,i.setTargeting=function(){var e=[];for(var t in arguments)e.push(arguments[t]);i.__setTargeting.apply(i,e);try{var n=this.getSlots();for(var t in n){var r=n[t];E(r)}}catch(e){}}.bind(i),i.__clearTargeting=i.clearTargeting,i.clearTargeting=function(){var e=[];for(var t in arguments)e.push(arguments[t]);i.__clearTargeting.apply(i,e);try{var n=this.getSlots();for(var t in n){var r=n[t];E(r)}}catch(e){}}.bind(i),e.googletag.__defineOutOfPageSlot=e.googletag.defineOutOfPageSlot,e.googletag.defineOutOfPageSlot=function(){var t=[];for(var n in arguments)t.push(arguments[n]);var r=e.googletag.__defineOutOfPageSlot.apply(e.googletag,t);return r.__is_oop=!0,r.__oop_format=t[1],g(r),f(r),E(r),r}.bind(e.googletag),e.googletag.__defineSlot=e.googletag.defineSlot,e.googletag.defineSlot=function(){var t=[];for(var n in arguments)t.push(arguments[n]);var r=e.googletag.__defineSlot.apply(e.googletag,t);return r.__is_oop=!1,r.__def_sizes=arguments[1],g(r),f(r),r.__defineSizeMapping=r.defineSizeMapping,r.defineSizeMapping=function(e){var t=[];for(var n in arguments)t.push(arguments[n]);var i=r.__defineSizeMapping.apply(r,t);return r.__sz_mapping=e,E(r),i}.bind(r),E(r),r}.bind(e.googletag),i.__reportEvents=function(e,t){if(i.__eventProxy&&i.__eventProxy[e])for(var n in i.__eventProxy[e])try{i.__eventProxy[e][n](t)}catch(e){}},i.__addEventListener=i.addEventListener,i.addEventListener=function(e,t){if(-1!==n.indexOf(e))try{return this.__eventProxy=this.__eventProxy||{},this.__eventProxy[e]?(-1===this.__eventProxy[e].indexOf(t)&&this.__eventProxy[e].push(t),i):(this.__eventProxy[e]=[t],i.__addEventListener(e,(function(t){var n=t.slot;if(n.__skipEvent&&n.__skipEvent[e]&&(new Date).getTime()-n.__skipEvent[e]<3e3)delete n.__skipEvent[e];else if(-1===r.indexOf(e)||!_(n))for(var o in i.__eventProxy[e])try{i.__eventProxy[e][o](t)}catch(e){}})))}catch(e){}return i.__addEventListener(e,t)}.bind(i),i.addEventListener("slotRequested",(function(e){var t=e.slot;delete t.__responseInfo,t.__refreshCount=t.__refreshCount||0,++t.__refreshCount,s(t,!0)})),i.addEventListener("slotRenderEnded",(function(e){s(e.slot,!1)})),i.__addEventListener("slotRequested",(function(e){var t=e.slot;try{a(t).children[0].style.display="none",t.__hide=1}catch(e){}})),i.__addEventListener("slotRenderEnded",(function(e){var t=e.slot;if(t.__hide){try{var n=a(t);_(t)&&(n.children[0].children[0].style.display="none"),n.children[0].style.width&&"center"!==n.children[0].style["text-align"]?n.children[0].style.display="inline-block":n.children[0].style.display=""}catch(e){}delete t.__hide}})),i.__removeEventListener=i.removeEventListener,i.removeEventListener=function(e,t){try{var n=this.__eventProxy;if(n&&n[e])return-1!==n[e].indexOf(t)&&(n[e].splice(n[e].indexOf(t),1),!0)}catch(e){}return i.__removeEventListener(e,t)}.bind(i)}))}function p(){var e,t=(e=window.navigator)&&(e=e.userAgent)?e:"",n=function(){var e=window.navigator;return e&&(e=e.userAgentData)?e:null}();return{os:y(t),dc:m(t),browser:b(t,n)}}function y(e){return z(e,"Win")?"windows":z(e,"like Mac")?"ios":z(e,"Mac")?"macos":z(e,"Android")?"android":"others"}function m(e){return function(e){return z(e,"iPod")||z(e,"iPhone")||z(e,"Android")||z(e,"IEMobile")}(e)?"smartphone":function(e){return z(e,"iPad")||z(e,"Tablet")||z(e,"Android")&&!z(e,"Mobile")||z(e,"Silk")}(e)?"tablet":function(e){return z(e,"Roku")||z(e,"SMART-TV")||z(e,"SmartTV")||z(e,"NetCast")||z(e,"crkey")}(e)?"connecttv":"desktop"}function b(e,t){var n=function(e){if(e&&e.brands){if(k(e.brands,"Opera"))return"opera";if(k(e.brands,"Microsoft Edge"))return"edge";if(k(e.brands,"Chrome"))return"chrome"}return null}(t);return n||(z(e,"OPR/")||z(e,"Opera")?"others":z(e,"Edg")?"edge":z(e,"Firefox")?"others":z(e,"Chrome")?"chrome":z(e,"Safari")||z(e,"iPad")||z(e,"iPhone")||z(e,"iphone")?"safari":"others")}function z(e,t){return-1!==e.indexOf(t)}function k(e,t){return e.some((function(e){return e.brand===t}))}function w(e,t,n,r,i,o){try{if("u"===n)return[{key:"in2w_key16",values:[]},{key:"in2w_key20",values:[]},{key:"in2w_key21",values:[]}];var a=function(e,t){if(void 0===(e=d[e]))throw new Error;return"top_anchor"!==t&&"bottom_anchor"!==t||(t="anchor"),{rt:f[e],ivf:f[t=void 0!==l[t]?l[t]:l.others]}}(r,i),s=function(){if(_)return _;var e=p(),t=void 0!==c[e.browser]?c[e.browser]:c.others,n=void 0!==h[e.os]?h[e.os]:h.others,r=void 0!==v[e.dc]?v[e.dc]:v.others;return _={dc:f[r],os:f[n],browser:f[t]}}(),g=a.rt,y=a.ivf,m=s.dc,b=s.os,z=s.browser,k="b"===n,w=function(e,t){if(e)return["0"];for(var n,r=Math.floor(1e3*Math.random()+1),i=[],o=0,a=0;a0&&(_=_+o-1),o+=t[a].length;var u=f[_];for(n=0;n{f.push("-"+e);for(var t=0;t{d.push(n+e)}))}})),{short:f,full:d}}(g,y,m,b,z,w,x);k&&(E.short=[]);var T=[];return o&&o.length&&T.push(function(e){var t=e;("fluid"===e||"number"==typeof t[0]&&"number"==typeof t[1])&&(t=[e]);var n=[],r=1e5,i=1,o=1e5,a=1;for(var _ in t)if("fluid"===t[_])n.push(t[_]);else{var s=t[_][0],g=t[_][1];si&&(i=s),ga&&(a=g),n.push(s+"x"+g)}n.sort(((e,t)=>e2)+e.charCodeAt(n)&4294967295;return(t<0?4294967296+t:t)+""}catch(e){return"-1"}}(n.join(","))}(o)),[{key:"in2w_key16",values:E.short},{key:"in2w_key20",values:E.full},{key:"in2w_key21",values:T}]}catch(e){return[]}}function x(e,t){for(var n in e)for(var r in t)if(e[n]===t[r])return!0;return!1}function E(e){try{if(e.__should_skip_labeling)return void(e.__should_skip_labeling=!1);var t=e.getTargeting(n),o="u";if(x(t,r))o="b";else if(x(t,i))o="o";else{var a=googletag.pubads().getTargeting(n);x(a,r)?o="b":x(a,i)&&(o="o")}var _,f="banner";if(e.__is_oop)f=googletag.enums.OutOfPageFormat[e.__oop_format]?googletag.enums.OutOfPageFormat[e.__oop_format].toLowerCase():"out_of_page";else try{if(e.__sz_mapping){var u=Math.round(window.innerWidth),d=Math.round(window.innerHeight);for(var l in e.__sz_mapping){var v=e.__sz_mapping[l][0];if(v[0]<=u&&v[1]>e/4).toString(16)})};e.config=i||{},e.config.apiKey=o,e.config.workspaceId=n,e.config.environment=e.config.environment||"production",(window.crypto||window.msCrypto)&&(e.config.viewId=t());for(var g=["addon","identify","track","trigger","query","segment","segments","ready","on","once","user","consent"],r=0;r 0) { var regexp = /pwtv=(.*?)(&|$)/g; var matches = regexp.exec(currentPage); if (matches.length >= 2 && matches[1].length > 0) { profileVersionId = "/" + matches[1]; } } var scriptUrl = url + profileVersionId + "/pwt.js"; asyncScriptLoader({ src: scriptUrl, loadWithAsync: true }); PWT.jsLoaded = callback; } function onPrebidDependenciesLoaded() { if (prebidDependencyCounter == 0) { loadPrebid(); } } function loadAdRelatedLibs() { var prebidDependencyResolvedCallback = function() { –prebidDependencyCounter; onPrebidDependenciesLoaded(); } ++prebidDependencyCounter; loadPubmaticWrapper(prebidDependencyResolvedCallback); } function loadAdmiralScript() { if (admiralLoaded) return; admiralLoaded = true; !(function(o,n,t){t=o.createElement(n),o=o.getElementsByTagName(n)[0],t.async=1,t.src="https://fearlessfaucet.com/v2immqLjLMY2RqrSlyYPzwDZYKsKncmiBShPlnYGDeh7o666VXsGC9K8″,o.parentNode.insertBefore(t,o)})(document,"script"),(function(o,n){function t(){(t.q=t.q||[]).push(arguments)}t.v=1,o[n]=o[n]||t})(window,String.fromCharCode(97,100,109,105,114,97,108));!(function(o,t,n,c){function e(n){(function(){try{return(localStorage.getItem("v4ac1eiZr0″)||"").split(",")[4]>0}catch(o){}return!1})()&&(n=o[t].pubads())&&n.setTargeting("admiral-engaged","true")}(c=o[t]=o[t]||{}).cmd=c.cmd||[],typeof c.pubads===n?e():typeof c.cmd.unshift===n?c.cmd.unshift(e):c.cmd.push(e)})(window,"googletag","function"); } function loadApstagScript() { !function(a9,a,p,s,t,A,g){if(a[a9])return;function q(c,r){a[a9]._Q.push([c,r])}a[a9]={init:function(){q("i",arguments)},fetchBids:function(){q("f",arguments)},setDisplayBids:function(){},targetingKeys:function(){return[]},dpa:function(){q("di",arguments)},rpa:function(){q("ri",arguments)},upa:function(){q("ui",arguments)},_Q:[]};}("apstag",window); /** To activate this feature, you will need to add a parameter to your apstag.init function. The parameter is simplerGPT and it needs to be set to true: **/ apstag.init({ pubID: "d861356d-9ec0-442e-ba0c-d0f4a37ee3e5", videoAdServer: "DFP", adServer: "googletag", simplerGPT: true }); (function() { function emailNormalizer(email) { return email.trim().toLowerCase().replace(/+[^@]*@/g,"@"); } function tokenAction(cb, tcData) { if (userEmail) { hashStringWithSHA256(emailNormalizer(userEmail)).then(function(hashedEmailBuf) { var hashedUserEmail = bufferToString(hashedEmailBuf); var apsTokenConfig = { hashedRecords: [{ type: "email", record: hashedUserEmail }], }; if (IS_GDPR_APPLICABLE) { var consents = tcData.purpose.consents; var consent = Object.values(consents).indexOf(false) == -1; apsTokenConfig.gdpr = { enabled: true, consent: tcData.tcString } if (!consent) { apsTokenConfig.optOut = true; } } cb(apsTokenConfig); }); } } if (IS_GDPR_APPLICABLE) { googlefc.callbackQueue.push(function () { if (typeof __tcfapi === "function") { __tcfapi("addEventListener", 2, function(tcData, success) { if (tcData.eventStatus === "useractioncomplete" && success) { tokenAction(apstag.upa, tcData); } else if (success) { tokenAction(apstag.rpa, tcData); } }) } }); } else { tokenAction(apstag.rpa, null); } })(); asyncScriptLoader({ src: "https://c.amazon-adsystem.com/aax2/apstag.js", loadWithAsync: true }); } function loadGDPRStuff() { if (gdprLoaded) return; gdprLoaded = true; var firstTimeConsent = true; googlefc.callbackQueue.push(function () { if (typeof __tcfapi === "function") { __tcfapi("addEventListener", 2, function(tcData, success) { var eventStatus = tcData.eventStatus; if (eventStatus === "tcloaded") { firstTimeConsent = false; console.info("[GDPR] User consent is present"); onUserConsentChoicesChanged(success, tcData); if (success) { loadAdRelatedLibs(); checKAndProcessVideoAdPlayersQueue(); } } else if (eventStatus === "useractioncomplete") { onUserConsentChoicesChanged(success, tcData); if (success) { if (!firstTimeConsent) { console.info("[GDPR] User consent is updated"); googletag.cmd.push(function() { requestBidsForRegisteredAdUnits(); }); return; } console.info("[GDPR] User consent is received for the first time"); loadAdRelatedLibs(); checKAndProcessVideoAdPlayersQueue(); firstTimeConsent = false; } } }); } }); } function onUserConsentChoicesChanged(isSuccess, tcData) { console.info("[GDPR TCData]: User consent is received! ", isSuccess, tcData); if (isSuccess) { var consents = tcData.purpose.consents; if (consents["1"] && consents["3"] && consents["4"]) { } else { googletag.cmd.push(function() { googletag.pubads().setRequestNonPersonalizedAds(1); }); } // permutive consent config var permutiveConsent = Object.values(consents).indexOf(false) == -1 ? true : false ; if (permutiveConsent) { permutive.consent({ token: tcData.tcString, "opt_in": true }); } else { permutive.consent({ "opt_in": false, }); } } else { googletag.cmd.push(function() { googletag.pubads().setRequestNonPersonalizedAds(1); }); } } loadIntowowScript(); googletag.cmd.push(function() { googletag.pubads().disableInitialLoad(); }); googletag.cmd.push(function() { googletag.pubads().addEventListener("slotResponseReceived", function(e) { var slotId = e.slot.getSlotElementId(); if (slotId === adUnits["CMC_BELOW_CONTENT"]["div"]) { if (cmcTeadsAdLoaded) { googletag.destroySlots([cmcTeadAdSlot]); } } }); googletag.pubads().addEventListener("slotRenderEnded", function(e) { if (e.isEmpty) { return; } var slotId = e.slot.getSlotElementId(); if (slotId === adUnits["CMC_BELOW_CONTENT"]["div"]) { cmcTeadsAdLoaded = true; } if (slotId === adUnits["Desktop_300250_3"]["div"]) { document.getElementById(adUnits["Desktop_300250_3"]["div"]).parentElement.style.minHeight = e.size[1] + 24 + "px"; } if (slotId === adUnits["Mob_32050_Sticky_2019"]["div"] || slotId === adUnits["CMC-Sticky"]["div"]) { var adHeight = e.size[1]; $(".sticky-container").style.height = (adHeight + 5) + "px"; $(".sticky-close").style.bottom = (adHeight + 4) + "px"; $("#sticky-ad-container").classList.remove("hidden"); } if (slotId === adUnits["Carousel_Widget_250x100"]["div"]) { if (e.size && e.size[0]) { var domNode = document.getElementById(adUnits["Carousel_Widget_250x100"]["div"]); if (domNode && domNode.parentElement) { var carouselAdParent = domNode.parentElement; domNode.style.marginLeft = "0"; domNode.style.marginRight = "0"; carouselAdParent.style.width = e.size[0] + "px"; carouselAdParent.style.marginRight = "12px"; } } } console.log("ADSLOT Rendered – ", e.slot.getAdUnitPath(), slotId); sendAdsGa4Event("adslot loaded", e.slot.getAdUnitPath()); }); googletag.pubads().addEventListener("impressionViewable", function(e) { var philipsLineItemIds = ["5983279623″,"5983292610″,"5984588842″,"5985307571″,"5983276710″,"5983298820″,"5984593801″,"5985311183″,"5990162299″,"5990794544″,"5990794550″,"5990794559″,"5990794556″,"5990794553″,"5990162317″,"5990162308″,"5988833925″,"5988833928″,"5988833931″,"5988833934"]; var slotResponseInfo = e.slot.getResponseInformation(); var lineItemId; if(slotResponseInfo && slotResponseInfo.lineItemId){ lineItemId = String(slotResponseInfo.lineItemId); } if(lineItemId && philipsLineItemIds.includes(lineItemId)){ // set cookie with expiration for 20 weeks from now var campaignCookieData = { expiryTime : new Date() } campaignCookieData.expiryTime.setDate(campaignCookieData.expiryTime.getDate() + 140); setCookie("philipsInteraction", true, campaignCookieData.expiryTime); } console.log("AD became viewable – " + e.slot.getAdUnitPath().split("/").pop()); sendAdsGa4Event("adslot viewed", e.slot.getAdUnitPath()); }); }); function checKAndProcessVideoAdPlayersQueue() { "processVideoAdPlayersQueue" in window && processVideoAdPlayersQueue(); // Just in case the function wasn't available in the first few attempts, wait for it. for (var second = 1; second -1 || location.search.indexOf("key1=mic") > -1 || getCookie("sessionKey1")) { SKAdCall(); } if (window.location.pathname !== '/') { SKAdCall(); } if (!!document.referrer && !!document.referrer.match(/https://(.+?.)?sportskeeda.com/$/gi) && !!location.href.match(/live-cricket-score/gi)) { SKAdCall(); } function adInitOnInteraction() { SKAdCall(); } document.addEventListener("scroll", adInitOnInteraction, { once: true }); document.addEventListener("mousemove", adInitOnInteraction, { once: true }); document.addEventListener("touchmove", adInitOnInteraction, { once: true }); function defineAdSlot(adUnit, adUnitName, params) { var slotIdWithCode = "/11446729/" + adUnitName; var setTargetingValuesDelegate = function(adSlot) { adSlot.setTargeting("version", "OutbrainWidgetdesktop"); if (typeof params.setTargetingKeyValues === "function") { return params.setTargetingKeyValues(adSlot); } return adSlot; } if (adUnit["interstitial"]) { var adSlot = googletag.defineOutOfPageSlot(slotIdWithCode, adUnit["div"]); adSlot.addService(googletag.pubads()); return setTargetingValuesDelegate(adSlot); } if (adUnit["managedInterstitial"]) { adSlot = googletag.defineOutOfPageSlot(slotIdWithCode, googletag.enums.OutOfPageFormat.INTERSTITIAL); if (!adSlot) { return; } adSlot.addService(googletag.pubads()); return setTargetingValuesDelegate(adSlot); } var sizes = adUnit["mediaTypes"]["banner"]["sizes"]; if (params.withDynamicDivId) { var adSlot = googletag.defineSlot(slotIdWithCode, sizes); adSlot.addService(googletag.pubads()); return setTargetingValuesDelegate(adSlot); } var adSlot = googletag.defineSlot(slotIdWithCode, sizes, adUnit["div"]); adSlot.addService(googletag.pubads()); return setTargetingValuesDelegate(adSlot); } function displayAdSlot(divId) { googletag.cmd.push(function() { googletag.display(divId); }); } function insertInfiniteContentAdSlot(adUnitName, adSlot, adElement, device, adCounter) { if (!adSlot) return; var divId = adSlot.getSlotElementId(); if (adUnitName === "MatchCenter_Commentary_300x250_2021") { SKCMCAdUnitsRefreshVal["CMC_Commentary_" + adCounter] = { Div: divId, AdRefreshed: true, RefreshCount: 0, Refresh: 30, slot: adSlot }; } if (SKAdsArticleDesktopInBetweenRefreshVals) { SKAdsArticleDesktopInBetweenRefreshVals[divId] = { Div: divId, AdRefreshed: true, RefreshCount: 0, Refresh: 30, slot: adSlot }; } var div = document.createElement("div"); div.id = divId; if (device == "mobile") { div.className = "mobile-ad-holder"; } adElement.appendChild(div); console.log("DISPLAY ad : ", divId); adSlot.setTargeting("recycle_count", String(adCounter)); requestBidsForAdSlot(adSlot, divId); } (function() { for (var adUnitName in adUnits) { var slotIdWithCode = "/11446729/" + adUnitName; var adUnit = adUnits[adUnitName]; if (adUnit["native"]) { var nativeAdUnit = { name: adUnitName, id: adUnit["div"] }; if (!adUnit["mobile"]) { nativeAdUnit["html"] = ''; nativeAds[adUnit["pos"]] = nativeAdUnit; } } } })(); function sendAdsGa4Event(eventName, slotName) { var gaSubSet = { "send_to": "G-T41EZF14QW", "sk_version": "OutbrainWidget", "non_interaction": true, "page_type": "Articlepage" }; if (eventName == "adslot loaded" && !adSlotsLoaded[slotName]) { gaSubSet["delaySincePageInteraction"] = Date.now() – pageInteractionBegin; adSlotsLoaded[slotName] = true; } var sessionCookieValue = getCookie("keeda-session-uuid"); if (sessionCookieValue) { gaSubSet["keeda-session-uuid"] = sessionCookieValue; } if ("SK POP".length > 0) { gaSubSet["sport"] = "SK POP"; } if (userId > 0) { gaSubSet["loggedIn_user_id"] = userId; } gaSubSet["slotname"] = slotName.split("/").pop(); gaSubSet["author_slug"] = "17ba001-ba551"; gaSubSet["published_date"] = "2023-01"; gaSubSet["tax-list"] = ",pop-culture,news,trending,"; gtag("event", eventName, gaSubSet); } ]]> <![CDATA[ var KeedaPrebidUtilsInstance = (function() { var SK_SEGMENT = Number(String(getCookie('sk_segment') || "100")); var USER_COUNTRY = String(getCookie('country_code') || "").toUpperCase(); var IS_DESKTOP = "1"; var LANG = String("en").toLowerCase(); var PAGE_TYPE = "Articlepage"; var CATEGORY = "pop-culture" || "news-where-jose-guerrero-found-two-arrested-missing-virginia-dad-discovered-dead"; var PRICING_COHORTS = { group1: { label: "India", values: [25, 0, 17] }, group2: { label: "T1", values: [50, 0, 30] }, group3: { label: "ROW", values: [21, 0, 17] } }; var PRICING_COHORTS_BY_COUNTRY = { IN: PRICING_COHORTS.group1, US: PRICING_COHORTS.group2, UK: PRICING_COHORTS.group2, GB: PRICING_COHORTS.group2, CA: PRICING_COHORTS.group2, AU: PRICING_COHORTS.group2 } function KeedaPrebidUtils() { this.bidderFilterCriteria = {}; this.bidderParamsEnhancers = {}; this.pricingCohortGroup = PRICING_COHORTS_BY_COUNTRY[USER_COUNTRY] || PRICING_COHORTS.group3; var cohortValueIndex = 2; if (SK_SEGMENT <= 5) { cohortValueIndex = 0; } else if (SK_SEGMENT <= 10) { cohortValueIndex = 1; } else if (SK_SEGMENT = 1100) { registerAdUnit('Desktop_article_rail_top_2022'); } else { window['AVOID_LOADING_SIDEBAR_AD_UNITS'] = true; } registerAdUnit('Desktop_300250_3'); registerAdUnit("Interstitial"); googletag.cmd.push(function() { googletag.pubads().addEventListener("slotRenderEnded", function(e) { if (e.isEmpty) { return; } function setTopForMenu(){ var mastheadElement = $(".masthead"); var rect = mastheadElement.getBoundingClientRect(); if (typeof setMenuHeightOnCMC === "function") { setMenuHeightOnCMC(((rect.top == 0 ? 0 : rect.top) + 49)) } } var adSlotId = (e.slot.getAdUnitPath().split("/")[2]).toLowerCase(); var adUnitsToEnlarge = ["mob_300250_2", "mob_300250_3", "mob_300250_4", "mob_300250_5", "mob_300250_6", "mob_300250_08", "mob_300250_09", "mob_300250_10", "mob_300250_11","infinitecontent_mobile"]; var adUnitsToEnlargeExists = adUnitsToEnlarge.filter(function(slotId) { return slotId == adSlotId}).length > 0; if(e.slot.getSlotElementId() === "div-gpt-ad-1548933259437-0" || e.slot.getSlotElementId() === "div-gpt-ad-1616756011923-0" || adUnitsToEnlargeExists ) { var adHeight = e.size[1]; console.log("adHeight", adHeight, e.size, e); if(adHeight adHeight ? adContainer.clientHeight + 50 : adHeight + 50) : (adHeight + 5)) + "px"; if(!adUnitsToEnlargeExists) return; if((slotElementId == "div-gpt-ad-1544790280952-0" || slotElementId == "div-gpt-ad-1486709274862-1" || slotElementId == "div-gpt-ad-1486709274862-3" || slotElementId == "div-gpt-ad-1486709274862-4" || slotElementId == "div-gpt-ad-1496133676474-0") && recheckCount >= 5) return; else if(slotElementId != "div-gpt-ad-1544790280952-0" && slotElementId == "div-gpt-ad-1486709274862-1" && slotElementId == "div-gpt-ad-1486709274862-3" && slotElementId == "div-gpt-ad-1486709274862-4" && slotElementId == "div-gpt-ad-1496133676474-0" && recheckCount >= 2) return; setTimeout(function() { adjustHeight(e.slot.getSlotElementId(), adUnitsToEnlargeExists, adHeight); recheckCount++; expCount*=2; }, interval * expCount) } adjustHeight(e.slot.getSlotElementId(), adUnitsToEnlargeExists, adHeight); //Adding setTimeout twice so that if the user clicks on menu between the transition, //the menu top should get updated after the 1 secs setTimeout(setTopForMenu,100) setTimeout(setTopForMenu,1000) } if (e.slot.getSlotElementId() === "div-gpt-ad-1562932228734-0") { removeClass($(".sk-logo-skip"), "hidden"); removeClass($(".interstitial-fullpage"), "hidden"); var interstitial_timer = setInterval(function(){ skipAd(); clearInterval(interstitial_timer); },10000); setAdDisplayed(); } var cubeExpandoCreativeIDs = [138230072083, 138232852373, 138233359402, 138234976177, 138235557507, 138249246421, 138250001051, 138250349254, 138251570439, 138273000453]; if(cubeExpandoCreativeIDs.indexOf(e.creativeId) > -1){ var desktopNativeIframe1 = document.getElementById("google_ads_iframe_/11446729/Desktop_300x250_01_New_0"); desktopNativeIframe1.addEventListener("mouseover", function(){ if(desktopNativeIframe1){ desktopNativeIframe1.style.height = "500px"; desktopNativeIframe1.style.width = "700px"; desktopNativeIframe1.style.left = "-200px"; desktopNativeIframe1.style.zIndex = "1000"; } }); desktopNativeIframe1.contentDocument.addEventListener("click", function(){ desktopNativeIframe1.style.height = "250px"; desktopNativeIframe1.style.width = "300px"; desktopNativeIframe1.style.left = "0px"; }); } var creativeIdsToExclude = []; if(creativeIdsToExclude.indexOf(e.creativeId) > -1) { return; } }); }); function hideInterstitialIFrame() { var desktopInterstitialAdDiv = document.getElementById("div-gpt-ad-1423053234910-0"); if (desktopInterstitialAdDiv) { desktopInterstitialAdDiv.style.display = "none"; } var mobileInterstitialAdDiv = document.getElementById("div-gpt-ad-1426841729957-0"); if (mobileInterstitialAdDiv) { mobileInterstitialAdDiv.style.display = "none"; } } window.onmessage = function (e) { if (e.data == "adCloseEvent") { hideInterstitialIFrame(); } else if (e.data == "MOBILE_INTERSTITIAL_AD_LOADED" || e.data == "DESKTOP_INTERSTITIAL_AD_LOADED") { var interstitialIframe = null; if (e.data == "DESKTOP_INTERSTITIAL_AD_LOADED") { interstitialIframe = document.getElementById("google_ads_iframe_/11446729/Interstitial_0"); } else if (e.data == "MOBILE_INTERSTITIAL_AD_LOADED") { interstitialIframe = document.getElementById("google_ads_iframe_/11446729/Mobileinterstitial_0"); } else { return; } interstitialIframe.style.width = "100%"; interstitialIframe.style.height = "100%"; interstitialIframe.style.position = "fixed"; interstitialIframe.style.zIndex = "10000"; interstitialIframe.style.left = "0"; interstitialIframe.style.top = "0"; window.addEventListener("scroll", function() { interstitialIframe.contentWindow.postMessage("SK_ADJUST_SIZE", "*"); }); window.addEventListener("resize", function() { interstitialIframe.contentWindow.postMessage("SK_ADJUST_SIZE", "*"); }); } }; googletag.cmd.push(function() { if("" == "1") { googletag.pubads().setTargeting("block_campaign", "mcd_false"); // Allow mcd campaign to be targeted here } else { googletag.pubads().setTargeting("block_campaign", "mcd_true"); // Block mcd campaign to be targeted here } if("" == "1") { googletag.pubads().setTargeting("block_xfinity", "xfinity_false"); // Allow xfinity campaign to be targeted here } else { googletag.pubads().setTargeting("block_xfinity", "xfinity_true"); // Block xfinity campaign to be targeted here } if(getCookie("philipsInteraction")){ googletag.pubads().setTargeting("campaign", "philips"); } (function(intoWowCookie) { if (intoWowCookie) { googletag.pubads().setTargeting("intowow_enabled", intoWowCookie); } })(getCookie("intowow")); if(isFacebookApp()) { googletag.pubads().setTargeting("knownBrowserType", "facebook"); } googletag.pubads().setTargeting("url", (document.location.protocol + "//" + document.location.hostname + document.location.pathname).substr(0, 40)); googletag.pubads().setTargeting("pagetype", "Articlepage"); googletag.pubads().setTargeting("slug", "news-where-jose-guerrero-found-two-arrested-missing-virginia-dad-discovered-dead".substring(0, 40)); googletag.pubads().setTargeting("sport", "SK POP"); googletag.pubads().setTargeting("published_date", "2023-01"); googletag.pubads().setTargeting("sport_lang", "SK POP_en"); googletag.pubads().setTargeting("revShare", "false"); googletag.pubads().setTargeting("section", "News"); googletag.pubads().setTargeting("author_id", "17ba001-ba551"); googletag.pubads().setTargeting("tag", ["Trending ", ]); googletag.pubads().setTargeting("version", "OutbrainWidgetdesktop"); googletag.pubads().setTargeting("pubstack_tag_version", "HeaderBiddingImprovements01"); googletag.pubads().setTargeting("Floor", KeedaPrebidUtilsInstance.getFloorPricingForGAM()); var uniqueBrowserIdCookie = getCookie('unique_browser_id'); uniqueBrowserIdCookie && googletag.pubads().setPublisherProvidedId(uniqueBrowserIdCookie); googletag.pubads().setTargeting("lang", "en"); var landingPage = document.referrer.match(/https://[a-z]*.sportskeeda.com/) ? "false" : "true" googletag.pubads().setTargeting("landing_page", landingPage); var queryParams = document.location.search.replace('?', "").split('&'); for (var i = 0; i
<![CDATA[ function isScrolledIntoView(el, topOffset) { if(!topOffset) { topOffset = 0; } var elemTop = el.getBoundingClientRect().top; var elemBottom = el.getBoundingClientRect().bottom; var elemLeft = el.getBoundingClientRect().left; if (elemTop === 0 && elemBottom === 0) { return false; } return ((elemTop < window.innerHeight + topOffset) && elemLeft < window.innerWidth); } function lazyLoadAll() { var lazyElements = $all('[data-lazy]'); for (var i = 0; i

Modified Jan 26, 2023 05:27 PM IST

Follow Us <![CDATA[ var url = "https://www.sportskeeda.com/pop-culture/news-where-jose-guerrero-found-two-arrested-missing-virginia-dad-discovered-dead" var title = "Where was Jose Guerrero found? Two arrested as missing Virginia dad is discovered dead" var text = "Where was Jose Guerrero found? Two arrested as missing Virginia dad is discovered dead" var nativeShareEnabled = false; window.addEventListener("DOMContentLoaded", function() { if (navigator && navigator.share) { nativeShareEnabled = true; } else { console.log("Native share is not supported!") } }) function shareContent(ele, btnPosition, eventName, campaignName) { if (nativeShareEnabled) { url = url + "?utm_source=www.sportskeeda.com&utm_medium=native&utm_campaign=" + campaignName navigator.share({ title, url, text }) .then(function() { ga_event(eventName, 'Desktop-native-' + (btnPosition || 'top'), '') }) .catch(function(err) { console.log("Error while sharing article using native share", err) }); } else { var shareContainers = ele.parentElement.parentElement.querySelectorAll(".share-icons-container"); if (shareContainers && shareContainers.length) { for(var i = 0; i < shareContainers.length; i++) { shareContainers[i].classList.remove("hidden") } } } } window.addEventListener("mouseup", function() { var shareContainers = document.getElementsByClassName("share-icons-container"); if (shareContainers && shareContainers.length) { for(var i = 0; i <![CDATA[ function actionHover(ele) { if (hasClass(ele, "like-action") && ele.querySelector('button').dataset.reactionType == "false") { ele.querySelector('img').setAttribute("src", "//staticg.sportskeeda.com/skm/assets/feed/ic-like-red-new.svg") } else if (hasClass(ele, "comment-action")) { ele.querySelector('img').setAttribute("src", "//staticg.sportskeeda.com/skm/assets/feed/ic-comment-red.svg") } else if (hasClass(ele, "share-action")) { ele.querySelector('img').setAttribute("src", "//staticg.sportskeeda.com/skm/assets/feed/ic-share-red.svg") } } function actionUnhover(ele) { if (hasClass(ele, "like-action") && ele.querySelector('button').dataset.reactionType == "false") { ele.querySelector('img').setAttribute("src", "//staticg.sportskeeda.com/skm/assets/feed/ic-like-gray.svg"); } else if (hasClass(ele, "comment-action")) { ele.querySelector('img').setAttribute("src", "//staticg.sportskeeda.com/skm/assets/feed/ic-comment-gray.svg") } else if (hasClass(ele, "share-action")) { ele.querySelector('img').setAttribute("src", "//staticg.sportskeeda.com/skm/assets/feed/ic-share-gray.svg") } } function getScrollHeight(elm) { var savedValue = elm.value; elm.value = ""; elm._baseScrollHeight = elm.scrollHeight; elm.value = savedValue; } function onExpandableTextareaInput(e) { var elm = e.target; var minRows = 2, rows; !elm._baseScrollHeight && getScrollHeight(elm); elm.rows = minRows; rows = Math.ceil((elm.scrollHeight - elm._baseScrollHeight) / 16); elm.rows = (minRows + rows) < 5 ? (minRows + rows) : 4; elm.style.height = 'auto'; } function resetCommentBox(e) { var elm = e.target; elm.parentNode.firstElementChild.rows = 1; } function addListenerToCommentBox() { $all('.post-comment-box').forEach(function(box) { box.addEventListener("input", onExpandableTextareaInput); }); $all('.post-comment-button').forEach(function(button) { button.addEventListener("click", resetCommentBox); }); } window.addEventListener("mouseup", addListenerToCommentBox); window.addEventListener("mouseup", function() { var reactionContainers = $all(".reaction-icons-container"); if (reactionContainers && reactionContainers.length) { for(var i = 0; i <![CDATA[ if ('Jan 26, 2023 05:27 PM IST'.indexOf(' ') === -1 && !1) { var friendly_date = getFriendlyModifiedTime('Jan 26, 2023 05:27 PM IST'); document.querySelector(".article-modified-date").textContent = "Modified " + friendly_date; } if ('Jan 26, 2023 05:27 PM IST'.indexOf('

') > -1) { addClass($('.section-container'), 'pill-tag'); } ]]>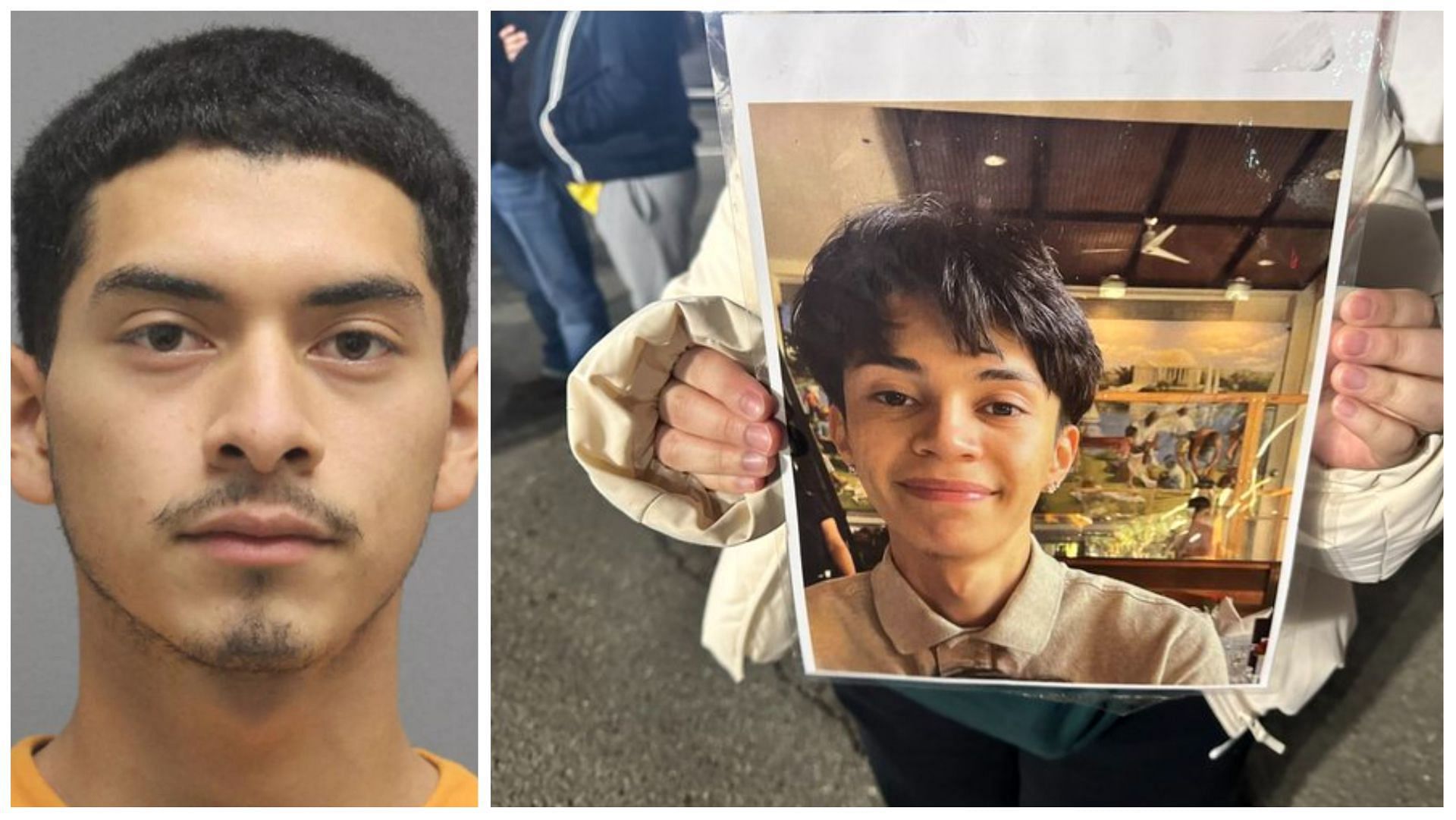 Jose Guerrero (right) was allegedly stabbed by Olvin (left) and another suspect, (Images via @KatieLusso/Twitter) The remains of missing Jose Guerrero have been discovered in a wooded area in Prince George's County, Maryland. Police have also arrested two suspects connected to the alleged crime, of which one has been identified as 19-year-old Olvin Ramirez, and the other is an unidentified 17-year-old male.

20-year-old Jose Guerrero was reported missing on December 21, 2022, after he left his house to run an errand. Jose's family was fearing the worst after authorities found blood near his car that was found abandoned. The suspects currently face murder charges.

<![CDATA[ var loadMob3Unit = (function() { var AD_UNIT_MARKUP = ']]>'; var MOB_3_PARAMS = {}; var options = { threshold: 0 , rootMargin: "200% 0px 200% 0px" }; var dynamicAdsObserver = new IntersectionObserver(function(entries) { entries.forEach(function (oneEntry) { if (oneEntry.isIntersecting) { dynamicAdsObserver.unobserve(oneEntry.target); var domId = oneEntry.target.id; googletag.cmd.push(function() { requestBidsForAdSlot(MOB_3_PARAMS["slot"], domId); }); } }); }, options); function loadAdUnit(input) { input.playerContainer.innerHTML += AD_UNIT_MARKUP; var adContainer = input.playerContainer.querySelector(".mob_300250_3_ad"); googletag.cmd.push(function() { var slot = initAdUnit("Mob_300250_3"); if (!slot) return; var div = document.createElement('div'); div.id = slot.getSlotElementId(); adContainer.appendChild(div); if (input.userCountry == "IN") { requestBidsForAdSlot(slot, div.id); return; } MOB_3_PARAMS["slot"] = slot; var adElementDiv = document.getElementById(adUnits["Mob_300250_3"].div); dynamicAdsObserver.observe(adElementDiv); }); } return loadAdUnit; })(); <![CDATA[ var loadConnatixPlayer = (function() { var PLAYER_MARKUP = ']]>'; function loadPlayer(params) { if (typeof initConnatixPlayer === "function") { params.playerContainer.innerHTML += PLAYER_MARKUP; var container = params.playerContainer.querySelector(".connatix-container"); container.classList.remove("hidden"); var holder = params.playerContainer.querySelector(".connatix-holder"); initConnatixPlayer(holder, params); } } return loadPlayer; })(); <![CDATA[ var loadSTNPlayer = (function() { var PLAYER_MARKUP = ']]>'; function loadPlayer(params) { if (typeof initSTNPlayer === "function") { params.playerContainer.innerHTML += PLAYER_MARKUP; var container = params.playerContainer.querySelector(".stnPlayer-container"); container.classList.remove("hidden"); var holder = params.playerContainer.querySelector(".s2nPlayer-holder"); initSTNPlayer(holder, params); } } return loadPlayer; })();

A GoFundMe page was launched five days back to meet Guerrero's funeral expenses for which, an amount exceeding $15,500 has already been donated to the fundraiser. Guerrero's family is trying to overcome Jose's loss, who left behind his 10-month-old daughter and girlfriend Sheila Perez.

*FOR IMMEDIATE RELEASE: #PWCPD detectives have charged two suspects in connection to the disappearance and subsequent murder of Jose GUERRERO, who was reported missing by family in Dec. 2022. The murder stemmed from an altercation during a narcotics transaction. More info;
*FOR IMMEDIATE RELEASE: #PWCPD detectives have charged two suspects in connection to the disappearance and subsequent murder of Jose GUERRERO, who was reported missing by family in Dec. 2022. The murder stemmed from an altercation during a narcotics transaction. More info; https://t.co/bDRaJ7l7qy
Jose Guerrero was found dead a month after he was reported missing in Woodridge
On December 21, 2022, Jose Guerrero was reported missing. Two days later, police recovered his car near the Bel Air area and Jeffries Roads in Woodbridge. During the initial stages of the investigation, police believed that Jose was in danger and needed assistance.

He also had a 10-month-old daughter with his girlfriend Sheila Perez. In a recent turn of events, police believe they have discovered the body of Jose Guerrero in a wooded area. His heartbroken mother, Andrea Salgado, said,
"They have destroyed a part of us. He had a life ahead of him. Why did you do this? Why? It's not what we wanted."
Police have arrested two suspects who are allegedly connected to the murder of Jose Guerrero. Cops have identified one of them as Olvin Daniel Argueta Ramirez (19) and another 17-year-old male. According to police, the two suspects intended to rob Jose during a drug transaction in the Lost Canyon Court parking area. This led to an argument that turned violent when the two stabbed Jose Guerrero.

After Jose was unconscious, they brought him to Adelphi, Maryland, where they allegedly dumped his body in the woods. The two suspects then drove Jose's car back to Bel Air Road, where police found it in an abandoned state.
Murder charges have been filed against the two suspects
Ruby Bermudez, a family friend of Jose stated:
"The guy who used to play soccer who was always there. I know he was gonna be a great dad, and I just want you guys to remember him like that."
She further added,
"We never lost hope, but yesterday was a phone call you don't wanna take."
A GoFundMe campaign has been launched to meet Jose's funeral expenses. According to the post,
"Jose "Jr. " lit up the room with his smile and lived for his baby girl Avery, whom he worked hard to provide the best life for. Unfortunately, his life was cut short unexpectedly."
Jose Guerrero's family initially mentioned that they had spotted his iPhone near the area where his abandoned vehicle was found, two miles away from his residence. The 17-year-old unidentified male has been charged with robbery and murder, while Olvin has been charged with stabbing in the commission of a felony and murder.

Olvin and the other suspect face murder charges. Police have confirmed that Jose's death was the result of a narcotic transaction gone terribly wrong.

1) { var savedOptionCount = localStorageValues[1]; resultData = localStorageValues[0]; if (savedOptionCount == pollData[resultData+"_count"]) { pollData[resultData + "_count"] += 1; } } renderPollWidget(pollData, resultData, false); } function getPollData() { } getPollData(); function onPollResponseSuccess(selectedOption) { setLocalStorageData("article_poll_1378195", selectedOption + "__" + pollDataDefault[selectedOption+"_count"]); } function onPollResponseFail(selectedOption) { console.log('Poll response fail'); var pollData = null; var pollOptions = $("#poll-options"); var pollCount = $("#poll-count"); var pollOptionsDom = "; var totalVotes = Number(pollData.option1_count + pollData.option2_count + pollData.option3_count + pollData.option4_count); var optionsArray = ['option1', 'option2']; if (pollData.option3 !== "" && pollData.option3 !== null) { optionsArray.push('option3') } if (pollData.option4 !== "" && pollData.option4 !== null) { optionsArray.push('option4') } optionsArray.forEach(function(option, index) { var clickHandler = 'onclick="answerPoll(event, " + option + ")"'; $('#'+option).classList.remove('poll-option-answered'); if(option === selectedOption) { $('#'+option).classList.remove('poll-option-selected'); } pollOptionsDom += "; pollOptionsDom += '

' + pollData[option] + "; pollOptionsDom += "; }); pollOptions.innerHTML = pollOptionsDom; pollCount.innerHTML = totalVotes + ' votes'; } function updatePollCountOnAnswer(selectedOption) { var pollData = pollDataDefault; renderPollWidget(pollData, selectedOption, true); } function renderPollWidget(pollData, selectedOption, isAnswered) { if (!pollData) return; pollData.option1_count = pollData.option1_count || 0; pollData.option2_count = pollData.option2_count || 0; pollData.option3_count = pollData.option3_count || 0; pollData.option4_count = pollData.option4_count || 0; if (isAnswered) { if (selectedOption == "option1") pollData.option1_count += 1; if (selectedOption == "option2") pollData.option2_count += 1; if (selectedOption == "option3") pollData.option3_count += 1; if (selectedOption == "option4") pollData.option4_count += 1; } var totalVotes = Number(pollData.option1_count + pollData.option2_count + pollData.option3_count + pollData.option4_count); if (totalVotes && !Number.isNaN(totalVotes)) { var option1Percent = pollData.option1_count / totalVotes * 100; var option2Percent = pollData.option2_count / totalVotes * 100; var option3Percent = pollData.option3_count / totalVotes * 100; var option4Percent = pollData.option4_count / totalVotes * 100; var optionPercentages = [option1Percent, option2Percent, option3Percent, option4Percent]; var pollOptions = $("#poll-options"); var pollCount = $("#poll-count"); var pollOptionsDom = "; var optionsArray = ['option1', 'option2']; if (pollData.option3 !== "" && pollData.option3 !== null) { optionsArray.push('option3') } if (pollData.option4 !== "" && pollData.option4 !== null) { optionsArray.push('option4') } optionsArray.forEach(function (option, index) { var clickHandler = 'onclick="answerPoll(event, " + option + ")"'; var optionClass = ['poll-option']; if (selectedOption) { optionClass.push('poll-option-answered'); clickHandler = "; } if (selectedOption === option) { optionClass.push('poll-option-selected'); } pollOptionsDom += "; if (selectedOption) { var widthPercentage = optionPercentages[index] 97) { pollOptionsDom += "; } else { pollOptionsDom += "; } } else { if (widthPercentage > 97) { pollOptionsDom += "; } else { pollOptionsDom += "; } } } pollOptionsDom += '

' + pollData[option] + "; if (selectedOption) { pollOptionsDom += '

' + Math.round(optionPercentages[index]) + '%'; } pollOptionsDom += "; }); pollOptions.innerHTML = pollOptionsDom; pollCount.innerHTML = totalVotes + ' votes'; if (totalVotes > 10) { pollCount.classList.remove("hidden"); } trackArticlePollImpression(pollData); } } function answerPoll(e, selectedOption) { e.preventDefault(); try{ permutive.track('PollResponse',{ "pagetype": "Articlepage", "category": "SK POP", "answer": { "text": e.target.textContent }, "question": { "text": pollDataDefault.question } }); } catch (err) { console.log(err); } updatePollCountOnAnswer(selectedOption); var isDesktop = "1"; var gaPayload = { "question" : pollDataDefault.question, "answer" : e.target.textContent, "answer_option" : selectedOption.replace("option", "Option "), "category": "SK POP", "page_location": window.location.href, } if (isDesktop) { gaPayload["device"] = "Desktop"; } else { gaPayload["device"] = "Mobile"; } gtag("event", "ARTICLE_POLL_RESPONSE", gaPayload); var url = 'https://a-gotham.sportskeeda.com/polls//response'; var data = { "poll_type": "article", "option": selectedOption } pureJSAjaxPost(url, data, onPollResponseSuccess.bind(this, selectedOption), onPollResponseFail.bind(this, selectedOption), null, false); } function trackSponsoredLinkClick(e) { } var articlePollImpressionTracked = false; function trackArticlePollImpression(pollData) { var pollElement = $("#poll"); var intersectionObserverForArticlePoll = new IntersectionObserver( function(entries) { entries.forEach(function(entry) { if (articlePollImpressionTracked) return; if (!entry.target || !entry.isIntersecting || entry.intersectionRatio

Quick Links

More from Sportskeeda

0) { var pnProductNav = $("#pnProductNav"); var pnProductNavContents = $("#pnProductNavContents"); // Out advancer buttons var pnAdvancerLeft = $("#pnAdvancerLeft"); var pnAdvancerRight = $("#pnAdvancerRight"); var scrollAmount = 0; var scrollMin = 0 var scrollMax = pnProductNavContents.clientWidth; pnAdvancerRight.onclick = function() { pnProductNav.scrollTo({ top: 0, left: Math.max(scrollAmount += 240, scrollMax), behavior: 'smooth' }); }; pnAdvancerLeft.onclick = function() { pnProductNav.scrollTo({ top: 0, left: Math.max(scrollAmount -= 240, scrollMin), behavior: 'smooth' }); }; new KeedaCarousalControlsHelper({ target: pnProductNavContents, whenFistItemInViewport: function(entry) { pnAdvancerLeft.style.display = "none"; }, whenFistItemNotInViewport: function(entry) { pnAdvancerLeft.style.display = "inline-block"; }, whenLastItemInViewport: function(entry) { pnAdvancerRight.style.display = "none"; }, whenLastItemNotInViewport: function(entry) { pnAdvancerRight.style.display = "inline-block"; } }).observeTarget(); } } var topOfDropDown = "; function toggleWikiDropDown(slug, level, tag, flag, fromExplore) { var node = $("#" + slug); if (!node) { return; } if (hasClass(node, "hidden")) { showDropDown(slug, level, tag, flag, fromExplore); } else { closeAllDropDown(); } } function setDropDownPosition(element) { var WIKI_HEADER_HEIGHT = 150; if (window.scrollY > WIKI_HEADER_HEIGHT) { element.style.position = "fixed"; element.style.top = "50px"; } else if (window.scrollY < WIKI_HEADER_HEIGHT) { element.style.position = "absolute"; element.style.top = "236px"; } } function showDropDown(slug, level, tag, flag, fromExplore) { var nodeId = "#" + slug; var dropDownNode = $(nodeId); if (!dropDownNode) { return; } var rec = tag.parentNode.getBoundingClientRect(); isMenuFromExplore = fromExplore == null ? isMenuFromExplore : fromExplore; closeAllDropDown(); updateMenu(nodeId); if (flag && (level == 0 || level == -1)){ level == 0 ? tag.lastChild.style.transform = "rotate(180deg) scale(1.5)" : true; topOfDropDown = rec.top + window.scrollY + 35 + "px"; } setDropDownPosition(dropDownNode); $('body').appendChild(dropDownNode); dropDownNode.classList.remove("hidden"); } function updateMenu(nodeId) { node = $(nodeId).querySelector('#back-block-0'); if (isMenuFromExplore && $(nodeId).getAttribute('data-level') == '0') { node.classList.remove('hidden'); } else if (!isMenuFromExplore && $(nodeId).getAttribute('data-level') == '0') { node.classList.add('hidden'); } } window.addEventListener("DOMContentLoaded", function() { document.addEventListener('click', function(e) { if (e.target.className != 'drop-down-icon' && e.target.className != 'explore-icon' && e.target.className != 'back-block' && e.target.className != 'wiki-submenu-item' && e.target.className != 'wiki-menu-toggle' ) { closeAllDropDown(); } }) }); function closeAllDropDown() { var nodes = $all(".drop-down-menu"); var menu = $all(".wiki-menu-item .drop-down-icon"); if (menu && menu.length) { for(var i = 0; i < menu.length; i++) { menu[i].style.transform = "scale(1.5)"; } } if (nodes && nodes.length) { for(var i = 0; i " modalPopup.closeOnEsc = false; modalPopup.setHeader("Why did you not like this content?"); modalPopup.setContentText(modalText); modalPopup.addCancelOkButton("Submit", resetRatingAndFeedbackForm, sendRating); modalPopup.removeCloseModalIcon(); modalPopup.disableDismissPopup(); modalPopup.open(); } else { sendRating(index); } } function sendRating() { var requestPayload = { "post_id": 1378195, "rating_value": ratingValue } if (ratingValue > 3) { requestPayload.rating_feedback_type = null; requestPayload.rating_feedback = null; } else { if (!$('input[name="drone"]:checked') || !$('input[name="drone"]:checked').value) { showErrorMessage('option'); return; } if (!$(".post-rating-feedback-note textarea") || !$(".post-rating-feedback-note textarea").value) { showErrorMessage('note'); return; } var selectedOption = $('input[name="drone"]:checked').value; var feedbackNote = $(".post-rating-feedback-note textarea").value; requestPayload.rating_feedback_type = selectedOption; requestPayload.rating_feedback = feedbackNote; } pureJSAjaxPost(addratingAPI, requestPayload, onsaveRatingSuccess, onsaveRatingFail, function() {}, true); } function resetRatingAndFeedbackForm() { var activeStars = Array.from($all('.rating span.rating-star.active')); for (var i=0; i < activeStars.length; i++) { activeStars[i].classList.remove("active"); } if ($('input[name="drone"]:checked')) { $('input[name="drone"]:checked').checked = false; } var userNote = document.querySelector(".post-rating-feedback-note textarea"); userNote.value = ''; modalPopup.close(); } function onsaveRatingSuccess() { modalPopup.close(); savePostIdInUserRatedPostsCookie(); $("#post-rating-layout").classList.add("hidden"); $("#post-rating-message").classList.remove("hidden"); window.setInterval(function showMessage() { $("#post-rating-widget").classList.add("hidden"); }, 3000); } function onsaveRatingFail() { console.error('Saving post rating failed!'); modalPopup.close(); } function savePostIdInUserRatedPostsCookie() { userRatedPostIds.push(1378195); var expiryTime = new Date(); expiryTime.setMonth(expiryTime.getMonth() + 12); // Expiry after 1 year setCookie("user_rated_post_ids", JSON.stringify(userRatedPostIds), expiryTime); } function isPostRatedByUser() { var userRatedPostIds = getCookie('user_rated_post_ids'); if (userRatedPostIds) { try { userRatedPostIds = JSON.parse(userRatedPostIds); } catch (err) { console.error(err); return false; } } else { return false; } if(userRatedPostIds.indexOf(1378195) >= 0) { return true; } else { return false; } } function getRatingCountByPostId(postId) { return new Promise(function(resolve, reject) { pureJSAjaxGet( getRatingCountBaseURL + postId + '/rating/count', function(data) { try { data = JSON.parse(data); if (data.meta_value) { resolve(data.meta_value); } reject("Failed to fetch rating count for the post:" + postId); } catch (err) { reject("Failed to fetch rating count for the post:" + postId); } }, function(err) { reject("Failed to fetch rating count for the post:" + postId); }, true); }); } function showErrorMessage(messageType) { var messageContainerId = '#' + messageType + '-error'; $(messageContainerId).classList.remove('hidden'); window.setInterval(function () { $(messageContainerId).classList.add("hidden"); }, 5000); } if (!isPostRatedByUser()) { getRatingCountByPostId(1378195) .then(function(ratingCount) { if (ratingCount < 10) { $("#post-rating-widget").classList.remove("hidden"); } }) .catch(function(err){ console.error(err); }) }
<![CDATA[ function onExpandableTextareaInput({ target: elm }) { var minRows = 1, rows; !elm._baseScrollHeight && getScrollHeight(elm); elm.rows = minRows; rows = Math.ceil((elm.scrollHeight - elm._baseScrollHeight) / 16); elm.rows = (minRows + rows) 100) { percentageScrolled = 100; } if (maxScrollCaptured < percentageScrolled) { maxScrollCaptured = percentageScrolled; } if (!eventTriggered && maxScrollCaptured == 100) { sendPageDepthScrollGAEvent(); window.removeEventListener('pagehide', recalculateDepthAndSendGAEvent); eventTriggered = true; } } function sendPageDepthScrollGAEvent() { gaScrollObject["scrolled_depth"] = Math.round(maxScrollCaptured); gtag('event', 'scroll', gaScrollObject); } var timeoutScroll = 0; function articleDepthDebounce(fn, delay) { clearTimeout(timeoutScroll); timeoutScroll = setTimeout(fn, delay); } function recalculateDepthAndSendGAEvent() { calculateScrollDepth(); sendPageDepthScrollGAEvent(); } document.addEventListener('scroll', function(e) { articleDepthDebounce(calculateScrollDepth, 100); }) window.addEventListener('pagehide', recalculateDepthAndSendGAEvent); })(); (function(){ var pageType = "Articlepage"; var pageLoadedTime = Date.now(); var postId = "1378195"; var timeSpentHandlerLoaded = false; function loadTimeSpentHandler() { if (timeSpentHandlerLoaded) return; timeSpentHandlerLoaded = true; function timeSpentHandler() { var timeSpentDifference = Date.now() - pageLoadedTime; var timeSpentSeconds = Math.floor(timeSpentDifference/1000); var payload = { "transport_type": "beacon", "time_spent_seconds": timeSpentSeconds }; var sessionCookieValue = getCookie("keeda-session-uuid"); if (sessionCookieValue) { payload['keeda-session-uuid'] = sessionCookieValue; } if (postId && (pageType == "Articlepage" || pageType == "slideshow" || pageType == "Singlepageslideshow")) { payload["post_id"] = postId; gtag("event", "time_spent_on_article", payload); } else if (pageType == "Homepage") { payload["device"] = IS_MOBILE ? "Mobile" : "Desktop"; gtag("event", "time_spent_on_homepage", payload); } else if (pageType == "wikipage" || pageType == "WikiHomepage" || pageType == "wiki_tagpage") { payload["wiki_page"] = window.location.href; payload["page_id"] = ""; payload["wiki_lang"] = ""; gtag("event", "time_spent_on_wikipage", payload); } } document.addEventListener("visibilitychange", function() { if (document.visibilityState === "visible") { pageLoadedTime = Date.now(); } else { timeSpentHandler(); } }); } document.addEventListener("scroll", loadTimeSpentHandler, { once: true }); document.addEventListener("mousemove", loadTimeSpentHandler, { once: true }); document.addEventListener("touchmove", loadTimeSpentHandler, { once: true }); })(); var trackedClick = false; function trackBelowContentFeedClick(event) { if(trackedClick) { return true; } var clickedElement = event.target; while(!!clickedElement.parentNode) { if(hasClass(clickedElement, "story-wrapper")) { trackedClick = true; gtag('event', 'click', { 'event_category': "All Sports_Articles_Related Articles_Below Article_Desktop_17March2021", 'event_label': Array.prototype.indexOf.call(clickedElement.parentNode.getElementsByClassName("story-wrapper"), clickedElement) + 1, 'non_interaction': true }); return true; } clickedElement = clickedElement.parentNode; } return true; } if ($(".comments-total-container")) { $(".comments-total-container").addEventListener("click", function () { var gaObject = { 'event_category': "Comments", 'event_label': "No_of_comments", } var sessionCookieValue = getCookie("keeda-session-uuid"); if (sessionCookieValue) { gaObject['keeda-session-uuid'] = sessionCookieValue; } var userID = getCookie("fw_ID"); if (userID) { gaObject['loggedIn_user_id'] = userID; } gtag('event', 'click', gaObject); }) } if ($(".comments-total-container-bottom")) { $(".comments-total-container-bottom").addEventListener("click", function () { var gaObject = { 'event_category': "Comments", 'event_label': "No_of_comments_bottom", } var sessionCookieValue = getCookie("keeda-session-uuid"); if (sessionCookieValue) { gaObject['keeda-session-uuid'] = sessionCookieValue; } var userID = getCookie("fw_ID"); if (userID) { gaObject['loggedIn_user_id'] = userID; } gtag('event', 'click', gaObject); }) } document.addEventListener("click", trackBelowContentFeedClick.bind(this)); var followButtons = $all('.btn-follow'); var followButtons = $all('.follow-btn'); var authorId; var source; /* for user profile page */ function displayFollowContent() { addClass($('.follow-pc'),'hidden'); removeClass($('.follow-content .author-profile-info'), 'hidden'); removeClass($('.follow-content .follow-author'),'hidden'); } function followCallback (resp) { data = JSON.parse(resp); displayFollowContent(); for(i=0;i"+firstName+". We will notify you when they publish new content."); } gtag('event', action, { 'event_category': 'FOLLOW', 'event_label': source, 'non_interaction': true }); } else { var actionRevert = (action == 'follow') ? 'un-follow' : 'follow'; flipFollowStatus(actionRevert); } }, function (error) { console.log(error); var actionRevert = (action == 'follow') ? 'un-follow' : 'follow'; flipFollowStatus(actionRevert); } ); flipFollowStatus(action); } else { window.location = ('/login?after-login=' + window.location.href ); } }; function setAdFloatingParams() { if ($(".rightStickyTopWrap") && $('.fragments-container')) { $(".rightStickyTopWrap").style.height = ($('.fragments-container').clientHeight – 44) + "px"; } } setInterval(function() { setAdFloatingParams(); }, 2000); window.addEventListener("load", setAdFloatingParams.bind(this)); window.addEventListener("DOMContentLoaded", function() { var trackCopyURL = "https://a-login.sportskeeda.com/en" + "/track-events"; document.addEventListener("scroll", addevents_youtube_embeds.bind(this)); document.addEventListener("mousemove", addevents_youtube_embeds.bind(this)); document.addEventListener('copy', logCopyEvent.bind(this)); function addevents_youtube_embeds() { var youtube = document.getElementsByClassName("youtube"); for (var i = 0; i < youtube.length; i++) { var ytURL = youtube[i].dataset.embed; var youtubeWrapper = youtube[i].parentElement; var youtubeCoverImg = youtube[i].getElementsByTagName("img")[0]; var iframe = document.createElement( "iframe" ); iframe.setAttribute( "width", youtubeCoverImg.width ); iframe.setAttribute( "height", youtubeCoverImg.height ); iframe.setAttribute( "src", "https://www.youtube.com/embed/"+ ytURL); iframe.setAttribute( "frameborder", "0" ); iframe.setAttribute( "allowfullscreen", ""); youtubeWrapper.innerHTML = ""; youtubeWrapper.appendChild( iframe ); }; var iframeEmbeds = document.getElementsByClassName("iframe-embeds"); for (var i = 0; i < iframeEmbeds.length; i++) { var iframeSRC = iframeEmbeds[i].dataset.embed; var aspectRatio = iframeEmbeds[i].dataset.aspectratio; var height = iframeEmbeds[i].dataset.height; var iframeWrapper = iframeEmbeds[i].parentElement; var iframe = document.createElement( "iframe" ); iframe.setAttribute( "width", "100%"); if(aspectRatio) { iframe.setAttribute( "style", "height: calc(" + iframeEmbeds[i].clientWidth + "px * " + aspectRatio + ")"); } else if (height) { iframe.setAttribute("style", "height: "+ height + "px"); } iframe.setAttribute( "src", iframeSRC); iframe.setAttribute( "frameborder", "0" ); iframe.setAttribute( "allowfullscreen", ""); iframeWrapper.innerHTML = ""; iframeWrapper.appendChild( iframe ); } } function logCopyEvent() { var payload = { event_type: "copy", post_id: 1378195 }; pureJSAjaxPost(trackCopyURL, payload, function() {}, function () { console.error('Failed to save copy event'); }, null, true); } }); function renderPrimaryCommentsWidget() { var primaryComments = new KeedaComments({ id: parseInt("1378195"), wpId: parseInt("3836072"), popup: false, commentsContainer: document.getElementById("keeda-comments-container"), pageType: "post" }); primaryComments.fetchCommentsAndRender(); setTimeout(showFeedCommentsContainer, 0); } (function() { var followUsCTA = $(".follow-us-cta"); function followUsGoogleNews(){ if (!followUsCTA) return; var st = window.pageYOffset || document.documentElement.scrollTop; if ( st 300 ) { followUsCTA.classList.remove("hidden"); } else { followUsCTA.classList.add("hidden"); } } window.addEventListener("scroll", followUsGoogleNews); })(); var bottom_tagline_links = document.querySelectorAll('.bottom_tagline_link'); for (var i = 0; i < bottom_tagline_links.length; i++) { bottom_tagline_links[i].addEventListener('click', trackBottomTaglineClickEvent.bind(this)); } function trackBottomTaglineClickEvent() { var sportCategory = "pop-culture" || "news-where-jose-guerrero-found-two-arrested-missing-virginia-dad-discovered-dead"; var payload = { "page_url": window.location.href, "category": sportCategory, "Device" : "Desktop" } gtag("event", "Clicks_BottomTagline", payload); } var followUsCTAs = $all(".follow-action"); for (var i = 0; i <![CDATA[ (function() { var article_sponserd_links = $all(".sponsored_link"); for (var i = 0; i
<![CDATA[ function onExpandableTextareaInput({ target: elm }) { var minRows = 1, rows; !elm._baseScrollHeight && getScrollHeight(elm); elm.rows = minRows; rows = Math.ceil((elm.scrollHeight - elm._baseScrollHeight) / 16); elm.rows = (minRows + rows) <![CDATA[ var isCommentPopupVisible = false; function isValidURL(string) { var res = string.match(/(http(s)?://.)?(www.)?[-a-zA-Z0-9@:%._+~#=]{2,256}.[a-z]{2,6}b([-a-zA-Z0-9@:%_+.~#?&//=]*)/g); return (res !== null) }; function setUrlParam(key, value) { var url = new URL(window.location.href); url.searchParams.set(key, value); window.history.replaceState(null, null, url); } function getUrlParamByKey(key) { var url = new URL(window.location.href); return url.searchParams.get(key); } function deleteUrlParam(key) { var url = new URL(window.location.href); url.searchParams.delete(key); window.history.replaceState(null, null, url); } function storeStoryDetailsAndToggleFeedComment(element, story) { var id = element.dataset.id; if (!id) return; var sessionKey = new Date().getTime(); sessionStorage.setItem("comment_meta_" + sessionKey, JSON.stringify({ "id": element.dataset.id, "title": element.dataset.title, "href": element.dataset.href, "thumbnail": element.dataset.thumbnail, "type": element.dataset.type, "scrollY": window.scrollY })); window.location.hash = "feed-comments-container"; setUrlParam('comment-meta-id', sessionKey); toggleFeedComments(sessionKey, false); } function toggleFeedComments(sessionKey, doScroll) { var sessionStorageData = sessionStorage.getItem("comment_meta_" + sessionKey); if (!sessionStorageData) return; var commentData = {}; try { commentData = JSON.parse(sessionStorageData); } catch(e) { console.error(e); return; } if (!commentData.id) return; var popover = document.getElementById("feed-comments-popover"); if (!popover) return; popover.classList.remove("inactive"); showArticleInfo(commentData.title, commentData.href, commentData.thumbnail); var articleLink = commentData.href + window.location.search; if(!isValidURL(articleLink)) { articleLink = window.location.origin + articleLink; } var feedComments = new KeedaComments({ id: commentData.id, wpId: null, popup: true, commentsContainer: document.getElementById("feed-comments-container"), pageType: "post", articleLink: articleLink, gaCategory: "Feedpage" }); feedComments.fetchCommentsAndRender(); isCommentPopupVisible = true; gtag('event', "click", { 'event_category': "Feedpage_Interactions", 'event_label': getGALabelForFeedCommentClick(commentData.type) }); if (doScroll && commentData.scrollY) { window.scrollTo(0, commentData.scrollY); } addListenerToCommentBox(); } function getGALabelForFeedCommentClick(type) { if (type === "tweet") { return "Social_Twitter_Comment_Button"; } else if (type === "youtube") { return "Social_Youtube_Comment_Button"; } else if (type === "instagram") { return "Social_Instagram_Comment_Button"; } return "Article_Comment_Button"; } function hideCommentsContainer(fromWindowPop) { if (!isCommentPopupVisible) { return; } isCommentPopupVisible = false; var popover = document.getElementById("feed-comments-popover"); if (!popover) return; deleteUrlParam('comment-meta-id'); popover.classList.add("inactive"); if (!fromWindowPop) { window.history.back(); } } function showArticleInfo(title, href, thumbnail) { var articleInfoContainer = document.getElementById("comments-article-info"); articleInfoContainer.href = href; if (!articleInfoContainer) return; if (!title || !href) { articleInfoContainer.classList.add("hidden"); } else { articleInfoContainer.classList.remove("hidden"); } var titleEle = articleInfoContainer.querySelector(".comments-article-title"); if (titleEle) titleEle.innerText = title; var imageEle = articleInfoContainer.querySelector(".comments-article-image"); if (imageEle) { if (thumbnail) { imageEle.src = getImageWidthTransformedURL(thumbnail, 100); imageEle.classList.remove("hidden"); } else { imageEle.classList.add("hidden"); } } } function showFeedCommentsContainer() { if (window.location.hash == "#feed-comments-container") { var sessionKey = getUrlParamByKey('comment-meta-id'); if (sessionKey) { toggleFeedComments(sessionKey, true); } } } window.onpopstate = function() { // Back button handler, along with hash it'll hide the popover comments UI hideCommentsContainer(true); } function getScrollHeight(elm) { var savedValue = elm.value; elm.value = ""; elm._baseScrollHeight = elm.scrollHeight; elm.value = savedValue; } function onExpandableTextareaInput({ target: elm }) { var minRows = 1, rows; !elm._baseScrollHeight && getScrollHeight(elm); elm.rows = minRows; rows = Math.ceil((elm.scrollHeight - elm._baseScrollHeight) / 16); elm.rows = (minRows + rows)

More from Sportskeeda

Fetching more content…

<![CDATA[ var socialStoriesObserved = {}; var videoPlayedEventTriggered = {} var socialStoriesIOConfig = { root: null, rootMargin: "0px", threshold: 0.5 } var socialStoriesIntersectionObserver = new IntersectionObserver(handlerForSocialStoryIO, socialStoriesIOConfig); function handlerForSocialStoryIO(entries) { entries.forEach(function(entry) { var targetEle = entry.target; if (entry.isIntersecting) { var videoEle = targetEle.querySelector("video"); if (videoEle) { var postId = targetEle.dataset.id; socialStoriesIntersectionObserver.unobserve(targetEle); setEventListenerForVideoPlay(videoEle, postId, targetEle.dataset); } else { targetEle.setAttribute("data-visible-start", Date.now()); targetEle.removeAttribute("data-visible-end"); } return } if (entry.boundingClientRect.top 2000) { // post viewed for more than 2 seconds sendPageViewTracking(dataset); socialStoriesIntersectionObserver.unobserve(targetEle); } } }) } function sendPageViewTracking(dataset) { if (TrackUsersLive === "undefined") { return; } try { var storyAbsolutePermalink = new URL(dataset.link); dataset.link = storyAbsolutePermalink.href; } catch (error) { dataset.link = "https://www.sportskeeda.com" + dataset.link; } var data = 'uri=' + encodeURIComponent(dataset.link) + '&userIdentifier=' + userId + '&post_id=' + dataset.wpId + '&post_type=' + dataset.type + '&published_date=' + dataset.published + '&author_id=' + (dataset.authorSlug || "") + '&tt_id_json=' + (dataset.ttIds || "[]") + '&session_id=' + TrackUsersLive.getUniqueSessionId() + '&query_string=' + encodeURIComponent(window.location.search) + '&pageType=Articlepage' + '&revenue_share=false&key1=&key2=&key3=&key4=&lang=en&update_reads=true&page_view=true'; TrackUsersLive.sendPageViewRequest(data, "https://ingestion.sportskeeda.com"); var eventUrl = dataset.link; sendGAPageViewEventForSocialPost(eventUrl); } // sends page view event for the social post to GA function sendGAPageViewEventForSocialPost(url) { if (!gtag) return; gtag('config', 'UA-10769778-1', { 'page_path': url }); } function setIntersectionObserverSocialPosts() { var socialStories = $all(".social-story-wrapper .list-story-link"); for (var i = 0; i <![CDATA[ (function () { function lazyLoadArticle() { var lazyImages = $all('img.lazy-img'); for (var i = 0; i 500) { image.src = image.attributes['data-img'].value; } else { image.src = image.attributes['data-img-low'].value; } image.className = image.className.replace('lazy-img', ''); } window.lazyLoadImages = lazyLoadArticle; lazyLoadAll(); lazyLoadArticle(); window.addEventListener('scroll', lazyLoadAll); window.addEventListener('scroll', lazyLoadArticle); window.addEventListener('load', lazyLoadAll); })(); ]]>
<![CDATA[ /* */ ]]>
<![CDATA[ var SKTrackingModule = (function () { var COOKIE_NAME = 'HP_ALGO_DATA_V2'; var DATASET_SIZE = 10; var CLIPPING_SIZE = 100; function getTrackingCookie(cname, defaultValue) { var name = cname + "="; var ca = document.cookie.split(';'); for(var i = 0; i = CLIPPING_SIZE) { item['value'] = CLIPPING_SIZE.toString(); var clipAll = true; } else { item['value'] = item['value'].toString(); } return { 'value': item, 'clipAll': clipAll }; } function clippingMechanism(data, key) { if (data[key].length >= DATASET_SIZE * 2) { return data[key].slice(0, DATASET_SIZE); } else { return data[key]; } } function track(cname, key, identifier, title) { var data = getTrackingCookie(cname, '{}'); data = JSON.parse(data); if (!data.hasOwnProperty(key) || key == 'sport') { data = initializeJSONDataStructure(data, key, identifier, title); } else { var item = data[key].filter(function(item) { return item.name == identifier; }); if (item.length > 0) { item = item[0]; var incrementResponse = incrementTrackingLogic(item); item = incrementResponse['value']; if (incrementResponse['clipAll']) { data[key].forEach(function(item){ item['value'] = parseInt(item['value'] / 2).toString(); }); } } else { data = initializeJSONDataStructure(data, key, identifier, title); } } data[key].sort(function(a, b) { return b['value'] > a['value'] ? 1 : -1; }); data[key] = clippingMechanism (data, key); setTrackingCookie(COOKIE_NAME, JSON.stringify(data)); } function trackSport(identifier, title) { track(COOKIE_NAME, 'sport', identifier, title); } function trackEvent(identifier) { track(COOKIE_NAME, 'event', identifier, ""); } function trackTeam(identifier) { track(COOKIE_NAME, 'team', identifier, ""); } return { getTrackingCookie: getTrackingCookie, setTrackingCookie: setTrackingCookie, trackSport: trackSport, trackEvent: trackEvent, trackTeam: trackTeam }; })(); var hpAlgoCookie = SKTrackingModule.getTrackingCookie('HP_ALGO', null); if (!hpAlgoCookie) { var hpAlgoCookieRange = ['false', 'hp_algo_1']; var hpAlgoCookie = hpAlgoCookieRange[Math.floor(Math.random() * hpAlgoCookieRange.length)]; SKTrackingModule.setTrackingCookie('HP_ALGO', hpAlgoCookie); } var category; try { var category = JSON.parse('{"slug":"pop-culture","title":"SK POP"}'); SKTrackingModule.trackSport(category.slug, category.title); } catch (e) {} ]]> = 5) { addClass(rows[i], "hidden"); } } var toggleButton = $('.see-more-stats'); if(hasClass(toggleButton, "hidden")) { removeClass(toggleButton, "hidden"); } addClass(ele, "hidden"); } function seeMoreToggle(ele) { if(hasClass(ele, 'toggled')) { //expanded contentHolder.style.height = '50px'; addClass(contentHolder, 'fade-out-bottom'); ele.classList.remove('toggled'); } else { //collapsed contentHolder.style.height = 'auto'; removeClass(contentHolder, 'fade-out-bottom'); ele.classList.add('toggled'); if(taxonomyImg) { removeClass(taxonomyImg, 'hidden'); } if(taxonomyInfo) { removeClass(taxonomyInfo, 'hidden'); } } } if(contentHolder) { removeClass(contentHolder, 'hidden'); contentHolder.style.height = 'auto'; } if(taxonomyImg) { removeClass(taxonomyImg, 'hidden'); } if(taxonomyInfo) { removeClass(taxonomyInfo, 'hidden'); } //Check for collapsed_by_default's value if set //Refresh Sticky Ad-Units var SKAdsArticleStickyRefreshVals = { Left: { Div: adUnits["Desktop_article_rail_top_2022"]["div"], AdRefreshed: false, RefreshCount: 0, Hover: false, Refresh: 60 } } function registerRefreshForStickyAds() { refreshStickyAdUnit(SKAdsArticleStickyRefreshVals.Left, "Left"); } registerRefreshForStickyAds(); function hoverEventsOnStickyAds(slotAddress) { if (document.getElementById(SKAdsArticleStickyRefreshVals[slotAddress]["Div"])) { $("#"+SKAdsArticleStickyRefreshVals[slotAddress]["Div"]).addEventListener("mouseover", function () { SKAdsArticleStickyRefreshVals[slotAddress]["Hover"] = true; }); $("#"+SKAdsArticleStickyRefreshVals[slotAddress]['Div']).addEventListener("mouseout", function () { SKAdsArticleStickyRefreshVals[slotAddress]["Hover"] = false; }); } } function refreshStickyAdUnit(adUnit, slotAddress) { var targetSlot = adUnit.Div; googletag.cmd.push(function() { googletag.pubads().addEventListener('impressionViewable', function(event) { var slot = event.slot; hoverEventsOnStickyAds(slotAddress); if (slot.getSlotElementId() === targetSlot) { waitForXSec(slot, slotAddress, SKAdsArticleStickyRefreshVals[slotAddress]["Refresh"]); } }); }); } function waitForXSec(adSlot, slotAddress, refreshTimeInSec) { window.setTimeout(function() { SKAdsArticleStickyRefreshVals[slotAddress]["AdRefreshed"] = false; captureScrollEvent(adSlot, slotAddress); }, refreshTimeInSec * 1000); } function captureScrollEvent(adSlot, slotAddress) { window.addEventListener("scroll", function () { if (adSlot.getSlotElementId() == SKAdsArticleStickyRefreshVals[slotAddress]["Div"] && !SKAdsArticleStickyRefreshVals[slotAddress]["AdRefreshed"] && !SKAdsArticleStickyRefreshVals[slotAddress]["Hover"]) { googletag.cmd.push(function() { console.log("Refreshing Ad: ", adSlot.getSlotElementId()); SKAdsArticleStickyRefreshVals[slotAddress]["RefreshCount"] += 1; adSlot.setTargeting("refresh", SKAdsArticleStickyRefreshVals[slotAddress]["RefreshCount"] + ""); requestBidsForAdSlot(adSlot); }); SKAdsArticleStickyRefreshVals[slotAddress]["AdRefreshed"] = true; } }); } var SKAdsArticleDesktopInBetweenRefreshVals = { Top: { Div: adUnits["Desktop_72890_1"]["div"], AdRefreshed: true, RefreshCount: 0, Refresh: 30 }, SideRailTop: { Div: adUnits["Desktop_article_rail_top_2022"]["div"], AdRefreshed: true, RefreshCount: 0, Refresh: 30 } } googletag.cmd.push(function() { googletag.pubads().addEventListener('impressionViewable', function(event) { var slot = event.slot; for(var slotAddress in SKAdsArticleDesktopInBetweenRefreshVals) { if (slot.getSlotElementId() === SKAdsArticleDesktopInBetweenRefreshVals[slotAddress].Div) { SKAdsArticleDesktopInBetweenRefreshVals[slotAddress]["slot"] = slot; waitForXSecDesktopAds(slot, slotAddress, SKAdsArticleDesktopInBetweenRefreshVals[slotAddress]["Refresh"]); } } }); }); function waitForXSecDesktopAds(adSlot, slotAddress, refreshTimeInSec) { window.setTimeout(function() { SKAdsArticleDesktopInBetweenRefreshVals[slotAddress]["AdRefreshed"] = false; }, refreshTimeInSec * 1000); } window.addEventListener("scroll", function () { for(var slotAddress in SKAdsArticleDesktopInBetweenRefreshVals) { var currentAdUnit = SKAdsArticleDesktopInBetweenRefreshVals[slotAddress]; var divSlot = document.getElementById(currentAdUnit["Div"]); if (!divSlot) return; rect = divSlot.getBoundingClientRect(); if (currentAdUnit.slot && currentAdUnit.slot.getSlotElementId() == currentAdUnit["Div"] && elementInViewPort(rect) && !currentAdUnit["AdRefreshed"]) { currentAdUnit["AdRefreshed"] = true; currentAdUnit["RefreshCount"] += 1; currentAdUnit.slot.setTargeting("refresh", currentAdUnit["RefreshCount"] + ""); requestBidsForAdSlot(currentAdUnit.slot); SKAdsArticleDesktopInBetweenRefreshVals[slotAddress] = currentAdUnit; } } }); function elementInViewPort(rect) { return rect.top >= 0 && rect.left >= 0 && rect.bottom <= (window.innerHeight || document.documentElement.clientHeight) && rect.right = 0.7 && !afterArticleSplitAdLoaded) { loadAfterArticleSplitAd(); } }, optionsArticleSplitAd); var observedEle = document.getElementById('article_pagesplit_ad'); if (observedEle) { intersectionObserverArticleSplitAd.observe(observedEle); } ]]> <![CDATA[ var articleContent = $('#article-content'); var articleTitle = $('#heading').innerText; var scrollPercent = 0; var scrollEventRecorded = false; window.addEventListener('scroll', function() { var rect = articleContent.getBoundingClientRect(); var height = rect.height, bottom = rect.bottom; if (bottom 0 ? commentsCount : ''; var commentResponseItem = COMMENT_ACTION_RESPONSE_ITEMS && COMMENT_ACTION_RESPONSE_ITEMS[statusToBeUpdated]; if (commentResponseItem) { var card = container.querySelector('div[data-notification-id="' + comment.ID + '"]'); var cardActionResult = card.getElementsByClassName('kcn-action')[0]; if (cardActionResult) { cardActionResult.innerText = commentResponseItem.text; cardActionResult.classList.add(commentResponseItem.class); } } }, function (err) { console.log(err); }, null, true ); } function displayNewCommentNotifications(container) { getIncomingComments().then(function (comments) { if (comments.error == true) { container.style.display = "none"; return; } var cardsContainer = container.querySelector('.kcn-card-container'); if(comments.length > 0) { container.style.display = "block"; cardsContainer.innerHTML = "; comments.forEach(function (comment, index) { var notificationCardTemplate = container.querySelector('#kcn-card'); var notificationCard = notificationCardTemplate.content.cloneNode(true); var notificationCardWrapper = notificationCard.querySelector('.kcn-card-wrapper'); notificationCardWrapper.setAttribute('data-notification-id', comment.ID); var notificationText = notificationCard.querySelector('.kcn-comment-text'); notificationText.innerHTML = comment.comment_text; var keedaPostLink = notificationCard.querySelector('.keeda-posts-link'); keedaPostLink.href = comment.permalink; notificationCardWrapper.querySelector('.approve').addEventListener('click', function () { onCommentActionClick(container, comment, COMMENT_ACTION_STATUS.APPROVED); }); notificationCardWrapper.querySelector('.delete').addEventListener('click', function () { onCommentActionClick(container, comment, COMMENT_ACTION_STATUS.DELETE); }); cardsContainer.appendChild(notificationCard); }); } else { container.style.display = "block"; cardsContainer.innerHTML = "No new comments"; } }).catch(function (err) { console.log(err); }); } function displayPendingCommentsCount(container) { getPendingCommentsCount().then(function (res) { if (res.count && res.count > 0) { commentsCount = res.count; moderationCountHTMLElement.innerText = res.count; } }) } function toggleContainerVisibility(container) { var kcnContentContainer = container.querySelector('#kcn-comment-container'); var kcnPointer = container.querySelector('#kcn-pointer'); if (kcnContentContainer) { kcnContentContainer.classList.toggle('hidden'); } if (kcnPointer) { kcnPointer.classList.toggle('hidden'); } } function addClickHandler(container, clickCallback) { var iconContainerElement = container.querySelector('#kcn-comment-info-holder'); iconContainerElement.addEventListener("click", function (event) { toggleContainerVisibility(container); if (!commentsLoaded) { commentsLoaded = true; var cardsContainer = container.querySelector('.kcn-card-container'); if (cardsContainer) { cardsContainer.innerHTML = "Loading comments…"; } displayNewCommentNotifications(container); } }); } function init (element) { addClickHandler(element); displayPendingCommentsCount(element); moderationCountHTMLElement = document.getElementById("kcn-comment-count"); } return { init: init } })(); function initCommentNotifications(capabilities) { if(window.innerWidth
Source

[snax_content]