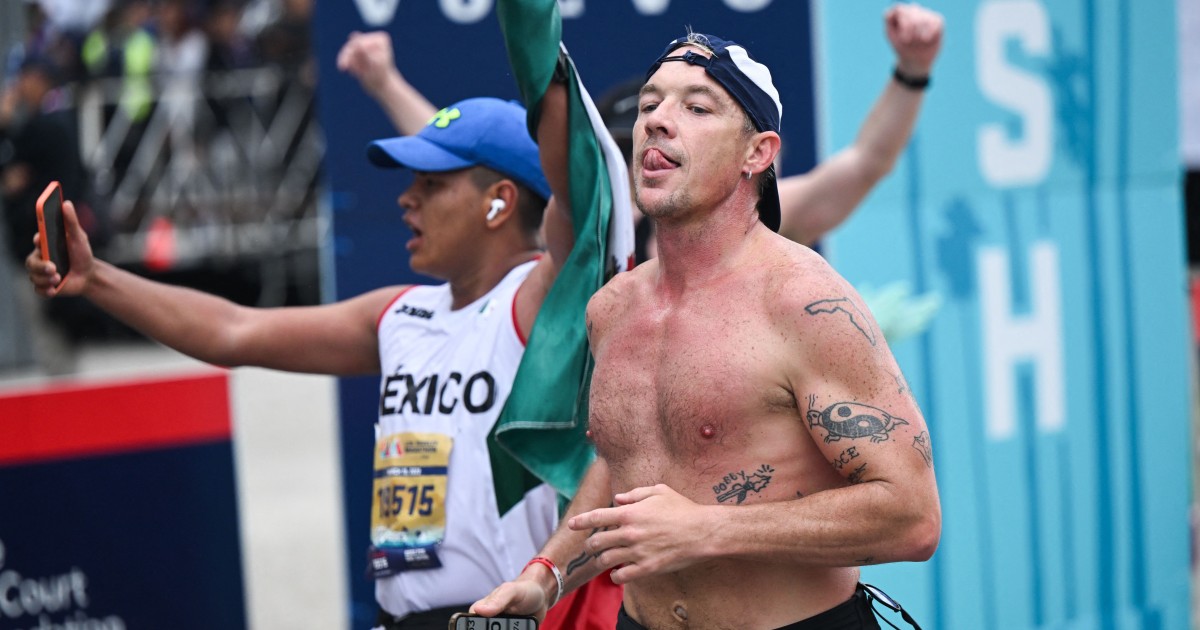 Diplo had one goal on his mind when running the Los Angeles Marathon: beat Oprah Winfrey's time.
In 1994, Winfrey completed the Marine Corps Marathon in 4 hours and 29 minutes. Fast-forward 29 years and Diplo achieved his goal with time to spare. The 44-year-old DJ shared video of his experience running the annual event, which included him "making LSD water" the night before.
 "I think you need, like, four drops of LSD," he says as he inserts clear drops in his water bottle. "Five."
LSD (lysergic acid diethylamide) is a type of hallucinogen that can cause reduced perception of reality, impulsive behavior, rapid heart rate and high blood pressure and tremors, among other symptoms, per Mayo Clinic. High usage can lead to a drug addiction or death.
According to the Alcohol and Drug Foundation, the drug is commonly sold as drops of LSD solution "dried onto gelatin sheets, pieces of blotting paper or sugar cubes, which release the drug when swallowed." It can also be sold as liquid, in a tablet or capsule.
Diplo's video then shows a person applying Vaseline on his underarms at the start of the race and then cuts to another person running barefoot, to which the DJ can be heard saying, "Are you serious?"
It also shows him completing the marathon, waving his arms in the air. The video concludes with a special moment between two other runners.
"Then this guy proposed," Diplo wrote on the video. "I'll dj the wedding."
While Diplo noted in his video that he completed the marathon in 3 hours and 35 minutes, his official time shared in his Instagram slideshow noted that he did it in 3 hours and 55 minutes.
The reel was also posted on Instagram but was removed "for community guideline violations," he wrote on a new post.
"My one goal was to beat Oprah's time and I ate that (sorry oprah)," he wrote on Instagram alongside photos from the marathon. "The most I ever ran was 11 miles so I did what any normal person would do and took LSD."
"Huge thanks to the Olympian Alexi who paces me, shout out my knees which will never be the same, and my kids for waiting for me at the finish line," he added. "If anyone needs me I'll be sitting down."
Diplo received a number of supportive and congratulatory messages from famous friends and fans.
Paris Hilton left a fire emoji. Steve Aoki commented, "Ure elite I need to keep up with u," while Mod Sun wrote, "This is amazing."