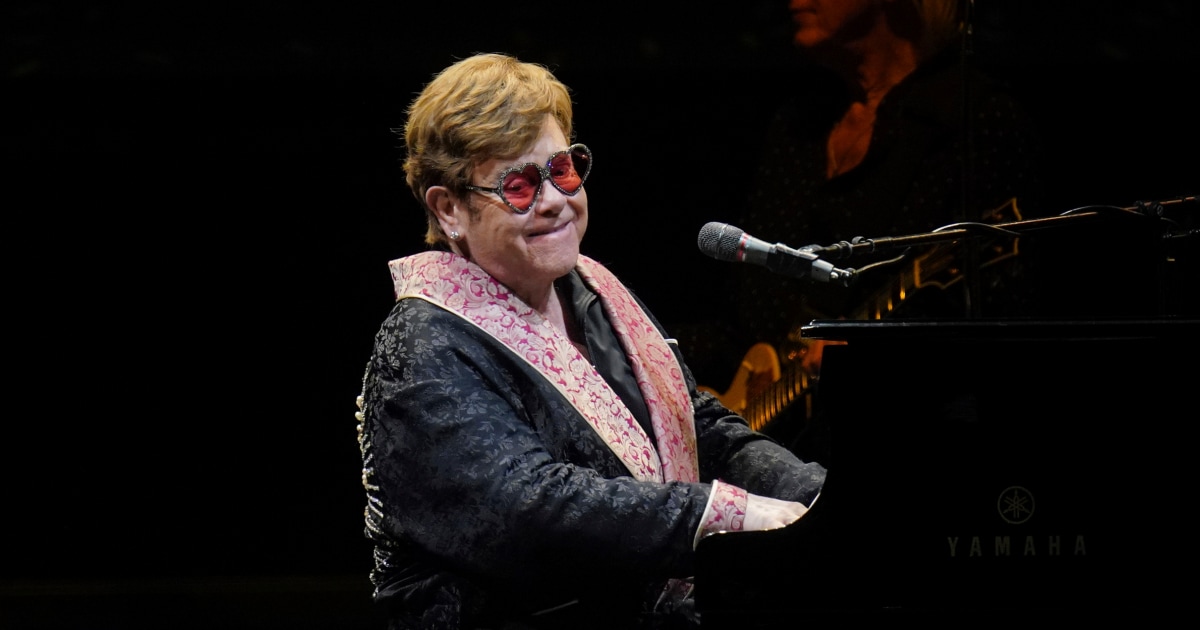 After 50 years on the road, Elton John has officially bid farewell to his touring career. 
On July 8, the 76-year-old music icon completed his Farewell Yellow Brick Road tour after performing hits like "Bennie and the Jets," "Tiny Dancer," and "Your Song" throughout his 23-song set. The tour, which began on September 10, 2018 — but was halted in 2020 for nearly two-years due to the pandemic — has traveled across North America, Europe and Australia, concluding in Stockholm, Sweden at the Tele2 Arena in front of thousands of fans. 
John's goodbye, a moment fans have been anticipating for almost five years, finally arrived when he closed the show with "Goodbye Yellow Brick Road" during his encore. 
The legendary musician shared some of his tour's special moments on social media, including a photo him and his band taking their bows for the last time as the confetti trickled down and covered the audience and the stage. 
"The Final Farewell, 8 July 2023," he simply captioned the emotional moment in an Instagram post on July 9. 
Famous friends and fans celebrated the Grammy-winning artist and his impressive, decades-long career. 
Donatella Versace wrote, "I love you so much @eltonjohn. I will forever be proud of your exceptional achievements- you are a true genius." 
Singer Brandi Carlile said, "You did it Captain! incredible work ethic and stamina."
She added, "Proud to know you everyday."
Coldplay, who was playing a concert in Gothenburg, Sweden on July 8, sent a live video message that was displayed on stage for John to see. 
In the sweet clip, frontman Chris Martin told John and the crowd, "Elton, from all of us here (in Gothenburg), from all the bands and artists you've helped and inspired, we love you so much. We are so grateful for everything you've done for the AIDS Foundation, anytime you've been kind to anybody." 
Martin also mentioned John's work with the LGBTQ+ community and his influence on fashion, eyewear and the music industry. 
Numerous fans shared how John's music has personally impacted them on his Instagram. 
"Saying thank you seems completely inadequate!" one person commented. "But thank you, your music has kept me going on some of my darkest days. The world is a better place with you in it!"
Another wrote, "Thank you so much for everything, Elton. I love you! I crossed the world to fulfill this great dream, I came directly from Belém do Pará, northern Brazil, to see my great idol!"
Meanwhile, some longtime fans hoped that singer wasn't bidding farewell to performing in general, just the life of being on tour.
"I hope it's not the final curtain but if it is, happy retirement, Elton! #legend," one Instagram user wrote. 
Another joked, "Wish you a happy retirement. Don't forget to record new albums though." 
John also had a message for his fans. He reflected on his lasting bond with them in a statement shared in a press release. 
"When we set off on my final tour in 2018, I couldn't have foreseen in my wildest dreams the twists and turns and the highs and lows this tour — and the whole world — would have experienced in the next 5 years," he said. "When we set off on my final tour in 2018, I couldn't have foreseen in my wildest dreams the twists and turns and the highs and lows this tour — and the whole world — would have experienced in the next 5 years." 
He described his farewell show in Sweden as "magical." 
"I'm trying to process it, and I don't think it will sink in for a while yet that I'm finally finished touring," he said. "I can't tell you how much I'm going to miss the fans and how much their support has humbled me — it will stay with me forever."